business
For China, Trump's Style Brings Optimism Even as Rhetoric Bites
By
'China likes dealing with businessmen as they are pragmatic'

Trump more focused on jobs than China's military: Adviser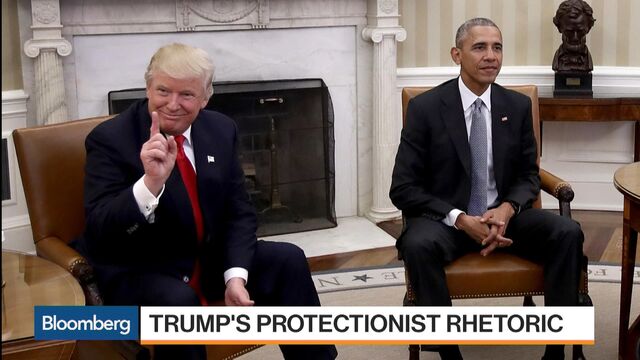 Donald Trump spent months blasting Beijing on the campaign trail, threatening a trade war for what he called China's "rape" of the U.S. manufacturing sector. 
Yet despite the harsh words, many in China's foreign-policy establishment heard something they liked: The language of a deal-maker. Since opening the economy to foreign investment more than three decades ago, Beijing's leaders have used no-strings-attached pragmatism to underpin growth.
"I see Sino-U.S. relations have a greater chance of thriving under the Trump presidency," said Ruan Zongze, an envoy at China's Embassy in Washington between 2007 and 2011. "Trump is a businessman, and China likes dealing with businessmen as they are pragmatic and not ideologically bent. A businessman is capable of making possible what would otherwise be impossible from the standpoint of a pure politician."
Just how the next chapter will unfold in one of the world's most important bilateral relationships is unclear. Key unknowns include: Will Trump slap a 45 percent tariff on made-in-China goods? Will he designate China a currency manipulator? Will he weaken U.S. security alliances in Asia and embolden Beijing's hawks in the disputed South China Sea? Will he weaken the Paris climate deal that China and the U.S. both ratified?
Much depends on who Trump appoints to cabinet and whether Congress moves to constrain him. Either way, his approach stands to be different than his challenger Hillary Clinton, who routinely irked China when secretary of state by commenting on human rights, cyber security and territorial disputes while overseeing a foreign-policy "pivot" to Asia.
Read more: How China's economy has changed from the last presidential handover
Michael Pillsbury, an adviser to Trump's transition team who served as a defense official in the Reagan administration, said while the president-elect wants to strengthen the U.S. military, his main concern would be the economy rather than the movements of the People's Liberation Army.
"Trump is not a traditional Republican conservative in the sense of the military challenge from China," said Pillsbury, who is a research fellow at the Hudson Institute. "He's said very little about the PLA, China's plans in space, the South China Sea: he's focused more on American jobs."
In a congratulatory message, President Xi Jinping told Trump he was looking "to manage differences in a constructive way, in the spirit of non-conflict, non-confrontation, mutual respect, cooperation and win-win." That framework, known as "a new model of great power relations," will help the countries "achieve even greater progress at a new starting point," Xi said.
'Better Managed'
James Woolsey, a senior adviser to Trump on security matters, said in an opinion piece in the South China Morning Post that ideological differences between China and the U.S. should be "better managed." Under Trump there could be a potential "grand bargain" -- a tacit understanding -- where the U.S. accepted China's political and social structure in return for a pledge by Chinese leaders not to challenge the status quo in Asia, he wrote.
Chinese Foreign Ministry spokesman Lu Kang, speaking Thursday at a regular briefing, touted the "win-win results" of economic and trade cooperation. "Any U.S. politician, if he takes the interests of his own people first, will adopt a policy that is conducive to the economic and trade cooperation between China and the U.S."
China Transition
Trump's presidency will start in one of the most significant years in China's political calendar. Xi will oversee a twice-a-decade leadership reshuffle at the Communist Party's National Congress late next year, with speculation growing he may seek to retain some power after his term expires in 2022.
That heightened political sensitivity may make it harder for China to find middle ground with Trump on trade issues. Any move by the U.S. to increase tariffs across the board would likely be met be swift retaliation, said Derek Scissors, a scholar at the American Enterprise Institute in Washington who studies the Chinese economy.
"In any other year, the Chinese would recognize they have much more to lose, given unbalanced market access, and be restrained," he said. "But it's a Party Congress year and nationalism may be stoked."
The East China Sea or the South China Sea, where U.S. allies Japan and the Philippines have territorial disputes with Beijing, may also test ties with China. John R. Bolton, America's former ambassador to the United Nations who is said to be a contender for secretary of state, told Fox News "the near-belligerent activity" of China in the waters was among issues that could "dominate" a Trump presidency.
'Art of the Deal'
How Trump negotiates with China on territorial disputes, Iran, North Korea and trade will shape ties, said June Teufel Dreyer, a University of Miami political science professor who served as a commissioner on the United States-China Economic and Security Review Commission.
"Trump portrayed himself as the master of the art of the deal," she said. "Let's see what success he will have in negotiating with the Chinese, who are also masters. This will be perhaps the most important metric for measuring his success."
One clue might be found in Philippine President Rodrigo Duterte, whose transactional policy approach could be used by Trump, according to Orville Schell, director of the Center on U.S.-China Relations at the Asia Society in New York. Duterte -- who noted after Trump's win that they share the trait of cursing frequently -- has toned down tensions with China and on a trip to Beijing last month took home $24 billion in deals.
"Trump doesn't have a China policy," Schell said. "Anything is likely with him, because he is not so much an ideologue as an opportunist. And this actually is something that the Chinese leaders understand."
Trump's geopolitical statements in the campaign have often been perplexing, including his call in a presidential debate for China to "go into North Korea." But while he routinely said U.S. allies should pay more during the campaign, he appeared to reassure Japan, South Korea and Australia in phone calls to their leaders after the election.
Even if Trump's protectionist rhetoric ends up hurting China, the overall relationship will be guided by common interests, said Ma Zhengang, a former Chinese ambassador to the U.K. and political attache in Washington. At the very least, any "irrational" ideas from Trump would get blocked by checks and balances within the U.S administration.
"We don't really buy all that he said during the campaign," said Ma, who sits on the public diplomacy advisory council of China's foreign ministry. "Lots of lip service and hot air. Who knows what he believes? Perhaps he himself doesn't know either."
— With assistance by Enda Curran, and Nick Wadhams
(
Updates with Trump adviser in ninth paragraph.
)
Before it's here, it's on the Bloomberg Terminal.
LEARN MORE