Disney Forecasts Renewed Growth After Fourth-Quarter Stumble
By
Cable earnings slid on lower ad sales, drop in subscribers

Shorter quarter vs. year ago shrunk profit by $350 million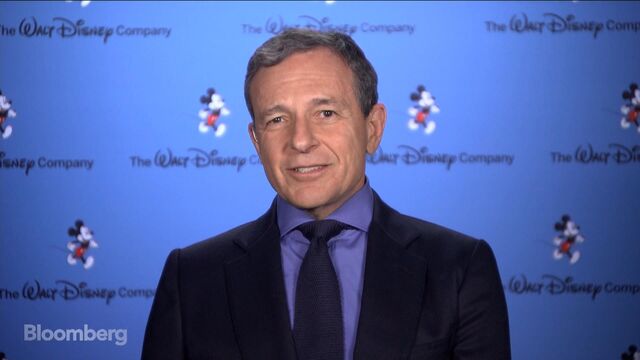 Walt Disney Co. predicted renewed growth next year and beyond after a rare stumble in the fiscal fourth quarter.
The Burbank, California-based company forecast modest earnings-per-share growth in fiscal 2017 just getting under way, with Chief Executive Officer Bob Iger promising 2018 would be even faster. Disney blamed lower quarterly sales and profit partly on its fiscal calendar, saying the just-ended period was one week shorter. Profit was also hurt by a drop in advertising at ESPN.
"We fully expect to return to more robust growth in fiscal 2018 and beyond," Iger said on a call with investors, citing an upcoming movie slate that includes Marvel titles, animated films and new "Star Wars" releases.
The forecast was good enough for investors looking a kernel of good news in a quarterly report that the company and its stockholders would probably like to forget. Profit at all four of Disney's division tumbled in the period, with the cable-TV unit, its biggest business, squeezed by higher programming costs, lower ad sales and fewer subscribers.
The shares rose 2.7 percent to $97.75 at 9:57 a.m. in New York Friday, their biggest intraday advance in almost seven months, after plunging as low as $90.69 late Thursday following the release of the earnings statement. The stock had fallen 9.6 percent this year through Thursday's close.
"What was surprising was that Disney felt confident enough to break with its past norm and to guide long term," Barton Crockett, an analyst at FBR Capital Markets, said in a research note. "The outlook was encouraging."
Fiscal fourth-quarter earnings excluding some items fell to $1.10 a share, the world's largest entertainment company said Thursday in a statement. Analysts were forecasting $1.16, the average of estimates compiled by Bloomberg.

Disney suffered like other broadcasters from weak ratings for National Football League games, according to Robin Diedrich, an analyst with Edward Jones in St. Louis. Revenue slumped 2.7 percent to $13.1 billion in the period ended Oct. 1, missing analysts' estimates of $13.5 billion.
"If we continue to see ratings weakness across the cable channels, there is some long-term concern here," she said.
Iger said at an investor conference in September that the shorter quarter cut operating income by $350 million, with most coming from cable networks. The extra week added 13 cents a share to earnings last year.
Profit in the cable division tumbled 13 percent to $1.45 billion, while revenue declined 7 percent.
Broadcasting profit rose 37 percent to $224 million on 8 percent higher revenue.
Profit from parks and resorts shrank 5 percent to $699 million. Revenue was little changed at $4.39 billion.
Disney's consumer products division posted profit of $424 million, down 5 percent. Revenue tumbled 17 percent.


Because Disney earns almost $8 billion a year from TV, including the ABC network, the company is viewed as especially vulnerable to the pay-TV industry's loss of customers to newer streaming options like Netflix Inc. Last week, Nielsen Holdings Plc reported that ESPN lost 621,000 subscribers from October to November, part of a broader look at TV trends that also found other cable networks losing viewers. Iger said on the call that the Nielsen results don't match with other researchers.
At the same time, Disney is having to pay more for programming. Credit Suisse analyst Omar Sheikh expects the cost to air National Basketball Association games will rise in the current fiscal year. Chief Financial Officer Christine McCarthy pegged the added cost at $600 million. In addition to the tough calendar, profit from cable TV was also hurt by lower ratings, higher programmings costs for hockey and college sports and a decline in subscribers.
What of ESPN?
Cable billionaire John Malone speculated Thursday that Disney may eventually divest ESPN. The sports network could end up in the hands of a U.S. pay-TV provider, with Disney potentially becoming a takeover target for Apple Inc., he said on CNBC.
Disney's broadcast division was a bright spot, with higher sales and profit. Both were bolstered by sales of shows to Netflix Inc., such as "Luke Cage" and "Quantico," along with higher affiliate revenue and lower compensation costs, Disney said.
Film studio profit fell after two movies released in the quarter, "Pete's Dragon" and "The Queen of Katwe," failed to match box-office results from a year earlier. Disney leads the domestic box office this year with ticket revenue of $2.24 billion, according to researcher Box Office Mojo.
Profit at Disney's theme parks also fell after higher ticket prices and the debut of Disney Shanghai failed to offset lower attendance at other international parks and Disneyland in California. In China, the new park welcomed four million guests in its first four months. In Paris, attendance at Disney's park fell 11 percent. The shorter quarter also weighed on the results.
Disney's consumer products business, which licenses characters like Mickey Mouse and runs retail stores, was also impacted by the one less week. The drop in revenue was largely due Disney closing its Infinity console game business. The division, the largest licensor in the world, has struggled to match successful products from the previous film hits "Frozen" and "Star Wars: The Force Awakens."
That trend will continue into the current fiscal year, McCarthy said. Spin Master Corp., a licensee, said Wednesday sales of "Star Wars" merchandise were running about half the level of a year ago, when Disney released the first new film in the franchise in 10 years.
Before it's here, it's on the Bloomberg Terminal.
LEARN MORE