China's Tech Giants Are Cloning the Apple Store
With e-commerce growth slowing, tech leaders such as Alibaba and DJI push harder into local brick-and-mortar.
Christina Larson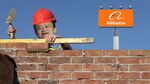 In September, Chinese drone maker DJI opened a flagship store in Hong Kong's trendy Causeway Bay neighborhood. On the first floor, in an area cordoned off with black netting, like a batting cage, customers test the machines in flight. The second floor resembles a museum, the walls decorated with framed aerial drone photos of a bamboo forest in Kyoto, Japan; white waves trailing a ship near the Philippines; farm equipment combing fields in the Netherlands. The third floor houses a repair station, where on a recent Wednesday afternoon, three people stood in line waiting for advice.
Selling in its own stores in China is new for 10-year-old DJI. While the Shenzhen company is the world's leading seller of consumer drones, it is, unlike most Chinese tech businesses, more popular elsewhere. About 80 percent of sales come from abroad, more than half from the U.S., where hobbyist interest had been cultivated by decades' worth of radio-controlled helicopters and other toys.
The U.S. also taught DJI the value of brick and mortar, says Michael Perry, DJI's director for strategic partnerships. A deal with Apple put the company's new Phantom 4 drone in more than 400 Apple Stores around the world this spring, and the resulting bump in sales led DJI to think harder about expanding its in-store presence. In the past year the drone maker has opened stores in Shenzhen, Beijing, and Seoul, along with the one in Hong Kong. "It's really important to have a place where consumers can see a drone, where they can fly it for the first time," says Perry. "We want customers to be able to see, touch, and ask questions."

DJI isn't alone. In the world's largest e-commerce market, leading technology companies are paying renewed attention to physical retail. Alibaba co-founder Jack Ma surprised shareholders when he wrote in an Oct. 13 letter, "Pure e-commerce players will soon face tremendous challenges." Now that China's decade-plus of double-digit growth in internet users has flattened, "in the coming years, we anticipate the birth of a reimagined retail industry, driven by the integration of online, offline, logistics and data," Ma wrote.
Alibaba Chief Executive Officer Daniel Zhang said on a Nov. 2 earnings call that the biggest opportunity in e-commerce is working together with retail operations. "Online and offline will be a single seamless experience, not just in consumer interaction, but also in the entire business operation," said Zhang.
Last year, Alibaba paid $4.6 billion for a 20 percent stake in electronics retail chain Suning. Among the potential symbioses, shoppers could use the chain's 1,600 or so Chinese stores as showrooms, testing merchandise there before deciding whether to comparison shop online. In October the two companies announced plans to invest 1 billion yuan ($148 million) to set up an e-commerce venture designed to manage Suning stores' presence on Alibaba sites and strengthen the chain's customer service, among other things.
Other Chinese tech brands are investing directly in shopping options modeled loosely on Apple's retail efforts, stores in which customers can test devices and ask questions of sales staff. The shift is most clearly on display in the smartphone business, where online purchases peaked last fall and manufacturers are looking to diversify retail options, says CK Lu, a China market analyst at researcher Gartner. In the second half of last year, about 30 percent of smartphones bought in China were ordered online; in the first six months of 2016 the figure dipped to a little more than 20 percent, Lu says.
Huawei, the No. 3 phone maker in the world behind Samsung and Apple, operates 515 stores across China and has teamed with retail chains. Five years ago its smartphone business barely existed. Colin Giles, executive vice president for Huawei's consumer-business division, says its brick-and-mortar presence proved to be a big help. "You can't ignore it," he says. "Chinese consumers for sure are looking for a premium shopping experience."
Xiaomi, which made its name with online flash sales of its low-cost smartphones, is now looking to retail to boost its brand image and entice Chinese shoppers to splurge on its internet-connected appliances. The company operates 36 Mi Home stores in China, displaying its latest curved-screen smartphones alongside branded smart rice cookers, hoverboards, robot vacuum cleaners, and other electronics. Xiaomi says it will open 1,000 more stores in China in the next five years. "Physical stores are getting more and more important, because they offer a chance to show the value of the product," says Jessie Ding, an analyst at researcher Canalys. She says Xiaomi's weakness offline allowed domestic competitors to overtake it.
Like Ding, Shaun Rein, managing director of China Market Research Group, says the maturing of China's electronics market, and its electronics shoppers, places a heavier burden on companies to distinguish themselves. "It's an absolute necessity as Chinese consumers develop more refined tastes and are willing to spend a bit more," Rein says. "They want that personal retail experience. And if they spend more money, they care more about follow-up service."
Huawei's Giles says his team is using customer surveys and follow-ups to learn as much as possible about what shoppers want more of, both online and off. He, too, recognizes that it's tougher to stand out in China's tech market than it used to be. Go to one of China's big e-commerce sites, like Taobao or JD.com, and "there are probably over 1,000 handsets, all marketed in-site in the same way," says Giles. "You need to have a brand to cut through."
The bottom line: Several of China's e-commerce and mobile stars are spending heavily on retail stores to distinguish their customer service.
Before it's here, it's on the Bloomberg Terminal.
LEARN MORE