Bulgarian Cabinet's Fate at Stake in Presidential Runoff
By and
Opposition candidate Radev leads in poll before final vote

Premier Borissov reiterates threat to resign if Tsacheva loses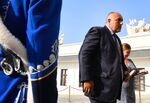 Bulgarians will vote for president in a runoff on Sunday that may topple Prime Minister Boyko Borissov's government and trigger the third early parliamentary elections in the European Union's poorest member in five years.
Borissov has vowed to resign if the ruling Gerb party's nominee for the head of state, Parliamentary Speaker Tsetska Tsacheva, fails in the final round, even though the vote doesn't affect the balance of power in the assembly. The opposition Socialist candidate Rumen Radev, a U.S.-trained former head of the NATO member's Air Force, won the first round on Nov. 6 with 25 percent of the vote. Tsacheva, 58, took 22 percent.
"Radev's chances of losing the runoff are slim, and early parliamentary elections are inevitable," Dimitar Ganev, a political analyst at the Trend research center in Sofia, said by phone. "With Borissov's promise to resign, remaining in power will be disastrous. Gerb is already preparing for the snap vote."
Borissov won a second term in 2014 in early elections triggered by a bank crisis. The country of 7.2 million is seeking to expand its influence as an EU member and aspires to apply for the ERM-2 pre-euro exchange-rate mechanism. Still, the first-round vote revealed voter discontent, with about half the ballots going to nationalist and populist candidates.
Russian Relations
The election has fueled accusations between the front-runners concerning efforts to balance the policy toward Russia, the source of most of Bulgaria's energy supplies, with concerns among its NATO partners over an increasing risk of confrontation with Moscow. Another main issue is graft, with Bulgaria ranked the worst among the entire EU, according to Transparency International's global corruption-perceptions index.
"The protest vote seems to be rooted mostly in the feeling by large swathes of the population of being left behind and the widespread perceptions of dishonesty, corruption and collusion of politicians with influential vested interests," said Lubomir Mitov, chief central and eastern Europe economist at UniCredit Bank in London.
Both Radev and Tsacheva campaigned for easing EU and U.S. sanctions against Russia for its seizure of Crimea and support of rebels in eastern Ukraine, appealing to Bulgarians who value their country's religious and historical links with their Cold War ally. Tsacheva, a lawyer, has however warned against "making a turn to the east, northeast or to Eurasia" and accused Radev of being "Russia's candidate," citing Russian media headlines supporting him.
U.S. Educated
Radev, 53, who holds a degree from the Air Force War College in the U.S., has rejected the idea he would swing Bulgaria's foreign policy eastward. The country, which joined the North Atlantic Treaty Organization in 2004, has a "clear Euro-Atlantic orientation" that can't be reconsidered, he said.
"I am the pro-European candidate," Radev said in a televised debate with Tsacheva on Thursday.
Radev was ahead in popular support, with 49.6 percent to Tsacheva's 39.1 percent, according to a poll by Alpha Research on Friday. The pollster conducted the survey Nov. 9-10 among 1,100 people and gave no margin of error.
Early Elections?

Borissov reiterated his intention to resign on Friday and accused Radev of being "a double-dealer who will serve two masters, Russia and the U.S.A."
"If we lose on Sunday I'll resign," he said in an interview with Nova TV in Sofia. "Tsacheva showed in yesterday's debate that she's definitely better than Radev. The last few days of the campaign show that people understand that she's better prepared, more knowledgeable and honest."
The yield on Bulgaria's euro-denominated bonds maturing in 2024 rose 10 basis points to 1.873 percent, the highest in three months, at 1:45 p.m. in Sofia.
Borissov has tried to boost economic growth, which reached 3 percent in the third quarter, while also slashing spending to balance the budget after the fiscal deficit reached 3 percent of gross domestic product last year.
The Balkan country is the third-least indebted country in the EU after Estonia and Luxembourg, with public obligations amounting to 26 percent of economic output, according to Eurostat. The country also has foreign exchange reserves -- the anchor of a currency board system that pegs the lev to the euro -- in excess of half of GDP and a fiscal reserve of 14.3 billion lev ($8 billion).
If the election triggers Borissov's resignation, March is the earliest possible time for potential snap parliamentary elections. No party could win an outright majority, according to opinion polls.
Before it's here, it's on the Bloomberg Terminal.
LEARN MORE