Bond-Market Inflation Outlook Picks Up After Trump Victory
By
U.K. 10-year break-even rate climbs to highest since 2014

Inflation 'more of a concern than lower growth': DZ Bank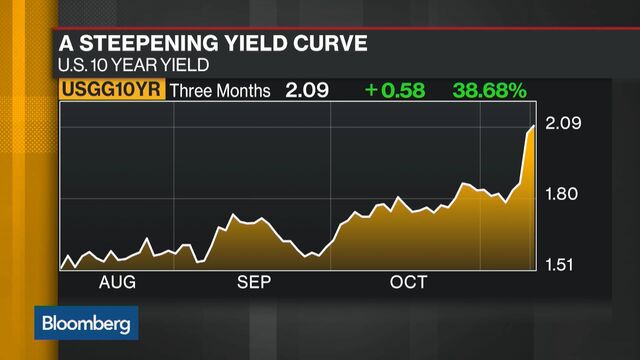 Donald Trump's victory in the U.S. presidential election is helping to drive the outlook for faster inflation in Europe, according to bond-market gauges.
The U.K. 10-year break-even rate, a measure of expectations for retail prices derived from government bond yields, rose to the highest in almost three years. That came after the Republican candidate's triumph spurred speculation that he will ramp up spending to boost the U.S. economy, potentially widening the budget deficit and stoking inflation.
As a global bond selloff entered its second day, longer-maturity sovereign debt led the declines, prompting the yield curves in both the U.K. and Germany to steepen. Long-dated securities are the most sensitive to the outlook for inflation, which erodes the value of fixed-income payments from bonds.

The yield difference between two- and 30-year gilts climbed to the highest since June 24, the day Britain's decision to leave the European Union became known. Investors are gearing up for higher inflation in the U.K. because of the weakness of the pound, which has tumbled about 16 percent versus the dollar since the referendum.
"Inflation is coming back into the spotlight," said Rene Albrecht, a rates and derivatives analyst at DZ Bank AG in Frankfurt. "We're at a turning point in market theme, with monetary policy expansion on hold and fiscal spending having to step in. Also, election-event risk is off the table now, therefore markets' focus turns to fundamentals again, and inflation is more of a concern than lower growth."
Yields Surge
U.K. 30-year gilt yields climbed eight basis points, or 0.08 percentage point, to 2.02 percent as of 4:09 p.m. London time, and earlier reached 2.07 percent, the highest since June 23. The 3.5 percent security due in January 2045 fell 2.149, or 21.49 pounds per 1,000-pound ($1,251) face amount, to 131.747.
The yield on two-year gilts was little changed at 0.23 percent, leaving the spread between the securities at 179 basis points.
The 10-year break-even rate increased three basis points to 3.08 percent. That was close to the 3.11 percent reached on Nov. 1, the highest on a closing-price basis since January 2014.
In Germany, 30-year bund yields surged 10 basis points to 0.93 percent, having touched 0.97 percent, the highest since May 3. The nation's two-year note yield rose two basis points to minus 0.61 percent. That widened the yield gap to 154 basis points, having earlier touched 157, the most since March 8.
— With assistance by Anooja Debnath
Before it's here, it's on the Bloomberg Terminal.
LEARN MORE