Global Stocks, Bonds Decline as Traders Weigh U.S. Election
By and
Bonds plunge by $1 trillion this week amid inflation wagers

Dollar Trump-inspired surge sets off intervention across Asia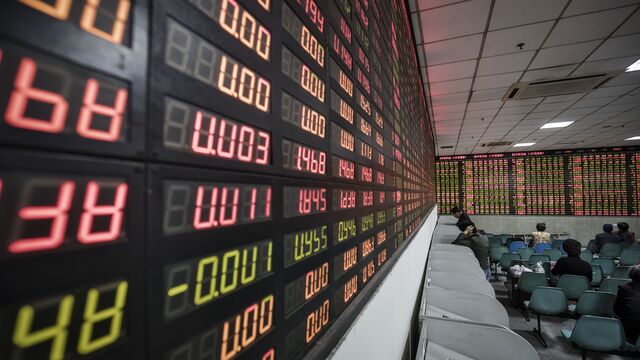 Global stocks joined declines in bonds and commodities as a selloff in emerging markets deepened with traders parsing the implications of a Donald Trump presidency for the world's largest economy.
The MSCI All Country World Index pared its biggest weekly rally since September, the S&P 500 Index halted a four-day gain, while the Dow Jones Industrial Average hit a record high. A rout in Latin American markets extended into a third day on bets that higher U.S. interest rates would damp the appeal of riskier assets around the world. The dollar rose to its strongest level since February. Bonds continued to get pounded, with losses exceeding $1 trillion this week, and trading in Treasuries closed for a holiday. Gold and oil slumped.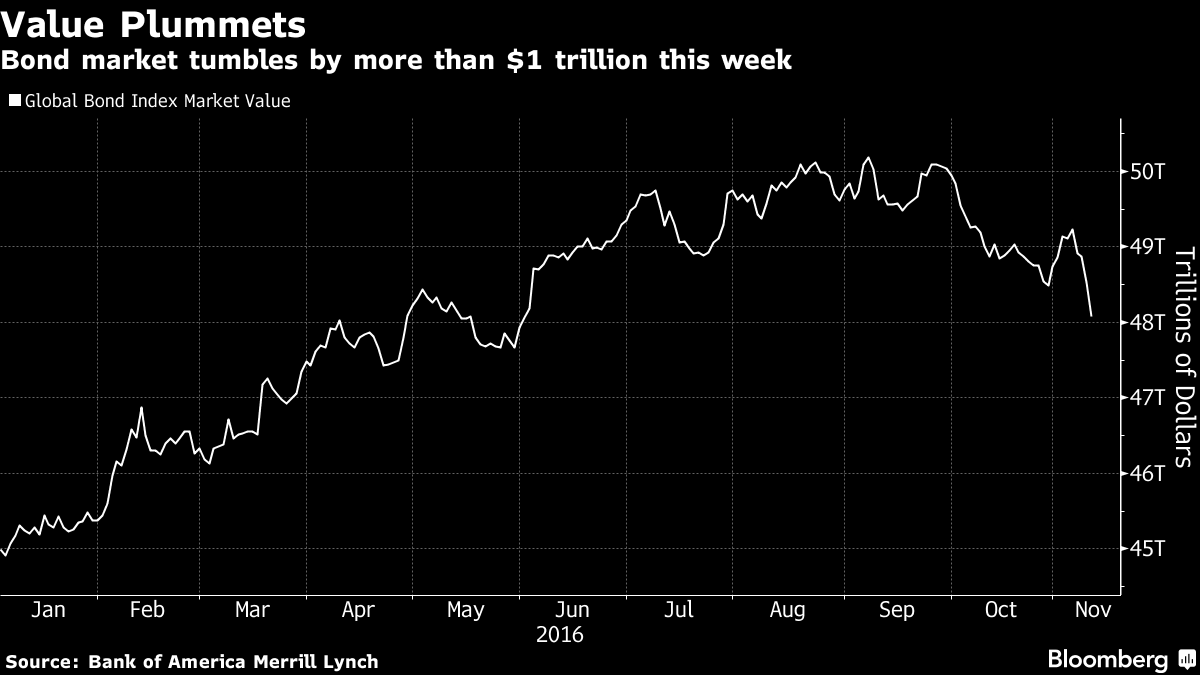 Global stocks gained $1.3 trillion this week as traders bet Trump will lower taxes, ease corporate regulations and ramp up spending to spur growth. Meanwhile, investors pushed down the value of bonds as the policies are seen boosting inflation and interest rates. Federal Reserve Vice Chairman Stanley Fischer said the central bank has almost reached its goals for maximum employment and price stability, strengthening the case for a hike.
"Let's face it, we still have to see what Trump's policies are going to be and who's going to be in his cabinet," said Matt Maley, an equity strategist at Miller Tabak & Co. LLC in New York. "People want to take a breather and digest what's gone on this week heading into the weekend."
Stocks
MSCI's global gauge of stocks dropped 0.6 percent at 4 p.m. in New York, trimming its weekly advance to 1.6 percent.
"We're taking a breather and beginning to think about the wider repercussions of" Trump's win, said Witold Bahrke, a macro strategist at Nordea Investment Funds in Luxembourg. "You can say this is pro-growth and pro-equity, but it depends hugely on the concrete type of measures he takes. We are moving away from the hope phase to the delivery phase."
The S&P 500 fell 0.1 percent to 2,164.45, while still posting its best week in two years. The Dow Average rose 0.2 percent. The Russell 2000 Index of smaller companies rallied on speculation Trump's homeward-looking policies will favor the more domestic-focused index.
Investors are also considering what a Trump presidency means for the trajectory of interest rates. Utilities and consumer staples -- stocks that have been coveted for their high dividend payout as a source of income amid record-low bond yields -- have all retreated over the past five days.
The MSCI Emerging Markets Index declined 2.9 percent to the lowest level since July 11.
The Stoxx Europe 600 Index dropped for a second day amid a slide in construction firms, miners and drugmakers.
Bonds
European government bonds extended their selloff, with the yield on Italian 10-year securities climbing above 2 percent for the first time since September 2015. German 10-year bunds declined for a fifth day.
"We do view the election of Donald Trump as a game changer," said Adam Donaldson, head of debt research at Sydney-based Commonwealth Bank of Australia. "The strong bias toward fiscal expansion and inflationary policy represents a stark change to the malaise of recent years. This opens the door for the Fed to hike in December, but also more quickly in 2017 and 2018 than previously expected."
The market value of Bank of America's Global Broad Market Index, which tracks more than 24,000 bonds around the world, has slumped by $1.14 trillion this week to $48.1 trillion. The only previous week it fell by more than $1 trillion was in June 2013, when the Fed under Chairman Ben Bernanke was threatening to reduce debt purchases, leading to a bond selloff that became known as the "Taper Tantrum."
The benchmark U.S. 10-year note yield has jumped 37 basis points this week through Thursday. Treasuries are closed worldwide Friday for U.S. Veterans Day holiday.
Currencies
The dollar posted the biggest weekly gain since 2011, spurring central banks from India to Indonesia to step in to stabilize their currencies on concern Trump will pursue policies that spur capital outflows from developing economies.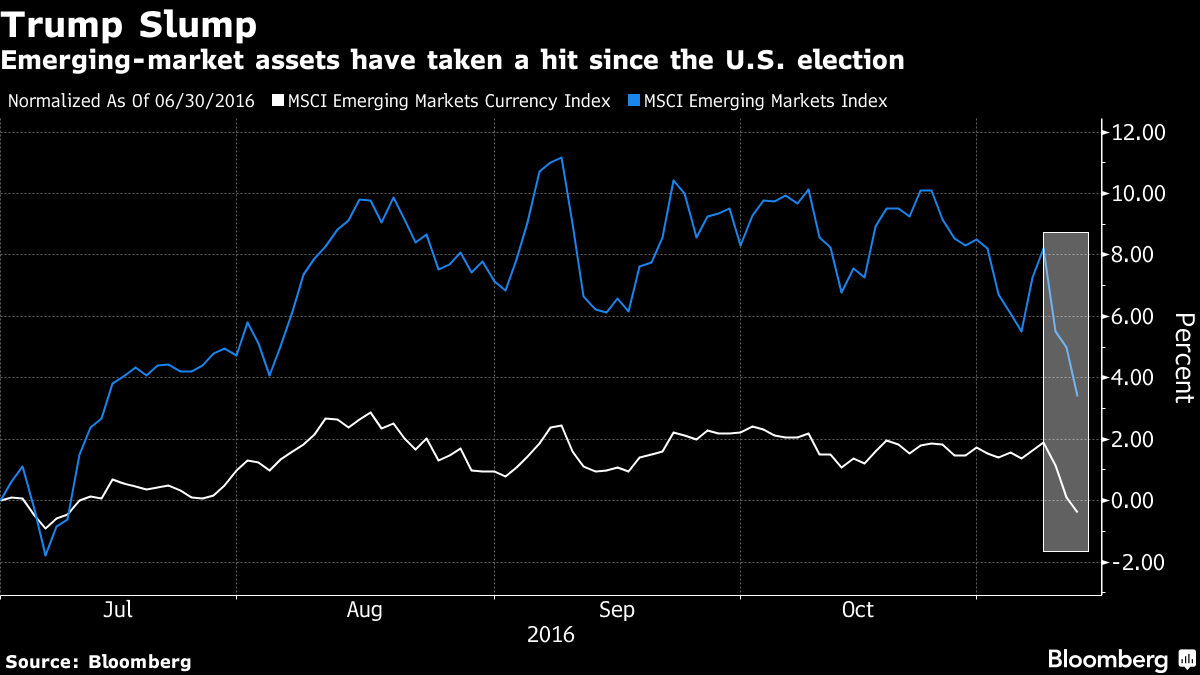 The Bloomberg Dollar Spot Index, which tracks the currency against 10 major peers, rose 0.2 percent, extending its weekly rally to 2.8 percent. The greenback fell 0.1 percent to 106.76 yen, and gained 0.4 percent to $1.0848 per euro.
Emerging-market currencies posted their worst three-day rout since 2011. Latin American currencies tumbled on concern that Trump could usher in a host of protectionist measures after he campaigned on a pledge to protect American workers and companies from unfair trade deals.
Commodities
Commodities fell the most in four months, dragged down by gold and oil as traders reassessed the possible effects of Trump's plans. The Bloomberg Commodity Index slid 1.8 percent. Gold retreated to pre-election levels after rising earlier as investors flocked to haven assets upon Trump's victory.
Oil dropped to the lowest in almost two months in New York on rising OPEC output after a volatile week driven by uncertainty about the group's intentions and the surprise election of Donald Trump.
"Oil is falling today because of OPEC's self-inflicted wounds," said John Kilduff, a partner at Again Capital LLC, a New York-based hedge fund that focuses on energy. "OPEC members are confessing to large increases in production that might make achieving their Algiers deal an impossibility."
West Texas Intermediate for December delivery dropped $1.25 to $43.41 a barrel on the New York Mercantile Exchange. Brent for January settlement fell $1.09, or 2.4 percent, to $44.75 a barrel on the London-based ICE Futures Europe exchange.
— With assistance by Paul Dobson, Jeremy Herron, Julie Edde, Lilian Karunungan, Lukanyo Mnyanda, Narayanan Somasundaram, Lananh Nguyen, Eddie Van Der Walt, Joe Deaux, Namitha Jagadeesh, and Roxana Zega
Before it's here, it's on the Bloomberg Terminal.
LEARN MORE