As Trump Staffs Up, Many Foreign Policy Pros May Be Ruled Out
By
Anti-Trump letters 'are close to unforgiveable,' adviser says

Thousands of jobs will need to be filled in new administration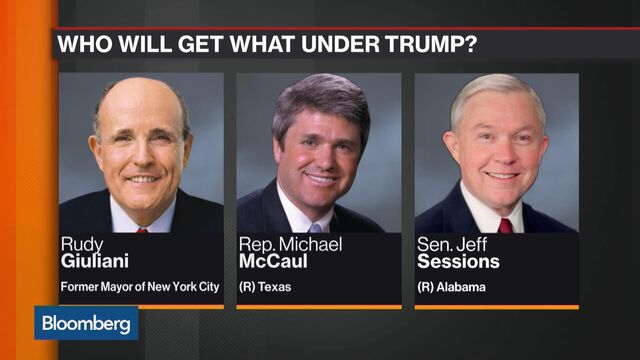 Dozens of former Republican national security experts who declared during the campaign that Donald Trump was unfit to lead the country are about to find out if their stance will automatically disqualify them from jobs in his administration -- if they even want one.
With Trump's team already floating names for top spots -- including defense secretary, secretary of state and national security adviser -- the president-elect's transition team will need to quickly fill out the hundreds of senior and mid-level positions beneath them. One potential challenge in doing that is figuring out how much loyalty to Trump -- who has expressed some unconventional national security ideas -- should factor into those decisions.
More than 120 former Republican national security officials signed a letter released in March saying they opposed Trump's presidency. Another statement with 40 signatories, some the same from the first letter, followed in August. On Oct. 6, 30 former Republican lawmakers said they couldn't vote for Trump.
"They didn't just say 'I'd prefer not to,' they attacked Mr. Trump in ways that are close to unforgivable," said Michael Pillsbury, an adviser to Trump's transition team and a Defense Department consultant.
For a QuickTake on U.S.-Russian ties, click here
Normally when the party controlling the White House changes, the president-elect would draw down on the hundreds of foreign policy experts camped out in Washington's think-tanks, universities and consulting companies, replaced by the executive branch refugees leaving office. This time could be different.
People who signed the anti-Trump letters include several prominent administration staffers under Ronald Reagan, George H.W. Bush and George W. Bush. They include Michael Hayden, former director of the Central Intelligence Agency; former deputy national security adviser Meghan O'Sullivan and John Negroponte, ex-ambassador to the United Nations.
"What percentage of the qualified national security establishment has refused to work for Mr. Trump? I would guess it's at least half," Pillsbury said. "So it's a significant number."
One former senior official in President George W. Bush's administration said there were three main comments that had bothered many of the signatories: Trump's conciliatory attitude toward Russia; his claim that he would be willing to ignore the Geneva conventions on conduct in war; and his apparent willingness to abandon U.S. alliances around the world.
'Who Deserves the Blame'
Trump was withering in his response.
"We thank them for coming forward so everyone in the country knows who deserves the blame for making the world such a dangerous place," Trump said in a statement Aug. 8. "They are nothing more than the failed Washington elite looking to hold onto their power, and it's time they are held accountable for their actions."
That might be hard to enforce, some analysts said.
Top posts will go to loyalists "but he will need to fill the next four levels and, to show that he is uniting the party, he will appoint folks that may have criticized him," Dov Zakheim, a senior adviser at the Center for Strategic and International Studies and a signatory to one of the letters, said in an e-mail.
Bolton, Gingrich
So far, Trump has given mixed signals about his willingness to shake up the establishment. People familiar with Trump's deliberations say Republican Senator Jeff Sessions of Alabama could be considered for defense secretary, while Tennessee Senator Bob Corker and John Bolton, former Ambassador to the UN, are in the running for secretary of state.
Among the potential pool of qualified defense secretary candidates were also Richard Burt, former Reagan-era head of State's political-military affairs bureau, Army veteran Senator Tom Cotton of Arkansas and Marine Corps veteran Representative Duncan Hunter of California, according to Zakheim and Mackenzie Eaglen, a defense analyst with the American Enterprise Institute who has briefed the Trump campaign on defense issues. Eaglen also singled out former Missouri senator and defense expert James Talent.
Ultimately, personnel choices will help illuminate Trump's broader foreign policy stance -- whether he moderates his positions and takes a more traditional approach or sticks to campaign statements on key hot spots like Syria, relations with Russia and NATO, and plans to build a wall along the border with Mexico.
"There could be a pure Trump foreign policy whereby he tries to implement his world view and picks true believers to implement it," said Thomas Wright, a fellow at the Center on the United States and Europe at the Brookings Institution. "Or he reaches out to the mainstream Republican establishment for policy experts and tries to have a 'Trump-lite,' where they get some symbolic gains on each of those things but they generally stay within the mainstream of foreign policy and the international order."
There will be thousands of jobs to fill. At the State Department, there are undersecretaries and special representatives and deputy assistant secretaries. The National Security Council and the Defense Department have hundreds of job openings as well.
4,000 Jobs
The Trump transition team's new website includes a page with the title "Help Wanted: 4,000 Presidential Appointees."
Another question is whether those people would want to come back even if offered the opportunity. Neither of the two main letters written by past Republican national security staffers included a pledge not to work in a Trump administration -- something that was deliberate, according to Eliot Cohen, a former State Department official with President George W. Bush who helped organize one of the letters.
Cohen and others who signed the letters said their thinking hadn't changed. He said he hadn't been approached and didn't expect to be.
"I don't know where others are, but my basic view is that if you know why you are agreeing to serve, you have no illusions about who will be driving policy and how much influence you will have, and you understand that it will probably be a viper pit -- go ahead," he said in an e-mail.
Mark Cancian, a defense analyst with the Center for Strategic and International Studies, said Trump could call in small groups of disaffected Republican national security experts and ask for their help. But it wouldn't go far.
"Temperamentally, he's not inclined to reach out to his enemies," Cancian said. "He's inclined to crush them."