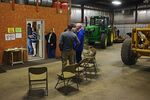 Teenagers these days don't work like they used to. But letting employers pay them less than adults for the same entry-level positions — making teens cheaper to hire and less costly to retain — is no way to boost teenage employment, according to voters in the Mount Rushmore state.
More than 70 percent of voters in South Dakota rejected a state ballot measure Tuesday to lower the minimum wage for workers under 18 from $8.55 to $7.50 an hour. Federal law already allows employers to pay workers under the age of 20 a minimum of $4.25 an hour during their first 90 days on the job, although individual states may set a higher threshold.

Supporters argued that a lower, so-called training wage for minors would help employers preserve entry-level opportunities for teens, who they say suffer disproportionately amid rising labor costs due to their lack of experience. A sub-minimum wage would help give them a fair shot, according to Michael Saltsman, research director at the business-backed Employment Policies Institute. 

"There's a crisis in youth workforce participation," he said by e-mail before Tuesday's results. "What concerns me are the teens who want to work and can't find it — those teens who are facing more competition for fewer jobs as a consequence of higher labor costs."   
Research has shown that teenage employment has the potential to benefit students' educational outcomes and employment trajectories. That said, another study found that returns to such work have declined over the last 20 years.

What is more clear: fewer teens are working or actively seeking work than in the past. The share of teens participating in the workforce peaked at 59 percent in the late 1970s, according to seasonally adjusted data from the Bureau of Labor Statistics. It's been on a downward trend ever since, with the drop accelerating around 2000. 



Several factors that have little to do with competition could explain the decline. Those include an increase in school enrollment as the wage premium associated with a college education rose, and lower participation rates among students, who increasingly opt for extracurricular activities like sports and volunteering to pad their resumes.
Meanwhile, the proliferation of e-commerce and streaming media has eliminated many of the positions — think video rental store clerk or local bookshop cashier — once disproportionately assumed by teens.
Opponents of the measure said workers performing the same job deserve the same amount of pay.
"On what grounds should we create a loophole that treats one class of workers differently than another?" said Reynold Nesiba, an economics professor at Augustana University in Sioux Falls, South Dakota, who also won a state senate seat in Tuesday's election. He says there's insufficient evidence to suggest a link between minimum wage increases and teen unemployment. 

Arizona, Colorado, Maine and Washington also had votes on the minimum wage Tuesday, but they all approved measures to raise their state floors, to between $12 to $13.50 an hour by 2020.

The U.S. federal minimum wage hasn't been increased since 2009, when it rose from $6.55 to $7.25 an hour.
Before it's here, it's on the Bloomberg Terminal.
LEARN MORE