U.S. Treasuries Staged a Wild Intraday Swing After the Election
A whipsaw in the world's most liquid bond market.
By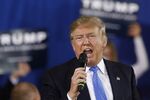 Of all the asset classes making huge moves in the wake of Donald Trump's victory in the presidential election, there's one whose wild gyrations stand out above all else: 10-year U.S. Treasuries.
The yield on the 10-year retreated swiftly as Trump cemented his grasp on the presidency, as part of a flight to safety in which investors also sought refuge in havens like the Japanese yen and gold.
The 14 basis-point swoon in the 10-year yield reached shortly after midnight would have constituted the largest one-day dip in the U.S. government's borrowing costs since the Brexit vote in June.
However yields snapped back rapidly, perhaps in recognition of Trump's expansionary fiscal stance, which analysts expect to be funded by debt. Before the clock struck 5:00am in New York, 10-year Treasuries had registered their largest upwards move in yields for the year 2016, a surge of nearly 11 basis points.

Bloomberg's cheat sheet for how markets would behave given different election outcomes indicated that Treasury yields would first fall before advancing "later," in the event that Trump emerged victorious.
"Later," however, wasn't expected to be just five hours on.
The yield curve — the spread between shorter and longer-term borrowing costs — has been steepening in light of the President-Elect's policy proposals, which economists from HSBC Bank Plc. to BlackRock Inc. say will stoke inflation. It's worth noting that Donald Trump said nothing about trade or immigration, issues he championed on the campaign trail, in his victory speech. He did, however, emphasize that the government would rebuild the nation's infrastructure to make it "second to none."
Before it's here, it's on the Bloomberg Terminal.
LEARN MORE