U.S. Stock Futures Drop Pushes Losses to Limit Down Trigger
By
Futures on S&P 500 fall 5 percent as Trump closes in on win

Trump prospects for victory rise as key states a toss-up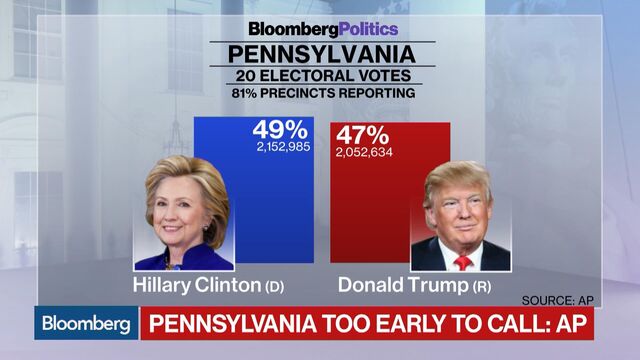 Waves of selling in U.S. stock index futures pushed losses to Chicago Mercantile Exchange limits that prevent further declines, as investors rushed to adjust for a potential victory by Donald Trump in the presidential race.
E-mini futures on the S&P 500 Index plunged to 2,028.50 at 11:53 p.m. in New York. The rules are triggered when the contracts decline 5 percent from a reference price that is calculated in the last 30 seconds of trading on the previous day. The curb means the contract cannot trade at a lower price for the remainder of the overnight session.
Stocks fell around the world Tuesday as Trump closed in on a win in the U.S. presidential election after taking key battleground states like Ohio, Florida and North Carolina -- all states that he needs to have a path to the White House. He also was competitive in Wisconsin and Michigan, states equally critical to Clinton's hopes. It was a sign that his turnout across the nation was even stronger than expected -- and a bad omen for Clinton, who was counting on a superior ground game and anti-Trump animosity to get her voters to the polls.
Before it's here, it's on the Bloomberg Terminal.
LEARN MORE