Five Things You Need to Know to Start Your Day
Get caught up on what's moving markets.
By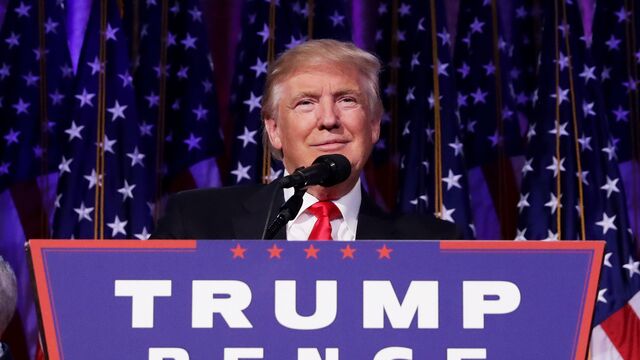 Want to receive this post in your inbox every morning? Sign up here.
Trump wins. Here's how markets are reacting to the Republican victory.
President-Elect Trump
Donald Trump was elected the 45th president of the United States in a stunning victory, beating his opponent Hillary Clinton as well as a raft of pre-election polls. Following a divisive campaign, U.S. President-Elect Trump called for Americans to come together in a conciliatory victory speech. The GOP also kept control of both the Senate and the House, giving the party greater freedom to implement its policy platform.
Dollar moves
As counting went on, and the increasing likelihood of a Trump win became clear, there were some large moves in currency markets. The Mexican peso was hit hardest, plunging as much as 12 percent before recovering some losses to trade 9 percent lower at 20.075 to the dollar at 5:02 a.m. ET. Against major currencies, the story was one of initial weakness, with the U.S. dollar plunging against the euro, yen and Swiss franc as results rolled in. By 5:00 a.m. ET, however, many of those moves had unwound, with only the 1.6 percent drop against the yen the remaining sign of dollar fragility. Market-implied odds of a Federal Reserve rate hike in December, which had been as high as 84 percent yesterday, dropped below 50 percent in early trading. 
Markets whipsaw
Global equity markets have been on something of a wild ride as investors digested the election results. At one stage overnight, S&P 500 futures halted trading after dropping 5 percent, while Nasdaq 100 futures lost 5.1 percent and Dow futures were off 4.3 percent. In Japan, the Topix index closed 4.6 percent lower and the yen strengthened as trading volumes surged. European markets are faring better, with the Stoxx 600 Index recovering earlier losses to trade 0.6 percent lower at 5:09 a.m. ET and pressure on banks and automakers offset by a rally in health-care stocks. S&P 500 futures are also recovering, paring earlier losses to a 1.6 percent decline. 
Commodities join the confusion
A barrel of West Texas Intermediate for December delivery dropped by as much as $1.91 to $43.07 overnight, but was trading down 17 cents at $44.81 by 5:24 a.m. ET. Gold also saw large moves, at one stage gaining more than $60 an ounce to $1,337 before falling back to trade 2 percent higher at $1,302 by 5:37 a.m. ET. The moves in commodities were reflected in markets across the world, from green energy to shipping and Chinese equities.
In other news..
In the U.K., the Bank of England said that business investment may stagnate, at best, over the coming year, while the body that manages the country's nationalized banks is facing questions over the sale of a 13 billion-pound ($16 billion) portfolio of mortgages. In some good news for the British economy, the trade deficit in goods and services narrowed to 11 billion pounds ($13.7 billion) in the third quarter.
What we've been reading 
This is what's caught our eye over the last 24 hours.