Trump Win a Threat to L.A. 2024 Olympic Bid, Said City Mayor
By
L.A. Mayor Garcetti has said Trump victory could repel voters

Trump's conciliatory victory speech may reduce risk to bid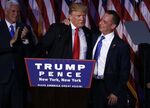 The ripples of Donald Trump's election victory may reduce Los Angeles's chances of securing the 2024 Olympic games. The city's mayor Eric Garcetti acknowledged as much in August, when the idea of the businessman securing the White House was considered unlikely.
At this year's Rio de Janeiro games, Garcetti, a 45-year-old Democrat and supporter of Hillary Clinton, said the possibility of a Trump victory had been one of the main topics of conversation among International Olympic Committee executives. In his electioneering, Trump had at times denigrated minorities and women, something that could hurt a campaign trying to build global consensus in a tight race with Paris. Budapest is also bidding.
"For some of the IOC members, they would say, 'Wait a second, can we go to a country like that, where we've heard things that we take offense to?"' Garcetti said in August.
In a statement Wednesday, the L.A. 2024 committee congratulated Trump. "We look forward to working closely with President-elect Trump and his administration across the federal government to deliver a 'New Games for a New Era' that will benefit and inspire the entire Olympic movement in 2024," the statement said.
The stakes are high for L.A., which last hosted the games in 1984. Garcetti has said his city may be "the last best hope" before Americans start to turn their backs on the games, having been overlooked as a host nation since Atlanta in 1996. Cash from U.S. broadcasters and sponsors contributes far more to the IOC's budget than that from any other country.
Lima Vote
The IOC's membership will meet in Lima, Peru, in September 2017 to pick the winner. By then it should become clear whether Trump's actions match the rhetoric he adopted during the campaign, said Craig Reedie, an IOC member who is president of the World Anti-Doping Agency. Reedie pointed to the conciliatory tone adopted by Trump in his victory speech to suggest that his presidency may be different to his campaign.
"It's far too early to make any judgment," Reedie said by phone. "I would find it hard to believe everything said in a hotly contested election would come to pass. Let's wait and see."
Garcetti aside, other Los Angeles leaders have close connections to the Democratic party and the Clintons. The bid's chairman, Casey Wasserman, has donated millions to the Clinton Foundation through his charitable organization and held a fundraiser for Hillary Clinton at his home last month. It's unclear what Trump's approach to the games will be. Los Angeles has promised its project will be entirely privately funded.
Trump's election comes the week before a meeting of the Association of National Olympic Committees in Qatar, where the bidding cities will present their candidacies to several senior members of the Olympic movement. Paris will use the opportunity to underline the political unity at the heart of its bid, according to a person familiar with the matter.
Reedie said two strong candidates -- Los Angeles and Paris -- remain in play for IOC members, and other events could unfold to boost or harm the bids before the final decision. French voters will choose a president in May, four months before September's meeting.
(
Updates with comment from the L.A. 2024 committee in the fourth paragraph. A previous version of this story corrected the mayor's first name.
)
Before it's here, it's on the Bloomberg Terminal.
LEARN MORE