Trump to Brand China Currency Manipulator, Ex-Treasury Aide Says
By and
Republican to follow through on pledge: Nomura's Alexander

China met one of three criteria for manipulation last month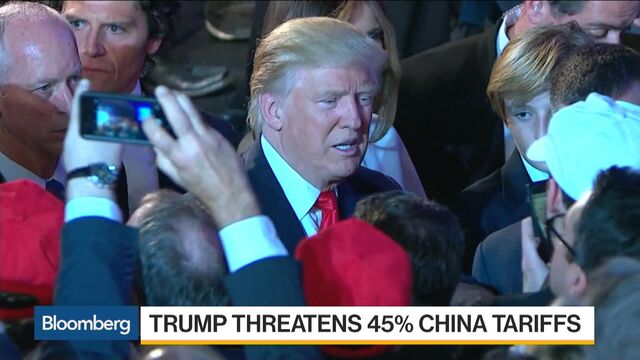 President-elect Donald Trump will probably follow through with his pledge to declare China a currency manipulator on his first day in office, according to Lewis Alexander, a former Federal Reserve and U.S. Treasury official.
Trump, who staged a stunning upset in the Nov. 8 U.S. vote, said since the beginning of his campaign that China keeps the yuan artificially weak against the dollar to make its exports more competitive, at the expense of manufacturing jobs in the U.S. The promise is part of the Republican's plan to overhaul the nation's trade policy, a cornerstone of the real estate magnate's platform.

"One of the high-profile things he's talked about is declaring China to be a currency manipulator on day one -- I expect him to go through with that promise," said Alexander, a former Fed economist and counselor at Treasury under President Barack Obama. Alexander is chief economist at Nomura Securities International Inc. in New York.
The move may complicate relations between the world's two largest economies, with the prospect of a more protectionist America hurting an emerging nation that's still reliant on exports as an engine of growth. China is the U.S.'s single biggest trading partner, and vice versa, data compiled by Bloomberg show. Applying the manipulator label would trigger a process for the president to enter discussions with the country and seek potential penalties.
Yet the currency-manipulation tag exemplifies an era that has come and gone. While China had actively weakened its currency in the past two decades to boost exports, the nation reverted to propping up the yuan over the past 18 months. A softening economy has prompted capital flight, leading the central bank to sell dollars for yuan to restore investor confidence. The currency has depreciated about 4 percent this year, following a similar decline last year that was the biggest since 1994, when China unified its currency market.
"If China hadn't been 'manipulating' its currency, it would have been much weaker," said David Loevinger, a former China specialist at the Treasury who's now an analyst at asset manager TCW Group Inc. in Los Angeles. When candidates "get to the Oval Office they realize finding ways to get China to open up without strengthening the hardliners and hurting ourselves is a lot harder."
1994 Precedent
The last time the U.S. designated China a currency manipulator was in 1994, when Democrat Bill Clinton was president. A new law required Treasury officials to develop three criteria to decide if countries are being unfair, including a disproportionate trade surplus with the U.S., and sizable purchases of foreign assets as a result of currency intervention.
China was found to meet only one criteria in Treasury's latest semi-annual report, released last month. The country retains a significant trade surplus with the U.S., and greater transparency from the Chinese government regarding its foreign-exchange goals would bolster the currency regime's credibility, Treasury said. But its current-account surplus narrowed to 2.4 percent of gross domestic product for the 12 months through June, putting it below the threshold for the watch list.
"The process was set up by Treasury itself, but ultimately they can change it," Alexander said. "Trump's going to have a new Treasury secretary. I think they'll have a big impact on the outcome."
— With assistance by Lillian Chen
Before it's here, it's on the Bloomberg Terminal.
LEARN MORE