Trump-Fearing Americans Plot Escape to Canada, Cats in Tow
by
Dating, immigration sites overwhelmed on election night

Google searches for 'moving to Canada' also spike higher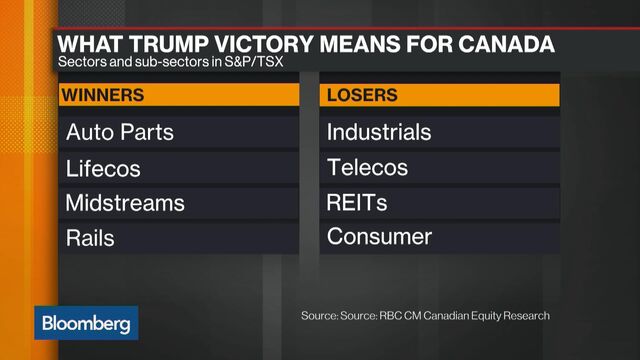 Linda Shields was watching the U.S. election results from her home in Lincoln City, Oregon, and as Donald Trump came closer to winning key states, her friend turned to her and said: "is now a good time to leave?"
"When we heard Trump's name come on board all of us thought 'Oh my goodness, we need to get out of here!"' Shields said early Wednesday by phone, nursing a strong cup of coffee.
Shields, 58, may soon be joining Americans looking north to Canada as a possible new home after Trump's stunning victory over rival Hillary Clinton. Earlier this year, Shields joined Maple Match, a dating application that hooks up Canadians with Americans looking to leave their country under the threat of a Trump presidency. The app launched four days ago, just in time for the election, and search queries for it jumped late Tuesday, with users also searching for "Canadian dollar" and "citizenship".
Meanwhile, searches for "moving to Canada" also surged as Trump won key states including Florida, Google Trends data shows. The most interest came from Oregon, Washington and Delaware, states won by Clinton. The wave of inquiries may have helped crash Canada's citizenship and immigration website, which showed an error message as Trump's victory looked more certain, and was down the rest of the night. As of Wednesday afternoon, the website was working although it took a long time to load. The federal government department and Maple Match didn't respond to requests seeking comment.
Not Sanders
Shields, a baker, originally supported Democratic candidate Bernie Sanders, thinking he would have made the U.S. more like Canada with its lower gun ownership rate and more accessible healthcare.
"I have friends that live there and they're always able to see a doctor, they love the people, they've never said anything that wasn't appealing to most of us," Shields said. "That's how we used to view our country, where everyone was united."
Some Americans may be attracted by Canada's new Prime Minister Justin Trudeau, an avowed feminist who is vocal about working with First Nations, opened the country's doors to more Syrian refugees and leads a country with universal healthcare. Meanwhile, Trump has promised to repeal the Affordable Care Act, or Obamacare, challenged abortion rights and same-sex marriage, and pledged to build a wall along the border with Mexico.
Trump's victory, like Trudeau's election win last year, reflect anxiety among middle-class voters, Trudeau said Wednesday in Ottawa.
"We're hearing people on both sides of the border saying they just want a fair chance to succeed," he said. "We are strong because we listen to each other and we respect each other."
Western Welcome
Some government officials are already welcoming the potential political refugees from the U.S. Bill Bennett, a politician in Kootenay East, British Columbia, sent a tongue-in-cheek tweet late Tuesday saying residents are "welcome to relocate to East Kootenay BC start a biz, hire people, pay taxes." He said Wednesday he has "no bites yet," though anticipates Americans will want to move to Canada.
As a result of any increased U.S. immigration to the Great White North, Canadian housing demand would likely continue to soar, according to Phil Soper, chief executive officer of Royal LePage, a unit of Brookfield Real Estate Services Inc. Home prices in Vancouver and Toronto reached records this year, in part driven by demand from foreign buyers in Asia and elsewhere.
"It could make Canada even more appealing as a safe haven for investors," Soper said by phone late Tuesday. "We're the smaller, cleaner, safer America. And we've got Justin Trudeau!'"
Paul Conibear, chief executive officer of Lundin Mining Corp., a Toronto-based mining company with operations in the U.S., looked on the bright side of any influx of U.S. residents.
"Maybe we'll get a bunch of good hockey players," he said by phone.
Cat Crossing
Meanwhile, Shields in Oregon has already had a few marriage offers from Canadian men on Maple Match. First she has to settle some logistical issues, like how to transport her four cats across the border. She continues to search for the right Canadian city, and Mr. Right, because the alternative is scary for her.
"People are really fearful of this man -- the man that's now the president," she said. "You may have a whole flock of us coming up. Please don't build a wall."
Before it's here, it's on the Bloomberg Terminal.
LEARN MORE