Trade Chill From Trump May Make Canada Rate Cut More Likely
by
Newly elected U.S. President proposes reopening Nafta

Poloz came close to cutting interest rates last month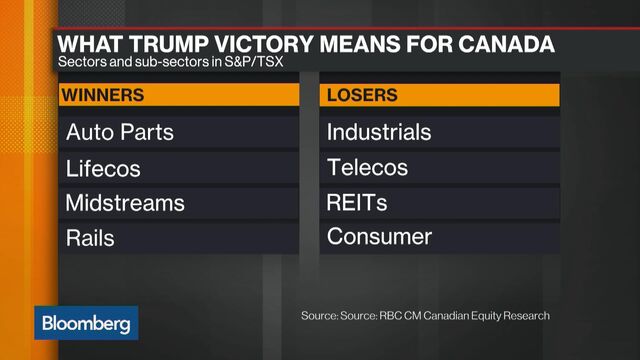 The Bank of Canada has yet another reason to look at cutting interest rates following anti-trade candidate Donald Trump's election victory.
The Republican leader, who defeated Democrat Hillary Clinton to become the 45th U.S. president, has pitched a brand of protectionism that includes reopening the North American Free Trade Agreement, a move that could have a significant impact on Canadian exports.
That may be the final straw for Governor Stephen Poloz, who said he almost cut rates last month but held off to see whether government spending measures would boost the economy or if persistently weak exports would pick up.
"Given the possible impact on the economy from trade policies and the increased uncertainty, the likelihood that the Bank of Canada will need to provide further monetary easing in the medium term has increased," said Charles St-Arnaud, senior economist at Nomura Securities International in London, who has worked in Canada's finance department and central bank.
The Canadian currency depreciated as much as 1.8 percent to the weakest since March as the election results came in. The currency was down 1.2 percent to C$1.3442 against the U.S. dollar at 9:31 a.m. Toronto time. Trading in futures contracts showed the odds that Poloz will cut rates at the next meeting on Dec. 7 at 8 percent, climbing to 23 percent for May. The probability for a cut in May is up from 19 percent before the election.
GDP Downgrades
Poloz and his colleagues have steadily marked down the outlook for Canada's economic growth to reflect an export rebound that remains elusive even as the U.S. economy gathers steam. The country sells three-quarters of its exports including automobiles, machinery and lumber products to the U.S.
The pace of global trade liberalization has recently slowed or even reversed, a problem for an exporting nation such as Canada, Deputy Governor Larry Schembri said earlier Tuesday, adding U.S. "Buy American" policies are the most noteworthy concern expressed by Canadian companies.
Schembri said trade agreements including the Trans-Pacific Partnership would add to growth if they're allowed to proceed, however Trump has called for punitive tariffs and an all-out trade war to save American jobs.
"Canada's export engine is already sputtering," Sal Guatieri, a senior economist at BMO Capital Markets in Toronto, said by phone Tuesday before the election results. "You could see a scenario where Canadian exports take a pretty significant hit, business confidence also is undermined."
Business Investment
Business investment may also remain weak because it's unclear where Trump will go on economic policy, said Bank of Nova Scotia chief economist Jean-Francois Perrault.
"Weaker exports lead to weaker growth, and you can talk about whether the Bank of Canada would need to cut or whether the federal government would need to do a little bit more," Perrault said Tuesday in an interview with Bloomberg TV Canada.
To be sure, some of Trump's policies may support Poloz's view that stronger U.S. demand can help Canada's recovery and keep a rate cut off the table. Trump has proposed tax cuts that could lift economic growth, and he's signaled he might approve TransCanada Corp.'s Keystone XL pipeline that Barack Obama rejected.
Of course, Canadian exporters still have to get through a couple of anxious days wondering if the world's longest undefended border is going to get a little thicker, said Mark Chandler, head of fixed-income strategy at Royal Bank of Canada's RBC Capital Markets unit in Toronto.
"We still think there's a decent chance of the bank cutting early next year," Chandler said.
Before it's here, it's on the Bloomberg Terminal.
LEARN MORE