Anxious World Confronts the Reality of Trump as U.S. President
By , , and
European establishment concerned after Trump, Brexit votes

China, Japan and India pledge to work with new U.S. leader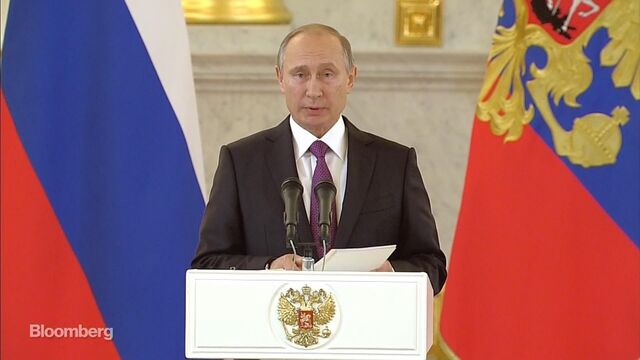 Vladimir Putin was the first global leader to welcome Donald Trump's stunning election victory, which left much of the rest of the world anxious at the prospect of the businessman and reality-TV star at the helm of the world's biggest economy and most powerful military.
Putin sent a congratulatory telegram to Trump, and said later at a Kremlin ceremony that "Russia is ready and wants to restore full relations with the United States." Doing so, he said, "would have a positive effect on the overall climate of world affairs, given the special responsibility of Russia and the U.S. for maintaining global stability and security."
In a huge electoral upset, the Republican Trump became the 45th president of the United States. The result jolted global markets as investors and business leaders sought to understand how America's relationship with the world would change. Reaction among world leaders mixed caution and surprise, with governments from Berlin to Beijing to Tokyo and Canada combining pledges of conditional cooperation with fears about a rise in protectionism.
"Germany and the U.S. are tied by values, democracy, freedom, respect for the rule of law and the dignity of humankind, independent of origin, skin color, religion, gender, sexual orientation or political views," German Chancellor Angela Merkel told reporters in Berlin. "On the basis of these values, I offer the future President of the United States, Donald Trump, close cooperation."
Canada Prime Minister Justin Trudeau, who is at odds with Trump on a range of issues, evoked a common desire to boost living standards for the middle class in congratulating Trump and pledging to work with him. French President Francois Hollande said he'll be "vigilant" about the policies of the new U.S. president-elect, whose election victory opens up a "period of uncertainty."
Market Calms
Financial markets calmed after a knee-jerk selloff in stocks following Trump's surprise victory, with futures on the S&P 500 Index paring losses along with European equities, while the yen and gold scaled back gains.
Russia's response reflected the mood in countries with strained relations with outgoing President Barack Obama, including Turkey, where a senior adviser to President Recep Tayyip Erdogan said Trump's victory opened the way for a "'U.S.-Russia-Turkey axis" with the European Union as the loser.
Leaders of Egypt, Israel, and Serbia also said Trump's win opened the way for better relations. They were joined by populists and Euro skeptics including France's Marine Le Pen and Hungarian Prime Minister Viktor Orban -- the first national leader to express support for Trump back in July.
Geert Wilders, leader of the populist, anti-EU Dutch Freedom Party, called Trump's win "historic" and pledged to "also give back our country to the Dutch people." France's National Front leader Le Pen, a candidate in next April's presidential elections, said the American people are now "free."
Nigel Farage, head of the U.K. Independence Party that campaigned for Brexit, said "the unholy alliance of big business, big banks and big politics is, I believe, coming to an end."
Brexit Link
With Trump's win coming five months after Britain's vote to leave the EU, a key question is whether the sentiment behind both votes would carry over into elections in France and Germany next year, said Philip Hampton, chairman of GlaxoSmithKline Plc and National Westminster Bank Plc.
"It's a statement from people who feel excluded; who don't feel as if they are keeping up and don't expect to be as prosperous as their parents were and have job security," Hampton said in an interview on Wednesday in London, where he was publishing a review he chaired on how to get more women into executive roles. "There's a lot of disaffection for what are perceived to be entrenched elites in Washington or London or the business world."
Trump "has managed to become the standard-bearer of the angst and fears of millions of Americans," said European Parliament President Martin Schulz. "Those concerns must now be addressed with credible policies and proposals."
Trump's win also "raises a lot of questions" on specific issues ranging from the nuclear deal with Iran to international efforts to tackle climate change, French Foreign Minister Jean-Marc Ayrault said in an interview on France2 television. Trump said in March his top priority would be to dismantle the agreement with Iran.
'Commitments'
"The U.S. president must fully understand the realities of today's world," Iranian Foreign Minister Mohammad Javad Zarif, who is visiting Romania, told a news conference on Wednesday. "Considering that Iran and the U.S. don't have formal political relations, what's important is that the future U.S. president complies to the commitments of the multilateral nuclear deal."
The leadership change may be felt acutely in Ukraine, which is about to discover whether Trump's cozying up to Putin and willingness to reconsider the U.S. position on Russia's annexation of Crimea amount to more than campaign posturing. The ex-Soviet republic has relied on the U.S. for political and financial backing since protests drove out its leader in 2014.
Ukrainian Prime Minister Volodymyr Hroisman said on Facebook he hopes the new administration "will continue its support for Ukraine."
In East Asia, prospects for trade and security dominated reaction. The U.S. trade deficit with Asian partners was a key campaign issue, and Trump threatened to slap punitive tariffs on Chinese imports, discard a regional trade pact and review key security alliances with Japan and South Korea.
Shared Values
"The stability of the Asian region, which powers the world economy, brings peace and prosperity to the United States," Japanese Prime Minister Shinzo Abe said. "Japan and the U.S. are bound together by our shared values of freedom, democracy, basic human rights and the rule of law. Ours is an unshakable alliance."
In South Korea, where about 28,500 U.S. troops are stationed, President Park Geun-hye told a National Security Council meeting her government needs to ensure pressure on North Korea remains strong after Trump takes office, according to a text message from her spokesman.

Trump should work with China to build "a new paradigm of major power relations," China's official Xinhua News Agency said in a commentary, using a phrase that's important to China because it indicates equal status with the U.S. Obama used it after Chinese President Xi Jinping took power in 2012, but later dropped it as tensions increased over China's assertiveness over territorial disputes in Asia.
Earlier, Chinese Ministry of Foreign Affairs spokesman Lu Kang said both countries had benefited from two-way trade.
Some European leaders called on Trump the president to be different from Trump the candidate. "I hope the president-elect will take the opportunity to reach out to those who felt marginalized by his campaign and make clear -- in deeds as well as words -- that he will be a president for everyone in modern, multicultural America," said Scottish First Minister Nicola Sturgeon.
"Maybe he made promises he won't keep," France's Ayrault said.
— With assistance by Hashem Kalantari, Sam Kim, Alex Morales, Ian Wishart, Ahmed Feteha, Patrick Donahue, Michael Arnold, Josh Wingrove, Dana Khraiche, John Follain, David Roman, Jason Scott, Jonathan Ferziger, Ladane Nasseri, Martijn Van Der Starre, Chinmei Sung, Kevin Hamlin, Zoltan Simon, Richard Bravo, Ilya Arkhipov, Gordana Filipovic, Misha Savic, Wojciech Moskwa, Andy Sharp, Stepan Kravchenko, and Tarek El-Tablawy
Before it's here, it's on the Bloomberg Terminal.
LEARN MORE