Speaker Ryan's New Challenge: Working With President Trump
By
GOP has chance to enact agenda if leaders can agree with Trump

Ryan kept his distance from Trump until final days of campaign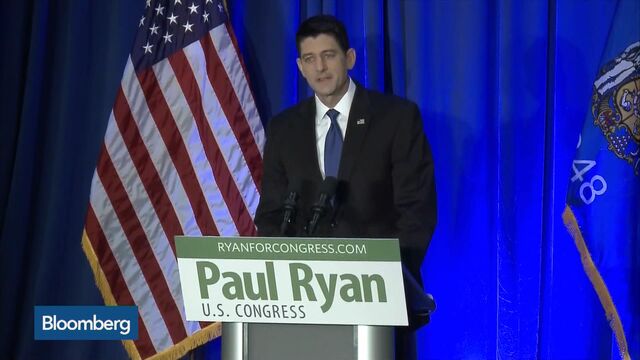 House Speaker Paul Ryan and Donald Trump made it through the whole campaign without being seen together in public. Now, the Republican Party's sweeping legislative aspirations depend on how well they can get along.
Republicans are suddenly facing the tantalizing prospect of being able to break a logjam in Congress and pass far-reaching bills -- as long as Trump and GOP leaders can agree on what they want to do.
If Ryan and Trump can find a way to work together, there is almost no limit to what they can accomplish in a Republican Congress: tax cuts for all, a comprehensive tax overhaul, a dismantling of Obamacare, a rollback of Obama's energy policies and his broader regulatory agenda and the kind of spending cuts that have long been Ryan's dream.
"Now Donald Trump will lead a unified Republican government," Ryan said at a news conference Wednesday morning. "We will work hand in hand" on a GOP agenda.
Ryan said he has already spoken with Trump about getting their transition planning in line, adding, "He just earned a mandate."
But Trump didn't campaign as a traditional Republican, instead taking on the Washington establishment, including leaders like Ryan. Trump's message was often diametrically opposed to Ryan's stances on major issues, including immigration, trade, infrastructure and entitlements.
"I think we might be in for a little bit of a Wild West," Representative Trent Franks of Arizona, a Trump backer, said before the election. Some resentment might linger from the Trump camp over "Ryan's lack of intensity for Donald Trump," he said.
'Great Night'
Early Wednesday morning, Ryan congratulated Trump, calling his victory a "great night for our party."
"We are eager to work hand-in-hand with the new administration to advance an agenda to improve the lives of the American people," Ryan said in a statement.
Throughout Ryan's on-again, off-again approach to Trump's candidacy, the speaker repeated one constant theme: that Trump could help enact the Republican agenda, which Ryan has termed the "Better Way." Controlling both chambers and the White House opens up the tantalizing prospect of using a mechanism known as "reconciliation" to circumvent the 60-vote threshold for advancing legislation. Republicans could use reconciliation to enact broad tax and spending cuts and to repeal large swaths of Obamacare.
'Same Page'
Ryan has tried to paper over his differences with Trump, declaring last week, "We're all on the same page on these things."
But Ryan has at times been outright dismissive of some of Trump's policy proposals. For instance, when asked at a public policy event in October whether he supports Trump's proposal for a $5 trillion infrastructure bill, Ryan laughed and said, "That's not in the Better Way agenda." Yet rebuilding infrastructure was one of the main policy areas Trump touted during his victory speech early Wednesday.
Trump, for his part, has rejected many policy proposals important to Ryan and party members. Trump opposes free-trade deals and cuts to Social Security and Medicare. He wants to build a wall at the southern U.S. border to keep out undocumented immigrants, along with more spending on infrastructure. Ryan calls for free trade, an immigration overhaul, and limited government with steep spending cuts.
Speaker's Election
First, Ryan will first have to survive a re-election campaign for his own job. House conservatives, already chafing at some of Ryan's decisions in managing legislation and distancing himself from Trump, could still decide to challenge him when the House holds its official leadership elections early next year.
Some House Republicans on Wednesday morning were calling on Ryan to delay internal party elections for his top job and other leadership posts that are now set for Tuesday. Ryan and rank-and-file Republicans are set to talk by telephone Wednesday afternoon about Trump's stunning victory, and what's ahead.
"I have a feeling there will be a discussion on whether leadership elections will go forth next week," said Representative Dennis Ross of Florida, a senior House deputy whip. "There is sentiment to hold off until the dust settles a bit." Ross added that he doesn't know of any current challengers to Ryan.
Representative Dave Brat of Virginia, a member of the conservative Freedom Caucus, said Wednesday morning, "Now, it's just absolutely incumbent on Republican leadership and our Republican conference to get its head on straight and listen to the American people."
Assuming Ryan keeps his job, House Republicans admit there will have to be some reconciliation between the two men.
Just last week, Franks said he spoke with Vice President-elect Mike Pence about whether Ryan and the new president can get along. Franks said their conclusion was that they can, even though their personalities "are a little divergent."
"He and Paul will mend fences," said Franks, referring to Trump. "I believe they're going to be at least on parallel tracks, if not the same track."
Under Pressure
One of Trump's earliest backers in Congress, Representative Tom Marino of Pennsylvania, says the two men will realize they need each other since they will be under pressure to come through with notable policy achievements.
"I think these guys understand that, and are both smart enough to know what they have to do," said Marino, who has channels to both men. If they continue to clash at the expense of legislating, Marino added, "Guys like me are just not going to put up with it, and will let them know that."
"They'll have to focus on their commonality and get things done," agreed Ross, an early congressional Trump backer. "I think Trump realizes that. Paul realizes that."
There's little precedent in U.S. history for how a House speaker would work with a president of the same party when that president is a complete outsider from the party and from politics in general. 
Personal Style
Trump and Ryan differ in personal style as well. Where Trump is brash, Ryan is wonkish and measured, though he didn't hesitate to call Trump out for such things as saying that the federal judge in a lawsuit against Trump University was biased because of his Mexican heritage. Ryan also revels in the policy details that the billionaire skates past.
The closest modern comparison of an outsider president and a speaker of the same political party may be the fractious relationship during the late 1970s between two fellow Democrats, President Jimmy Carter of Georgia and House Speaker Tip O'Neill of Massachusetts. Carter's team didn't have an appreciation for how the system worked in Washington and struggled to advance his agenda. Trump could encounter the same challenge.
Another difference, says James Thurber, an American University political scientist, is: "Trump is random and Ryan is transactional and rational." 
Rice University political scientist Paul Brace notes the main fuel behind Trump has been anger, and that many seemed willing to support Trump no matter what he says because "they want to issue a middle finger to the status quo." That, by nature, threatens to leave a sizable establishment portion of the Republican Party, including Ryan, in the cold.
Skill as Negotiator
But Ross takes exception to that, saying Trump has built a career as a negotiator in his own right, something he says could play as an important skill as the speaker and president seek to find agreements that can produce results.
"Sure, he might toss out statements like 'build a wall,' or 'no Muslims,' and say something sensational. But then he knows how to give in a bit and come up with a solution," said Ross. "Despite the tension with the speaker, when you look at all we need to do, on Obamacare, Dodd-Frank, there's enough there to get something done for the American people."
Ross said it will be important for Trump to build bridges to Ryan and others in Congress. One way, he said, is through the people Trump surrounds himself with. He suggested picking popular Representative Trey Gowdy of South Carolina for attorney general or Ben Carson for secretary of education.
— With assistance by Tim Jones
Before it's here, it's on the Bloomberg Terminal.
LEARN MORE