Sarkozy Says Trump Win, Brexit Show Popular Desire for Change
by
Former French president points to message on migration, trade

Sarkozy is seeking come-back in France's 2017 election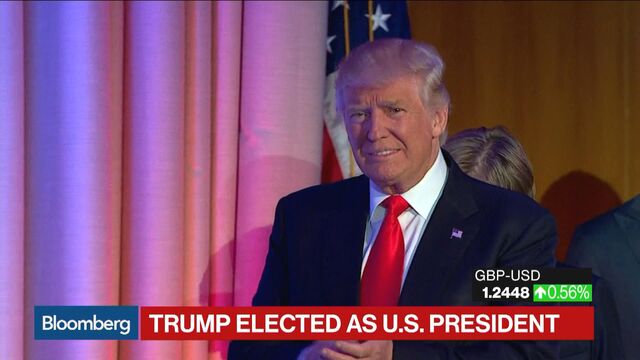 Nicolas Sarkozy, the former French president who is attempting a come back, said that Donald Trump's U.S. election victory underlines the desire for change among voters and said whoever wins office in France's 2017 election will have to work with him.
"The message of the American people must be heard. Like the choice of Brexit, it explains the desire for change," Sarkozy said at a press conference in Paris Wednesday. "It will be the responsibility of the next French president to work with the president chosen by the American people," he said, adding that "France will always be the friend of America."
The remarks show how Trump's populist message is being echoed by politicians with similar views across Europe. Sarkozy is campaigning to win the nomination of France's center-right Republican party in a primary contest this month.
The U.S. vote "is a rejection of conformist thinking" on trade and immigration, the former president said.
With Trump leading the U.S. and Vladimir Putin leading Russia, France needs a strong leader, in Sarkozy's view. "Vladimir Putin doesn't question whether he defends his country's interest," he said. "Now with President Donald Trump, there will be no room for lack of strength, weakness."
French President Francois Hollande also weighed in on Trump's victory, adding that he expected "a period of uncertainty."
Before it's here, it's on the Bloomberg Terminal.
LEARN MORE