Putin Wonders If Trump Win Might Just Be Too Good to Be True
By
Applause in parliament welcomes vote, hopes for better ties

Concerns that Trump's unpredictability could limit gains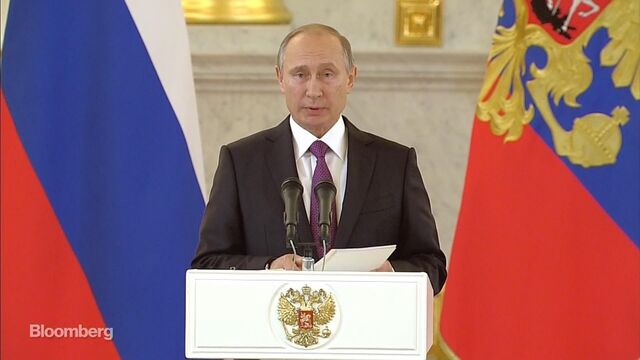 It didn't take long for Russia to roll out the red carpet for Donald Trump. 
Lawmakers burst into applause when Trump's shock victory over Hillary Clinton was announced in the country's parliament Wednesday. Minutes later, President Vladimir Putin telegraphed his congratulations to the political neophyte who had gushed with admiration for the wily former KGB agent on the campaign trail. Putin and his team publicly welcomed the chance for a new, more constructive relationship with the U.S.
Yet Trump's wild unpredictability -- he's warned he could order the military to shoot down Russian warplanes that buzz U.S. warships -- and lingering doubts over whether he will be able to reverse years of what the Kremlin sees as entrenched anti-Russian policy in Washington temper the rejoicing in Moscow.
Speaking in the Kremlin later Wednesday, Putin warned that "it won't be an easy path" to restoring relations. Several Kremlin insiders -- many of whom had expected Trump to lose -- said Putin is likely to be cautious to see just how far the next U.S. president is ready to go before opening the embrace too wide.
Note of Caution
"The stakes are very high with Trump," said Dmitri Trenin, head of the Carnegie Moscow Center. "There may be opportunities that no one will have thought of, but at the same time there may be risks that overshadow anything that can be gained."
The election of the populist billionaire and former reality-show star is perhaps the most bizarre chapter in a superpower relationship that's taken the world from the brink of nuclear war to periodic detentes over the last half-century.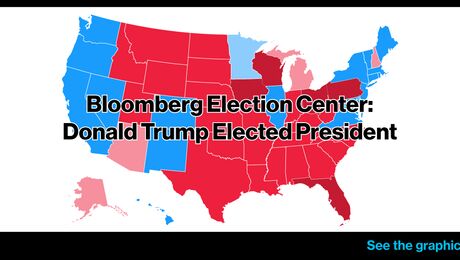 Read more: the Putin-Trump relationship
Read more: the new Cool War with Russia
If the president-elect fulfills even some of his campaign promises, a Trump presidency could be a game-changer for Putin in his quest to restore Russian international influence lost since the collapse of the Soviet Union.
During the campaign, Trump at times questioned the key Western security alliances that Russia has long opposed and tilted toward the Kremlin's positions on issues like the Syrian civil war and the Russian annexation of Crimea from Ukraine in 2014. He's called for an alliance with Russia to fight Islamic State and suggested sanctions imposed against Russia over the Ukrainian crisis could be eased. Even before his policies become clear, Trump's startling victory could embolden Putin to be more assertive from the Middle East to his former-Soviet neighborhood.
For Trump, there are "important U.S. interests but not vital American interests" in Ukraine, according to Dimitri Simes, president of the Center for the National Interest, a Washington policy group. The ouster of Kremlin ally Syrian President Bashar al-Assad is also not a priority because that "would come at the expense of fighting ISIS and other terrorist groups."
"This opens new possibilities for Russia," said Alexei Mukhin, head of the Center for Political Information in Moscow. "It weakens the stance on sanctions and means a joint fight against Islamic State is possible."
Ruble Gains
The Russian ruble and stock markets gained, avoiding the declines that convulsed many other markets early Wednesday, as investors anticipated potential economic benefits from easing tensions -- and possibly sanctions -- even as oil prices dropped.
Like this year's Brexit vote in the U.K., Trump's triumph is part of a populist wave sweeping developed nations -- a trend that the Kremlin has embraced and encouraged. 
The success of cyber-attacks that U.S. intelligence blamed on Russia in hurting Clinton by exposing the inner workings of her campaign could make the Kremlin more aggressive in meddling in elections elsewhere. While the outgoing administration and Clinton had vowed retaliation against Russia -- which denied any role -- Trump rejected intelligence findings that Russia was behind the breaches of the Democratic National Committee's servers.
Tuesday, the DPA news service reported that German Chancellor Angela Merkel warned that Russia could use cyber-attacks to influence next year's vote there, where she faces a strong challenge.
"It's quite possible Merkel will be forced from office and we'll be very happy about that," said Sergei Markov, a political consultant to Putin's staff.
No 'Euphoria'
Throughout the U.S. campaign, Putin publicly said he had no preferred candidate. But he did little to conceal his warmth for Trump and disdain for his Democratic opponent. Just what financial and other ties link Trump and his aides to Putin's Russia remain unclear.
Still, Russian officials expressed concern that Trump might find his efforts to warm relations with the Kremlin stymied by entrenched interests in the U.S. opposed to a thaw, especially given how divisive the election was. Trump's views often put him into conflict with the Republican foreign-policy establishment, including influential and outspoken senators like John McCain and Lindsey Graham, who may seek to rein in any rapprochement with Moscow.
"There will be push-back from Congress, first and foremost from his own party," said Thomas Graham, a White House adviser on Russia under President George W. Bush.
While Russia has studied Trump's electoral program, pledges aren't always kept and "we don't know what will happen in practice," Deputy Foreign Minister Sergei Ryabkov told Bloomberg by phone on Thursday. "For me, it isn't obvious" that Trump is better than Clinton for Russia, he said.
Russia talked with both campaigns during the run-up to the election as part of routine outreach, including through embassy staff meeting members of the Trump team and "sporadic" contact with Clinton's, according to Russian officials. Hope Hicks, a Trump spokeswoman, said she "wasn't aware" of such contacts. Calls to members of Clinton's former campaign team weren't immediately returned.
At an early-morning reception at the U.S. ambassador's residence Wednesday, the mood was restrained as the results came in. Many of the Russian guests expressed caution about just how much change the new administration might bring.
'Only Pluses'
Some differences appeared during the campaign. Trump vowed to renegotiate or scrap the nuclear deal with Iran reached last year, an accord that Moscow supports.
Trump may find that it's harder to find agreement with Putin than he imagined, according to Fyodor Lukyanov, who heads a Kremlin foreign-policy advisory panel. "He really thinks that as a businessman he can make better deals, but the question is what will happen when he finds out that he can't," he said. "His disappointment may provoke irritation and everything could go in the opposite direction."
In return for easing sanctions, Trump will be "trying to get something from Russia," said Graham, the former White House adviser. "It is too early to say what his reaction might be if he does not get a deal."
But for the moment, the outcome looks better than even the Kremlin could have expected. As recently as Tuesday, state television had been highlighting the possibility that vote irregularities could rob Trump of victory. Wednesday, that issue had disappeared from coverage.
"Only pluses -- not a single minus," was how Vladimir Zhirinovsky, the firebrand leader of a pro-Kremlin nationalist party, described the vote result for Russia to state TV Wednesday.
— With assistance by Irina Reznik, Ilya Arkhipov, Nick Wadhams, and Stepan Kravchenko
Before it's here, it's on the Bloomberg Terminal.
LEARN MORE