Mexico Refrains From Actions to Support Peso After Trump Win
by and
Policy makers to monitor exchange rate to avoid abrupt moves

U.S. vote doesn't mean immediate change to trade, travel rules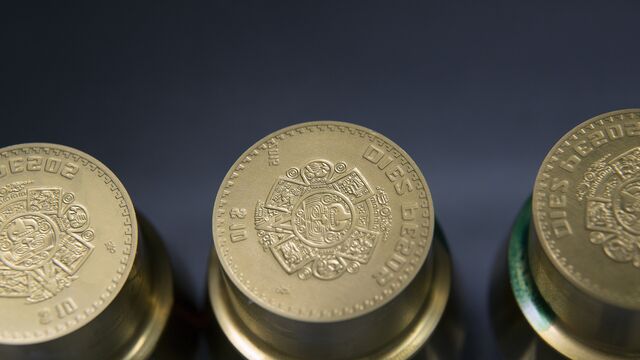 Mexico's top economic officials expressed confidence in the nation's economic strength and financial stability, refraining from announcing any immediate measures to bolster the peso after Donald Trump's election sent it to a new record low.
Mexico's currency commission will monitor market behavior and take measures as needed to avoid erratic exchange rate movements, Finance Minister Jose Antonio Meade said at a joint news conference on Wednesday in Mexico City with central bank Governor Agustin Carstens. Carstens, who has called Trump a "hurricane" for Mexico's economy, said the central bank board will meet next week as planned ahead of its regularly scheduled decision for monetary policy, set for Nov. 17, and take the steps needed to meet its inflation stability goal.
"It's important to recognize that markets have continued to function in an orderly way, as we've seen in the past hours," Meade said. "The result of the U.S. election doesn't mean any immediate impact on the rules for trade of goods and services, financial flows or the ability of individuals to travel between the two countries."
Moments after the news conference, President Enrique Pena Nieto congratulated the U.S. on its electoral process and said that he's ready to work with Trump.
'Instruments to Intervene'
Still, the Mexican peso sank 7.7 percent to 19.7367 per dollar in morning trading in New York, extending its loss after the seven-minute news conference failed to reveal immediate actions.
Carstens last week said that the central bank and Finance Ministry were working on a contingency plan in case of a victory by the Republican candidate and business magnate. Policy makers have taken steps in the past to shore up the peso to prevent inflation, including a surprise half-point interest rate hike coupled with the authorization of discretionary dollar sales in February. Still, the peso has weakened 13 percent this year, the most among major currencies after the British pound, and surpassed 20 per dollar for the first time ever earlier Wednesday.
Trump's fortunes in the election have routinely affected the peso after he vowed to build a border wall between the U.S. and Mexico and to renegotiate trade terms that could lead to higher tariffs for a nation that sends almost 80 percent of its exports to the U.S.
Measures used in 2008 in the aftermath of the Lehman Brothers crisis, and actions taken after the U.K. voted to leave the European Union are "under consideration as we get more information," Meade said in an interview on Wednesday afternoon. "Should we see any disruptions, should we see any excess volatility, we have the instruments to intervene."
Meade added that he was meeting Wednesday with banks to "make sure they have access to any liquidity that they need."
Mexico would consider using auctions of interest-rate swaps known as TIIEs if volatility spikes in financial markets, two people with knowledge of the matter said Tuesday. The sales would be similar to what the Latin American nation employed during the 2008 financial crisis, the people said. One person said Mexico would also consider temporary changes to pension fund rules to permit funds more flexibility in case of market volatility.
Before it's here, it's on the Bloomberg Terminal.
LEARN MORE