London's Citizens of Nowhere Stunned for Second Time This Year
By , , and
Democratic-leaning U.S. residents react with shock at result

'I was guardedly optimistic and am now massively depressed'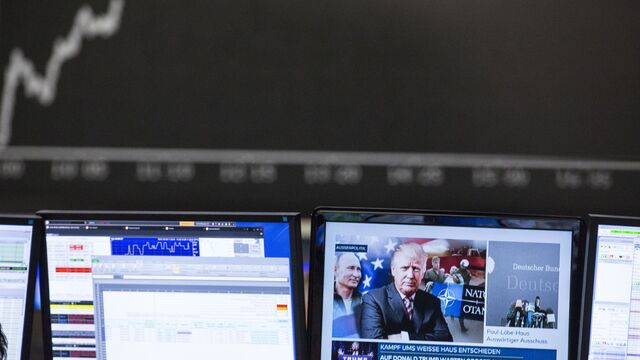 The quadrennial election party at London's sprawling U.S. embassy started off as pleasantly as usual last night. Partygoers who included comedian Jimmy Carr and British Broadcasting Corp. icon Andrew Marr snacked on burgers and cheese fries from Shake Shack, washed down with all-American Budweiser.
By 3:30 a.m., it was gin and cereal bars to accompany the angry debates over who was to blame for delivering the White House to Donald Trump.
After the U.K.'s shocking vote in June to leave the European Union, Prime Minister Theresa May declared that believing oneself to be a citizen of the world makes you "a citizen of nowhere," a label that Americans abroad might be taking to heart now. It was the second major blow this year to the cosmopolitan ideals that animate London, a quintessentially international city where business meetings can involve citizens of half a dozen countries.
"I was guardedly optimistic and am now massively depressed," said David Saenz, a 40-year-old native of Los Angeles who has lived in London for four years working on Internet startups. He expects Trump to gut banking regulations and pull out of global climate-change agreements. "It's the worst decision we could have come to as a country."
Brexit Redux
The pattern of Trump's victory, deeply familiar to those who followed the Brexit vote closely,' serves as a warning to the leaders of Germany, France, Italy and the Netherlands who face voters over the next year. In both cases, business leaders, the media, and the residents of large, vibrant cities were overwhelmed by a wave of discontent from rural areas, small towns and fading one-time industrial hubs. In each, many supporters of the losing side -- either staying in the EU, or supporting Hillary Clinton -- knew few if any supporters of the other side, so great were the social divides between them.
U.S. voters' endorsement of Trump "is one of the last nails in that coffin," said Bill Patterson, a 51-year-old management consultant from Chicago who has lived in London for two decades. With many lower-income voters in the U.S. and Europe believing they've been harmed by globalization, "you've got a really toxic mess," Patterson said. "This is the declaration of the end of the neoliberal order."
Marianna Vogt isn't ready to surrender. The 36-year-old London therapist, who has an American mother and a German father, took the morning off, having expected to be up all night celebrating. "I did not think it was possible, but I also did not think Brexit was possible," she said. But rather than turning her back on the country, Vogt said the result might drive her to do the opposite -- to join the debate. "Part of me thinks I should move to, say, Kentucky," she said.
Soothing Some Nerves


Trump's conciliatory victory speech at around 8 a.m. London time, in which he praised Clinton's record of public service and pledged to work on behalf of all Americans, soothed some jangled nerves -- at least slightly. The president-elect had "the right kind of things to say," said Robert Worcester, the American-born former chairman of U.K. polling firm Ipsos Mori. But he added a note of concern: "I don't know if he can be managed," Worcester added.
Keeping doors open to the world if the U.S. retreats into isolationism is a task that will now fall in part to expats in places like London, said Russ Shaw, 53, who grew up in Arizona and heads a group in London that promotes the tech sector. The British capital, European hub of firms like Goldman Sachs Group Inc. and Google Inc., is one of the main locations where corporate America comes to do business with the world. And the heads of some the nation's biggest global companies, such as Berkshire Hathaway Inc.'s Warren Buffett and Salesforce.com Inc.'s Marc Benioff, largely backed Trump's opponent.
"For Americans living overseas, he is not representative of what we think or how we view the world," said Shaw. That means Americans dealing with international business partners and friends "will have a task to be those ambassadors, to keep building bridges, because that may not be coming from Washington for some time."
Before it's here, it's on the Bloomberg Terminal.
LEARN MORE