Italy's Next in the Crosshairs for Anti-Establishment Wave
By
Markets look to Italian constitutional vote in December

U.S. election result is 'a deja vu from the Brexit vote': ING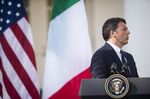 The anti-establishment whirlwind is headed for Italy now that it has sent Donald Trump to the White House.
Italian government bonds slid in the wake of Trump's stunning victory, reflecting worries that Prime Minister Matteo Renzi will lose a referendum on political reform, scheduled for Dec. 4.

"If protest votes are 'a thing,' then the next opportunity for the electorate to express how fed up they are with conventional politics" is for the Italians, Kit Juckes, a London-based strategist at Societe Generale SA, wrote in a note to clients.
Italy's 10-year bond yield rose one basis point, or 0.01 percentage point, to 1.74 percent at 4 p.m. in London, after touching 1.79 percent, the highest since June 24. The 1.25 percent security due in December 2026 dropped 0.125, or 1.25 euros per 1,000-euro ($1,095) face amount, to 95.605.
Italian 10-year yields climbed earlier to the highest level since the day Britain's decision to leave the EU became known. While euro-area securities pared some of their initial knee-jerk reactions to the news of Trump's victory, the spread between Italian and German 10-year yields touched the widest since that day.
The yield on benchmark German 10-year bunds fell two basis points to 0.16 percent, leaving the spread between them and similar-maturity Italian debt at 1.57 percentage point. The gap earlier reached 1.67 percentage points, the widest since June 27.
The Trump win is a "bit of a deja vu from the Brexit vote," said Martin van Vliet, an interest-rate strategist at ING Groep NV in Amsterdam. "For Europe, that means people are going to look at what this implies in terms of the political environment." They will "ask themselves 'can this also happen here?' We have elections in many countries, we have a referendum in Italy," he said. 
"The Italian referendum is probably more about votes in favor or against the establishment and that's the risk for Renzi," van Vliet said. "The current polls are pointing in the direction of a 'no' which you can probably explain from this anti-establishment perspective and that also presents a danger if you look at the elections next year in many euro-zone countries."
Before it's here, it's on the Bloomberg Terminal.
LEARN MORE