Goldman Sachs Says Trump Win Doesn't Mean Too Much for S&P 500
By
David Kostin sees the benchmark index slipping about 2%

Tom Lee of Fundstrat Global Advisors sees the market rallying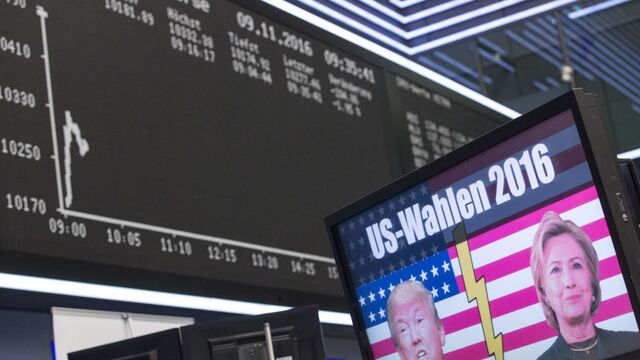 As markets digest Donald Trump's victory, one prominent Wall Street prognosticator is keeping his year-end S&P 500 Index target unchanged.
David Kostin, chief U.S. equity strategist at Goldman Sachs Group Inc., sees the benchmark gauge ending 2016 at 2,100, about 60 points below its level as of 2:20 p.m. in New York. His forecast, tied for second most-bearish in a Bloomberg strategist survey, envisions limited fallout from a Trump presidency and says stocks are likely to resume their ascent in coming years.

U.S. stocks looked poised to open lower Wednesday after losses in the futures market triggered a 5 percent limit down trading curb as investors digested Trump's upset win. Contracts on the S&P 500 all but erased gains by the open, and the benchmark index surged as much as 1.1 percent as speculation mounted the Republican will pursue business-friendly policies.
A Trump victory had been portrayed by analysts as having the potential to unhinge markets banking on a continuation of policies that coincided with the second-longest bull market in S&P 500 history.
"We expect the equity market response to the election result will be limited," Kostin wrote in a client note on Wednesday. "The U.S. economy has been expanding for seven years and continues to grow at a subdued pace. We expect the U.S. stock market will climb slowly during the next few years in line with earnings growth."
While Republican control of both houses of Congress may enable the party to enact sweeping legislation that would be considered pro-business, concern persists over the impact from Trump's pledges to clamp down on immigration to the U.S. and renegotiate free-trade agreements with countries including Mexico.
Another strategist, Tom Lee of Fundstrat Global Advisors, predicted the S&P 500 will rally about 3 percent from where it currently stands through the end of the year. Lee cut his year-end forecast by 100 points to 2,225 but said the Republican sweep of Congress and the executive branch should benefit economic growth and prevent the Federal Reserve from tightening.
"Unpopular presidents do not equate to bad economic and stock market outcomes," Lee wrote in a note to clients Wednesday. "This is restoring some ballast to the political system. The Fed is likely on hold in December and USD weakening is easing financial conditions. Both should be perceived as short-term positives by investors."
Andrew Garthwaite of Credit Suisse Group AG slashed his price target for the S&P 500's level by mid-2017 to 2,200 from 2,300, citing what he says is a tendency for investors to create uncertainty by overreacting to "political shocks." Still, he sees corporate earnings growth underpinning future stock gains, bolstering his view the benchmark index will rise about 2.3 percent in the next seven months.
"We can envisage a set of circumstances under which this election result is positive for equities," Garthwaite wrote in a client note on Wednesday. "Equities should be supported by a high earnings yield, earnings revisions are positive for the first time in three years and a number of factors could catalyze a bond-to-equity switch."
Analysts forecast a profit increase of 2.5 percent for S&P 500 companies in the third quarter. If that holds, it will end the longest earnings recession since the financial crisis.
While Morgan Stanley's Adam Parker didn't adjust his year-end forecast, he advised against investors buying any post-election dip. To him, Trump's victory increases uncertainty in the market, an overhang that could last until after the newly-elected president is inaugurated on Jan. 20. Parker forecasts that the S&P 500 will rise 7.9 percent to 2,300 by the end of September 2017.
Deutsche Bank chief U.S. equity strategist David Bianco is also leaving his 2016 S&P 500 target unchanged at 2,150. He anticipates short-term volatility will send stocks lower in the short-term but once volatility has abated, the broader market will climb, led by health-care shares that have upside of more than 20 percent, he said. The group rallied 3.7 percent Wednesday.
Before it's here, it's on the Bloomberg Terminal.
LEARN MORE