markets
Fed's Path to Rate Hike Clouded by Volatility-Spurring Trump Win
By and
Trump's victory makes baked-in-cake December move less clear

Market gyrations and policy uncertainty could dim outlook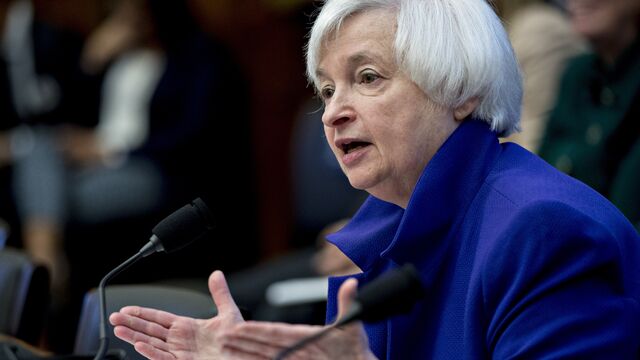 The Federal Reserve's path to raising interest rates looked smooth 24 hours ago. Republican Donald Trump's unexpected election victory has made it a lot rockier.
Trump stunned investors and pundits by capturing the White House on Tuesday, having pledged to "make America great again" by overturning international trade deals and building a wall on the U.S.-Mexico border. Global financial markets gyrated on the news.
Prior to the result, the Fed seemed poised to lift rates next month for the first time since December 2015. In the election's aftermath, market volatility could stay their hand if it persists and financial conditions tighten. Uncertainty about how Trump will approach domestic and international policy could further obscure the economic outlook, and how that plays out has potential to delay or accelerate Fed policy tightening.
"He is the uncertainty candidate -- we don't quite know where his platform is going to fall, what he's going to focus on," said Gennadiy Goldberg, interest-rate strategist at TD Securities LLC in New York. "It could lead them to pause in December, which would be unexpected."
The Fed has a dual mandate: it strives to achieve maximum employment and stable inflation around its 2 percent goal. It's close to achieving both of those objectives, by its own reckoning, as joblessness hovers below 5 percent and price pressures pick up. All else equal, that would spur the Fed to hike rates soon to avoid an inflation overshoot, and it still may.

Regional Fed presidents have signaled that a rate increase could be imminent, and prior to Tuesday's results, investors saw an 84 percent chance of a hike next month, according to pricing in federal funds futures contracts. That probability had slipped to 76 percent by 08:51 a.m. in New York.
Still, Trump's victory raises the possibility that the Fed might wait to get a sense of the fallout. Financial conditions could tighten if markets' negative initial reaction to Trump's victory is sustained, or if he unveils policy proposals that rile them further, such as protectionist trade measures. If that happens, it would reduce the chances of inflation overshoot and warrant a more accommodating monetary policy stance.
"Faced with such a tightening in market-driven financial conditions, the Fed would be less likely to add a higher federal funds rate to the mix," Vincent Reinhart, chief economist at Standish Mellon Asset Management Co. LLC in Boston, wrote in a post-election analysis.
On the other hand, Trump has pledged infrastructure spending and a tax-code overhaul. If the Fed sees a chance that Congress and the White House will begin passing policies to foster growth after years of inaction, it could actually serve to accelerate their rate path going forward.
'Reagan on Steroids'
"He's like Reagan on steroids -- he wants to cut taxes, increase military spending, increase infrastructure spending; monetary policy will adjust to that," said Ward McCarthy, chief financial economist at Jefferies LLC in New York. "It's what central bankers have been calling for: help on the fiscal side." Republican Ronald Reagan cut taxes and boosted defense expenditure after becoming president in 1981.
While the Fed has been careful to avoid discussing the election, it would not ignore the implications of a Trump presidency for the economy.
In a rare admission that politics could weigh on the central bank's policy deliberations, Philadelphia Fed President Patrick Harker signaled last month that the Nov. 8 ballot had the potential to intrude in the Fed's policy calculations.
"What I'm worried about is, depending on the outcome of the election and what happens after that, if there are policies that would have distortive effects that we would have to respond to," he told reporters after a speech in Philadelphia on Oct. 13, answering a question about the Fed's Nov. 1-2 meeting .
In that case, "it may be prudent -- and I emphasize 'may' be prudent -- to wait until we resolve some of that uncertainty," he said.
It may take a while to achieve that clarity. The Fed is next scheduled to meet Dec. 13-14.
"The Fed has plenty of time," said Roberto Perli, a partner at Cornerstone Macro LLC in Washington and former associate director of monetary affairs at the Fed. "It's dangerous to jump to conclusions. So far the Treasury market has been extremely volatile, but it's not particularly scary."
Before it's here, it's on the Bloomberg Terminal.
LEARN MORE