Trump Victory Threatens a New World Disorder as Putin Looks On
by and
Upending alliances, praising Putin mark his policy pledges

Mexico, Ukraine seen standing most to lose in election upset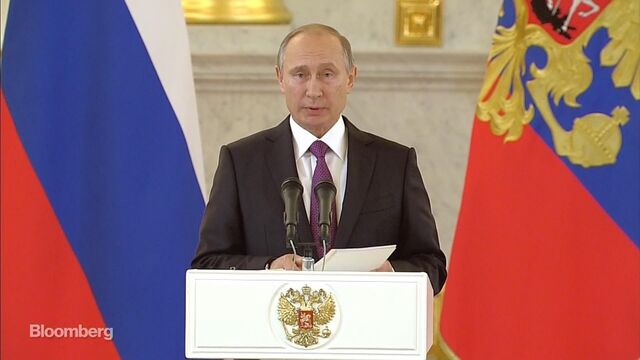 Brexit was the warm-up. With the election of Donald Trump, the populist tide sweeping developed economies has now overtaken the world's most powerful democracy.
What exactly that means for the rest of the world depends upon just how serious the real estate developer and reality TV star was about his campaign pledges. Those ranged from triggering trade wars, to undermining the North Atlantic Treaty Organization, to stoking a new nuclear arms race.
Accepting his remarkable upset over Hillary Clinton on Wednesday morning, Trump reached out to world leaders, many of who have been worried by his campaign. "We will be willing to get along with all other nations willing to get along with us," Trump said. "I want to tell the world community that while we will always put American interests first, we will deal fairly with everyone."
Should he govern as he campaigned, Trump risks unraveling the U.S.-led alliances and institutions that have underpinned security and prosperity for the West since World War II. His election marks a potentially fatal setback to the spread of liberal internationalism that began with the 1989 fall of the Berlin Wall. His policies could deliver crippling blows to the economies and security of Mexico and Ukraine, in particular.

Added to the U.K.'s June vote to leave the European Union and the rise of nativist movements, Trump's victory could amount to "a signal of the disintegration of the West," said Dana Allin, senior fellow at the IISS security think tank in London.
While the U.S. vote presents Russia and China with new opportunities, for U.S. allies it comes as a disorienting shock.
"Everything is at stake. What does it mean for NATO? For trade? For our bilateral relations? For geopolitics?" said former Austrian Chancellor Wolfgang Schuessel. Trump's victory, he said, is "a big boost for populists all over the world."

U.S. Treasuries, the yen and gold all rose by the most since Britain's Brexit referendum, as investors fled to safety. The U.S. dollar fell against major currencies, but soared against the Mexican peso which had lost almost 9 percent against the greenback by 7 a.m. in London.
If Trump should follow through with some of his more extreme threats, such as slapping high tariffs on China and declaring it a currency manipulator, further volatility and flight from risk is certain, said Peter Sands, former chief executive officer of Standard Chartered Plc and now senior fellow at Harvard's Kennedy School of Government. "It will be a massive risk-off," complicated by the fact that the U.S. itself will be the source of the instability, said Sands.
Governments from Berlin to Beijing knew what to expect from a President Clinton. Her long track record as senator and secretary of state marked her as a leader who would continue with current U.S. foreign policies, if in a more muscular style than President Barack Obama.
In Trump, they face unpredictability. He has no record in public office or the military. His pronouncements on foreign policy have been radical and ill-informed or contradictory -- or all three.
"Trump is more of a slogan," said Dennis Ross, who served as foreign-policy adviser to the past three presidents. "I don't know what his priorities would be because it's hard to understand what they are, at least internationally."
With a potentially isolationist U.S. at the helm, the camp of world leaders supportive of liberal democracy, open borders and free trade has narrowed further. The burden of standing up for those values, and to Russia, may now fall to German Chancellor Angela Merkel and Canada's Prime Minister Justin Trudeau.

Much, of course, will depend on Trump's foreign-policy and national-security appointees. In some areas, however, candidate Trump was clear enough to suggest a broad approach, even if he should turn out to be constrained by Congress, strong advisers -- or the norms of diplomacy.
Russian President Vladimir Putin, who denied accusations during the campaign that Russia hacked into the Democratic National Committee's e-mail server to undermine Clinton, has most cause to celebrate her defeat.
Trump has said that if elected he would "be looking at" whether to recognize Russia's 2014 annexation of Crimea, and to lift economic sanctions the U.S. imposed in response to Russia's covert military intervention in eastern Ukraine.
He has also suggested the U.S. should fulfill its Article 5 commitment to defend NATO's Baltic members only if they paid enough, putting in question the alliance's core purpose.
Asked before Tuesday's vote what a Trump presidency would mean for his country, former Ukrainian Foreign Minister Volodymyr Ohryzko said he didn't even want to consider the possibility.
"He has said many, I'm sorry, stupid things," said Ohryzko. "It would be a very critical time not only for American foreign policy, but also for NATO."
Trump's election is a more mixed blessing for China than for Russia. The new president-elect has routinely blasted China and proposed punitive duties on goods from China. That could crater both economies, not least because China is one of the U.S.'s largest creditors. Chinese Ministry of Foreign Affairs spokesman Lu Kang said after the result that both countries had benefited from their trade and that he was confident of a mature relationship.
Some in China have seen Trump's disinterest in U.S. alliances as an opportunity to seize control in the South China Sea and the Far East more widely. They're also skeptical he could carry out his protectionist threats.
"China would lose a lot economically, as would all of us," said Huang Jing, director of the Center on Asia and Globalization at the Lee Kuan Yew School of Public Policy, in Singapore. "But in terms of security it would gain a lot – which is why some people in China were very keen on Trump winning."
Mexico was also squarely in the crosshairs of Trump's protectionist campaign pledges, including renegotiation of the North American Free Trade Agreement, construction of a wall along the border and the repatriation of as many as 11 million undocumented immigrants.
The loss of NAFTA would represent "a semi-apocalyptic scenario for the Mexican economy," said Duncan Wood, director of the Mexico Institute at the Wilson Center in Washington. Not only would it stifle trade and investment, it would also boost the electoral prospects of Mexico's own populists as the entire business model of the government collapsed, he said.
In Iran, Trump was the favored candidate for regime hardliners, anxious both to undermine the nuclear deal President Hassan Rouhani struck with global powers last year, and to maintain a policy of isolation from the West, and the U.S. in particular.
Trump's foreign-policy chops will be most immediately tested in Syria. He has suggested working with Russia to fight Islamic State, which would require accepting that President Bashar al-Assad should remain in power in Damascus. That reversal of U.S. strategy could put Trump in conflict with Saudi Arabia and other U.S. allies.
Turkey is a NATO member still committed to Assad's removal, and Europe sees Russia's scorched earth tactics in Syria as a recipe for generating more refugees. Together with his vocal support for Britons to "take their country back" from the EU, that's likely to earn the new president a frosty welcome in Europe.
U.S. foreign policy, said Allin of the IISS, promises to be driven by "the first radically different, out of the mainstream administration we have had since the war."

Before it's here, it's on the Bloomberg Terminal.
LEARN MORE