El-Erian, Ivascyn, Gundlach on the Prospect of Trump Victory
By and
Election may trigger 'quite a bit of forced selling': El-Erian

Ivascyn says he isn't making big moves on a night like Brexit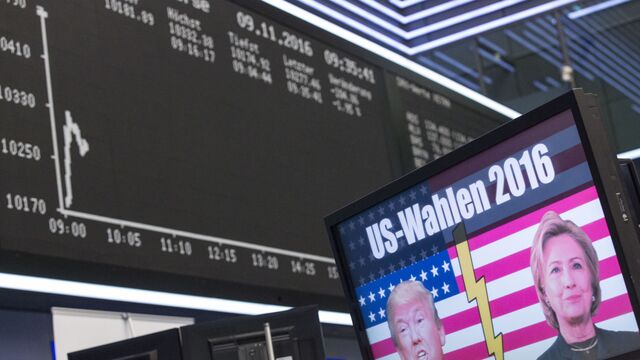 Investors, economists and business leaders across North America quickly reassessed their future Tuesday as Republican Donald Trump's shock victory in the U.S. presidential election sent global markets reeling.
The following are comments collected, mostly in interviews, as Trump's lead over Democrat Hillary Clinton threw currencies and securities prices into disarray, although before his win became apparent. The comments painted different pictures of what the vote's eventual outcome may mean for markets, real estate, international trade and growth:

-- Mohamed El-Erian, chief economic adviser to Allianz SE and a Bloomberg View contributor:
"Having positioned for a high probability Clinton win, markets are repricing to the reality of what has turned out to be a very tight race. If the current market moves hold or go further, there is likely to be quite a bit of forced selling tomorrow, starting with deleveraging of Mexican positions."
"With so many years of low and non-inclusive growth, we are witnessing the politics of anger at play, a phenomenon that polls have under-estimated on both sides of the Atlantic. Both the establishment and expert opinion are being challenged in a big way."
-- Emile Haddad, chairman and chief executive officer of real estate developer FivePoint, who decided not to vote for either candidate in this election:
"There is going to be a short-term concern, but in the long term he will be more friendly to the real estate business in terms of regulations," Haddad said of a Trump win. "Hillary is better for stability and predictability going forward. Trump is going to create a period of uncertainty, but I think in the long term he is going to focus on regulation and the things he talked about would eliminate headwinds for real estate."

"I've never seen a country as divided as it is today along dangerous lines," said Haddad, who immigrated to the U.S. from Beirut, Lebanon, 30 years ago. "This one has a lot of things that make me concerned because it's divided along income levels, the haves and have nots, along racial lines and ethnic lines. Those things in my opinion are dangerous."
He said he will watch closely to see whether a Trump presidency would discourage Chinese buyers who have been active, especially in the Irvine, California, market where his company builds about 700 homes a year.
-- Michael Cohen, commercial real estate brokerage Colliers International's president for the New York tri-state region:
"People talk a lot about factory jobs and bringing back manufacturing. I think the question is going to be, whoever wins, how will their policies affect the growth of the industries that have been adding jobs and attracting investment in New York and other major cities around the country?"
"It's worth observing that it doesn't look like those major cities around the country are calling the shots in this presidential race," he said. They include San Francisco, Los Angeles, Nashville, Austin and the Raleigh-Durham area of North Carolina.
-- Stuart Levings, CEO of Genworth MI Canada Inc., Canada's largest private mortgage insurer:
"Trump winning is riskier to the Canadian economy."
"Trump says he'd target NAFTA. If he was to be serious about that it would be extremely bad for the Canadian economy. You would feel it particularly in manufacturing, auto parts. We'd be dealing with particularly the trade protectionism where he wants to protect jobs in the U.S., increase duties and tariffs on imports."
"That would impact the real estate market with potentially lost jobs and incomes, and lower demand in those areas. A Brexit-like vote in the U.S. would impact Canada's economy, hit our export market."
-- Dan Ivascyn, the chief investment officer of Pacific Investment Management Co.:
The tight race was "another example of strong, anti-establishment sentiment." He said the firm wasn't making major moves overnight, calling it "similar to Brexit night."
-- Paul Ashworth, chief U.S. economist for Capital Economics, in a note to clients:
"This is very much a step into the unknown because we simply can't know what type of president Trump will be. Will he be the demagogue from the campaign trail, who threatened to lock up his political opponents, punish the media, build border walls and start a global trade war? Or is he capable of becoming a statesmanlike figure who leads in a more measured manner?"
"Given the adverse market reaction we have already seen, the Fed's planned December rate hike is now off the table."
-- Tod Lickerman, global president of real estate services company Cushman & Wakefield:
Because Trump and Clinton didn't detail many key policies affecting markets during the campaign, it's unclear how much the winning candidate will change, he said.
"In our industry, it's more longer-term investments and bets that go toward the longer-term health of the country. This election hasn't provided a lot of fodder either way to suggest there's going to be major change or disruption."
-- Jeffrey Gundlach, whose Los Angeles-based DoubleLine Capital managed $106 billion as of Sept. 30, speaking in a webcast before polls closed:

"Donald J. Trump massively outperformed expectations of a year ago and even six months ago, and I'd like to thank him for all of the effort."
Wednesday's market opening "will give us some insight into whether this is the beginning of a relief rally with the election over or whether we gap down and then we fall into the abyss."
Asked why he has continued to praise Trump, even though many of his investors oppose the Republican candidate, Gundlach replied: "Since when have I cared what the consensus thinks?"
-- Rajath Shourie, a Los Angeles-based managing director at Oaktree Capital Group LLC, the world biggest distressed-debt investor:
Speaking of a potential Trump victory before the winner was declared, he said: "The markets were clearly set up for that being a surprise. If Trump were to be elected, the markets would see a fairly significant short-term trade down, similar perhaps to Brexit. That's both U.S. stocks and credit. Mexican peso is negatively correlated to a Trump victor as well."
"Longer term, it depends on what sort of policies Trump really has," he added. "There are some things that he supports that could be considered business-friendly. He's generally seen as a tax cutter. He's generally seen as lowering regulation. The one thing that he is absolutely not business-friendly on is trade. It's also something that a U.S. president has direct power over."
— With assistance by Bei Hu, John Gittelsohn, Prashant Gopal, Max Abelson, and Katia Dmitrieva
Before it's here, it's on the Bloomberg Terminal.
LEARN MORE