ECB Signals Vigilance on Policy as Trump Win Shocks Investors
By , , and
Euro surges, bond spreads widen on U.S. presidential victory

Executive Board's Praet says ECB must be 'calmer than markets'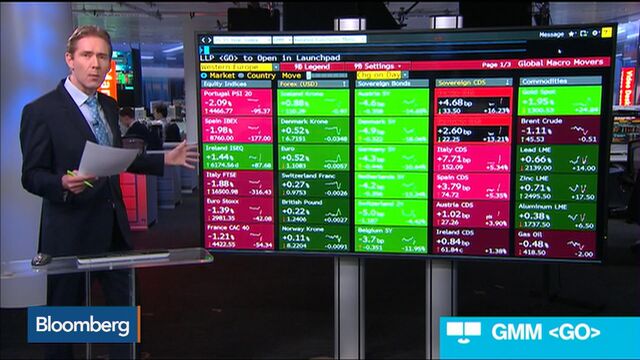 European Central Bank officials responded cautiously to the election of Donald Trump as U.S. President, suggesting that their accommodative policy stance won't change imminently despite turbulence on global markets.
The Frankfurt-based ECB is "closely monitoring the situation as usual, and usually what we do is look through volatility of course for the first days," Executive Board member Peter Praet told reporters at a conference in Brussels on Wednesday. "We have to be calm -- calmer than markets, certainly."

Early sell-offs in global stocks and rallies in haven assets eased Wednesday as investors attempted to process Trump's victory and the potential for an increase in U.S. trade protectionism. Even so, the euro area's slow recovery stands to lose momentum if economic uncertainty spikes in the wake of the vote or monetary conditions tighten.
The euro rose as much as 2.5 percent against the dollar before paring its gains to trade up 0.6 percent at $1.1089 at 11:31 a.m. Frankfurt time. The Swiss franc was at 1.0806 per euro, after rising as high as 1.0752. The SNB declined to comment on potential interventions to prevent the currency from appreciating. Italian government bonds dropped, diverging from their German counterparts, and the Stoxx Europe 600 Index slid 0.6 percent.
Intervention Readiness
Other Governing Council members offered a similar viewpoint to Praet. Austrian central-bank head Ewald Nowotny told reporters in Vienna that now was a time to be "watchful," though a response couldn't be ruled out, including in currency markets.
"We are prepared; also, in an emergency, to intervene," Nowotny said, adding that a lot depends on the U.S. Federal Reserve's own reaction at its next policy decision in December. "It had been seen as very probable that they would raise rates. Whether that's still so probable, no one can say. That has an effect on rate developments in Europe."
Dutch central-bank head Klaas Knot said at an event in Amsterdam that the Trump victory reflects skepticism about the benefits of globalization -- doubts that he argued were "not right."
The long-term impact of Trump's victory on the European economy will depend on how much of his campaign platform he can implement. Large-scale infrastructure spending, pledged in his victory speech, could aid Europe's export economy by boosting U.S. demand. A hardline renegotiation or rejection of trade agreements could damp global trade and potential growth.
"We will follow the markets thoroughly," Knot said. "The implications for the real economy will take more time" to materialize.
Brexit Model
The ECB might base its reaction on the aftermath of the U.K.'s vote to leave the European Union in June, when the central bank stressed its ability to provide liquidity to the financial system. The initial shock of that vote failed to translate into immediate economic weakness.
"With Brexit, the reaction was dramatic and strong, then it stabilized again but a higher level of nervousness remained," Nowotny said. "I fear that we'll now experience just such a phase of medium-term uncertainty."
The ECB already has a quantitative-easing program that's injecting 80 billion euros ($89 billion) a month in an attempt to fuel inflation. That plan, which is currently scheduled to run until at least March, will be reviewed at a policy meeting on Dec. 8. Praet signaled in a speech at the Brussels conference that the stimulus is likely to continue.
"To secure a return of inflation rates to levels below, but close to, 2 percent over the medium term, it will remain necessary to preserve a very substantial amount of monetary support," he said, adding that the December meeting will "evaluate the whole picture."
Those remarks echoed an opinion piece published in French newspaper Les Echos late Tuesday by Praet's colleague, Benoit Coeure, who said the ECB "will continue to support the recovery of the euro area in an uncertain international climate."

— With assistance by Piotr Skolimowski, and Corina Ruhe
Before it's here, it's on the Bloomberg Terminal.
LEARN MORE