Clinton Calls on Supporters to Give Trump Chance to Lead Country
By
Democrat says she was proud to be champion for young women

Clinton delivers first remarks since conceding election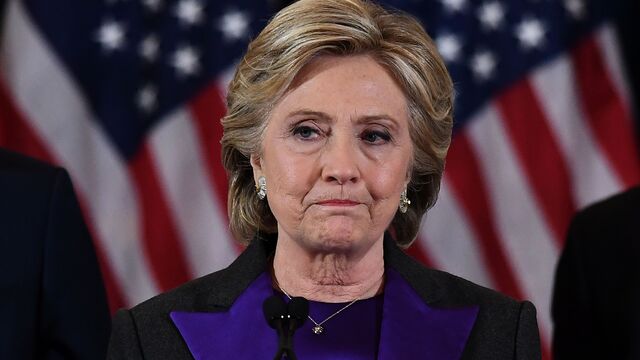 Hillary Clinton said her loss to Donald Trump was a deep disappointment but she urged her supporters to give the president-elect a chance to be a successful leader for all Americans.
"We owe him an open mind and the chance to lead," Clinton told a crowd of cheering campaign staff members and supporters in New York. "Our constitutional democracy enshrines the peaceful transfer of power and we don't just respect that. We cherish it."
Clinton conceded the contest to Trump in a private telephone call early Wednesday morning. In her first public remarks since Tuesday's vote making Trump the 45th president of the United States, Clinton, 69, said that the nation is "more deeply divided than we thought." Still, the first woman nominated for president by a major U.S. political party said she was proud to serve as a champion for young women even in a losing campaign.
Trump's narrow victory was a stunning repudiation of a political establishment that Clinton, having spent decades in public life, came to symbolize for many voters. She was unable to marshal the coalition that elected President Barack Obama twice as anger over economic uncertainty and social changes boiled over on Election Day.
Before the election's surprise results Clinton had been seen as the favorite and the question was how Trump would concede, or whether he would claim to be the victim of a system he has called "rigged." Instead, it was Clinton left to grapple with voters' rejection -- her second high-profile loss after Obama defeated her for the party nomination in 2008.
The Democrat didn't appear at her planned victory party in Manhattan on Tuesday night, instead sending campaign chairman John Podesta out to tell supporters to get some sleep as the Republican's victory was becoming clear.
Trump also called for national unity.
"It's time for America to bind the wounds of division," he said in his victory speech. "I pledge to every citizen of our land that I will be president for all Americans."
To Clinton's supporters, he said, he was "reaching out to you for your guidance and your help so we can work together to unify our great country."
— With assistance by Elizabeth Titus, John McCormick, and Mark Niquette
Before it's here, it's on the Bloomberg Terminal.
LEARN MORE