China Watchers Greet Trump With Trepidation on Trade Risks
By
U.S. president-elect has vowed to impose import tariffs

China has been among biggest beneficiaries of globalization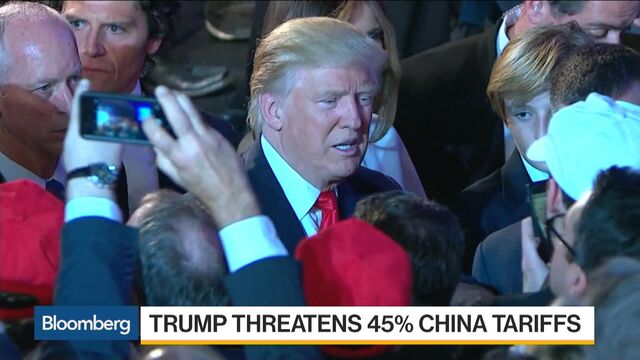 Donald Trump's victory in the U.S. presidential election is giving China watchers something new to worry about -- the threat of a trade war between the two largest economies.
Before the poll, Trump made his position clear: China was a "grand master" at currency manipulation and was stealing American jobs. He threatened punitive tariffs of up to 45 percent on the country's imports, a step that Commonwealth Bank of Australia estimated would cut China's shipments to the the U.S. by 25 percent in the first year. George Magnus, senior independent economic adviser at UBS Group AG, says the $11 trillion Asian economy stands to lose from a more protectionist America.
"China flourished during the heyday of globalization," Magnus said. "Trump is the antithesis of globalization, which has already stalled in some respects. It's hard to see anyone a winner in a Trumpism world, least of all China. We should expect a more nationalist and prickly China, with even more reason for paranoia."
Trump's triumph came as a shock, with the 70-year-old comfortably winning swing states from Florida to Ohio. For China analysts, the top priority now is trying to work out how committed the Republican is to following through on his pledges.
"It's unclear how far he will go though in terms of potential tariffs," said Shane Oliver, Sydney-based head of investment strategy at AMP Capital Investors Ltd., which oversees about $121 billion. "But his policies do pose a risk to China and the region," Oliver said, noting the heavy losses in Asian stocks on Wednesday as the vote count rolled in. "Hopefully cool heads will prevail."
For more on China's angst over the anti-globalization trend, click here

A gauge of Chinese stocks traded in Hong Kong plunged as much as 5.3 percent on Wednesday before rebounding on Thursday The yuan slumped 0.3 percent to 6.7972 per dollar, its lowest level since September 2010, at 6:51 p.m. in Shanghai.
The threat of a more protectionist American comes at a challenging time for China. The authorities are trying to deflate a property market bubble without exacerbating a jump in bad loans, reform unproductive state-owned enterprises as well as cajole private businesses to accelerate their investment spending. There is also a risk of conflict in the South China Sea as the Communist Party, led by President Xi Jinping, challenges U.S. dominance in Asia.
Trump took a constructive tone in his victory speech, asking Democrats and Republicans to work together for the good of the country and affirming his commitment to building roads, schools and hospitals. He also said he'll seek common ground, not hostility, with other nations.
China's Foreign Ministry said it looked forward to working with the new U.S. government to ensure a "sound and steady" development of bilateral ties.
Mutually Beneficial
"China-U.S. trade cooperation has benefited the U.S. people instead of hurting their interests," said Foreign Ministry spokesman Lu Kang at a briefing in Beijing on Wednesday before Trump's victory was confirmed. "As for any issues between the two countries, we hope our relationship can be mutually beneficial."
Trump's victory marks a shift by voters against globalization, following Britain's unexpected decision in June to leave the European Union. Elections in Germany and France in 2017 could see further venting over frustration at years of subdued income gains, blamed by some on competition from trade.
"As the world's largest exporter, China has the most to lose from the global spread of protectionism," said David Loevinger, a former China specialist at the U.S. Treasury who is now an analyst at fund manager TCW Group Inc. in Los Angeles. "The anti-globalization wave will undermine reformers who are trying to open up China's economy."
Trade Deal
Some analysts see a silver lining for China in a deterioration of the ties between the U.S. and the rest of the world, arguing that it may push other Asian economies to cosy up to their larger neighbor. Trump's pledge to withdraw from President Barack Obama's Trans-Pacific Partnership may benefit China, which was excluded from the free-trade agreement, according to Kevin Lai, chief economist for Asia excluding Japan at Daiwa Capital Markets in Hong Kong.
"Should the U.S. pull out, and the deal fall through, China would avoid the negative economic impact of being shut out of the massive trade deal," Lai wrote in a note Wednesday.
China recorded a $208 billion trade surplus with the U.S. for the first 10 months of the year. Criticism by Trump includes charges that the government in Beijing deliberately keeps its currency weak to aid exporters and props up loss-making state-owned steelmakers that dump their product onto global markets at cut-throat prices. For DBS Bank Hong Kong Ltd., blaming China is a traditional part of U.S. electioneering, and not a blueprint for U.S. policy.
"A lot of U.S. presidential candidates had named China as a foe in their campaigns, but once they're elected, they do business as usual," said Chris Leung, a senior economist at DBS Bank.
Still, any threat to China's trade could encourage more weakness in the nation's currency, which is already trading at a six-year low against the dollar.
"Deteriorating exports may make China more tolerant of yuan depreciation," said Ding Shuang, chief China economist at Standard Chartered Plc in Hong Kong. "If Trump makes good on his promise and imposes high tariffs unilaterally, both countries will suffer." 
— With assistance by Helen Sun
Before it's here, it's on the Bloomberg Terminal.
LEARN MORE