markets
Canada Stocks Rally as Resource Producers Shine After Trump Win
By
Canada-U.S. trade agreement under scrutiny after stunning vote

'The gold guys will love this,' Lundin CEO Conibear says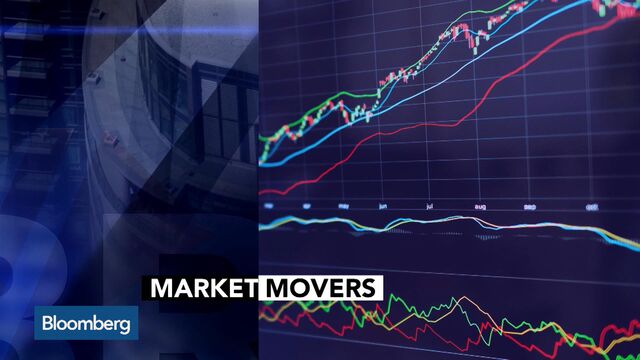 Canadian stocks joined surging markets around the world as investors bet U.S. President-Elect Donald Trump would move ahead with pro-growth policies, buoying the country's natural-resource producers.
The S&P/TSX Composite Index added 0.7 percent to 14,759.91 at 4 p.m. in Toronto, joining U.S. stocks in rising after the Republican's election upset on Tuesday night. Surge Energy Inc. and Canadian Energy Services & Technology Co. jumped at least 6.5 percent as energy companies led gains in the equity benchmark.

"I don't think this is the end of the world, or even the beginning of the end of the world," said Tom Caldwell, chief executive officer at Caldwell securities Ltd., which manages about C$1.5 billion ($1.1 billion). "The best way to undercut a revolution is to give the revolutionaries power, because they have to confront what is doable. That will moderate Trump along with his advisers."
Just what exactly Trump intends to do with the power he's won -- and how closely that lines up with his campaign rhetoric -- will be revealed over the coming months, leaving no shortage of uncertainty for equity investors to navigate. Canada's manufacturing base, for instance, is vulnerable as Trump may push to change the long-standing North American Free Trade Agreement, Caldwell said.
Trump campaigned on a pledge to renegotiate or potentially end NAFTA, a pact that has existed between Canada, the U.S. and Mexico since 1994 and has been a boon to the Canadian economy.
Trade Flows
The U.S. is Canada's largest trading partner, purchasing about three quarters of all Canadian exports worth almost C$400 billion in 2015 according to Statistics Canada data. The U.S. is also the biggest foreign investor in Canada, with C$388 billion in investment, or about half of all foreign direct investment. Canada invested about C$449 billion in the U.S. in 2015, the main destination for funds.
Companies that derive significant revenue from south of the border declined, as auto-parts supplier Magna International Inc., which lost 3.9 percent for its biggest drop since July. West Fraser Timber Co., which got 55 percent of its revenue from the U.S. in 2015, fell 6.6 percent.
Canada's big banks and energy producers will be fine, especially if TransCanada Corp. wins approval for Keystone XL under a Trump presidency, Caldwell said. TransCanada jumped 3 percent, its biggest gain since January, on hopes Trump would move to approve the company's pipeline from the oil sands to the U.S. Gulf Coast.
"Keystone looks like a key positive," said Stephen Lingard, portfolio manager with Franklin Templeton Solutions, a unit of Franklin Templeton Investments. Lingard and his team oversee C$9.5 billion in Canada, and the firm manages $733 billion globally. "If that gets re-opened, that's a benefit for the oil and gas sector, which frankly needs a lifeline given how tough the fundamentals have been."
Conciliatory Tone
Lingard said he was surprised volatility isn't higher, and that may have to do with Trump's conciliatory tone after his victory.
"I do think a lot of his initial message on being very conciliatory, more statesman-like than populous has played a role in this fairly muted market reaction," he said. "You didn't know which Trump would show up."
Raw-materials producers added 1.7 percent as a group as gold surged overnight the most since Britain's Brexit vote in June, before paring gains. Canadian producer Barrick Gold Corp. advanced 1 percent. HudBay Minerals Inc., which produces zinc and copper, rose 4.2 percent as industrial metals also advanced.
"The gold guys will love this," Paul Conibear, chief executive officer, Lundin Mining Corp., said in a phone interview. Lundin surged 6.8 percent. "Gold historically has already worked best as a safe haven when there's uncertainty on the U.S. dollar, uncertainty on world economies."
Buying Opportunity
Kash Pashootan, fund manager at First Avenue Advisory in Toronto, planned to deploy at least 5 percentage points of the 20 percent cash position he had built up in his portfolios today depending on how the markets reacted. 
"Certainly we view this as a buying opportunity," he said. "Be selective, as volatility isn't a one-day event."
Pashootan is targeting some of his own dividend-paying holdings that have recently pulled back, including Aecon Group Inc. as well as interest-rate plays Enbridge Inc., BCE Inc. and Emera Inc. as the Federal Reserve may now hold off on raising interest rates in December after the surprise election results, he said.
Canada has been a bright spot for investors this year, with the stocks rallying 13 percent for the best performance among developed markets on the back of a rebound in commodities prices.
— With assistance by Danielle Bochove, and Doug Alexander
(
Updates with comments throughout.
)
Before it's here, it's on the Bloomberg Terminal.
LEARN MORE