business
Bill Gross Says Trump Victory Won't Lead to More Economic Growth
By
Bond manager keeping his forecast for 1 to 2% expansion

Demographics, debt and technology are drags on growth, he says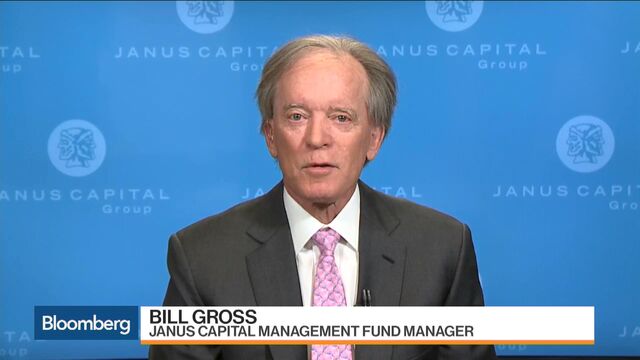 Bond investor Bill Gross said Donald Trump's stunning victory and Republican control of Congress probably won't spur faster economic growth -- a view that runs counter to that of many on Wall Street.
"Growth is stunted," Gross said on Bloomberg TV on Wednesday. "I don't think a Trump victory will do much there."
Gross, who runs the Janus Global Unconstrained Bond Fund, said even if Trump is able to shovel a lot of government spending into infrastructure, he's still keeping his 1-to-2 percent forecast for economic expansion. The manager said structural factors -- including demographics, debt deleveraging and technology displacing jobs -- make greater growth hard to achieve.
"It is not necessarily a slam dunk despite the fact that Republicans have all three Houses," Gross told Bloomberg's Erik Schatzker.
Watch Gross's interview on Bloomberg Television here
BlackRock Inc. took the opposite position, saying on Wednesday that Trump's plan to increase infrastructure spending may boost growth. BlackRock also said that Trump's planned income tax cuts could initially increase consumer spending.
Mohamed El-Erian, chief economic adviser to Allianz SE, told Bloomberg TV Wednesday
that Trump has an opportunity to create a pro-growth consensus in Washington around infrastructure spending, carried-interest taxation and regulatory reform. But he said Trump needs to refrain from pursuing his anti-trade policies of slapping tariffs on Mexico and China. 
"If we hear the anti-trade rhetoric, we're likely to see equity markets lower," he said.
Gross also said health-care companies could be affected by a Trump presidency since he has promised to dismantle the Affordable Care Act. "Health care is definitely on the chopping block," Gross said.
On the positive side, he said the bonds of defense companies could benefit since Trump may increase funding for the military.
Before it's here, it's on the Bloomberg Terminal.
LEARN MORE