markets
Battered by Trump Win, Tokyo Stocks Feel Brunt of Selloff Again
By , , and
Surging yen weighs on exporters with more currency gains seen

Prospect for anti-trade policies also spooks investors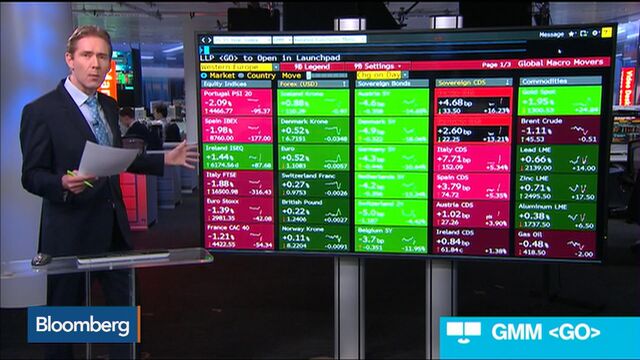 Once again, like after the Brexit vote, one of the biggest routs in global stock markets came a world away in Tokyo.
Japan's benchmark Topix index slumped 4.6 percent, the largest decline since Britain voted to leave the European Union and the worst performance in Asia, as Donald Trump unexpectedly won the U.S. presidential race. It's familiar territory for investors in the world's third-largest economy, where equities are often battered by global market shocks as the yen surges on haven demand.
The Japanese currency surged as much as 3.9 percent against the dollar as traders realized Trump was going to win. And as odds that the Federal Reserve will raise interest rates this year tumbled, fueled by uncertainties about a Trump presidency, the likelihood increased that the yen has further gains ahead. The bad news goes beyond the currency: investors are also bracing for a derailing of the Trans-Pacific Partnership trade pact and the possibility of higher tariffs on the nation's exporters.
"The Japanese equity market is being hit by a double whammy," Shane Oliver, Sydney-based head of investment strategy at AMP Capital Investors Ltd., which oversees about $125 billion, said by phone. "The likely elevation of Trump to president has reduced the probability of a Fed rate hike in December, which has in turn pushed the value of the yen back up and that's hurting shares," he said. There's also "the policy uncertainty around trade."
Fed Delay
The chance the Fed will increase borrowing costs in December dropped below 50 percent, from 78 percent the day before, according to implied probabilities from overnight index swaps compiled by Bloomberg. That takes away one source of optimism for the Japanese equity market: the idea that higher U.S. rates would weaken a Japanese currency that has already strengthened 17 percent this year. A stronger yen weighs on the earnings outlook for the nation's carmakers and electrical-appliance manufacturers.
"The yen may continue to come under pressure, that's for sure," said Hiroshi Matsumoto, head of Japan investment at Pictet Asset Management. The yen traded at 102.37 against the greenback on Wednesday. "It may test 95 per dollar in a month or two. The Fed hike probably cannot come in December, and we know that Trump's policy is anti-trade."
The trade concerns were evident in the stocks battered the hardest in Tokyo on Wednesday, from shippers to steelmakers, clothing retailers to auto manufacturers. Trump has campaigned on bringing manufacturing jobs back to the U.S., rejecting the TPP and rewriting trade agreements that he says are unfair.
"TPP is pretty much dead," Sean Darby, chief global strategist in Hong Kong at Jefferies Group LLC, said by phone.
TPP, Tariffs
The demise of the global pact will be a big blow for Prime Minister Shinzo Abe, said Gavin Parry, managing director of Parry International Trading Ltd. in Japan. Not only that, watch for the possibility of retaliatory tariffs on Japanese carmakers, he said.
Trump has also said Japan is manipulating its currency, and that the nation is among a list of countries that "do not pay" for defense provided by the U.S.
"The issues go beyond the market," said Norihiro Fujito, a Tokyo-based senior investment strategist at Mitsubishi UFJ Morgan Stanley Securities Co. "It affects the very structure of Japan. Issues of national security, foreign policy will be thrown up in the air. Beyond just market participants, it makes normal citizens worried, it makes them carry fear over what will happen next."
Still, some investors were starting to see the selloff as a buying opportunity. The Topix now trades at 13.6 times estimated earnings, compared with 18 times for the S&P 500 Index in the U.S.
Buying Opportunity
"If you're daring enough, you can start buying Japanese shares tomorrow or Friday," said Hans Goetti, Dubai-based chief strategist for the Middle East and Asia at Banque Internationale a Luxembourg, which manages $40 billion. "Valuations are quite attractive."
Not all shares in Tokyo reacted badly to the news of a Trump win. Tokyo Keiki Inc., whose products include military gyrocompasses, led gains on the Topix, surging 18 percent. Howa Machinery Ltd., which makes rifles, climbed 12 percent, while Ishikawa Seisakusho Ltd., which gets about half its revenue from Japan's Defense Ministry, soared 14 percent.
Still, after Wednesday's selloff, the Topix has slumped 16 percent this year, the worst performance among developed Asian equity markets tracked by Bloomberg. For Takuya Yamada, a senior money manager at Astmax Asset Management Inc. in Tokyo, there are further bad times ahead. The only question is how bad.
"The U.S. is becoming more inward-looking, so there'll be a headwind blowing for Japan," he said. "But it's difficult to gauge how much negativity will actually surface."
— With assistance by Yuko Takeo, and Jonathan Burgos
Before it's here, it's on the Bloomberg Terminal.
LEARN MORE