Credit Markets Pare Selloff After Trump Wins U.S. Presidency
by , , and
Traders bought and sold more than $27 billion of protection

'Not clear that this should be a big negative' for bonds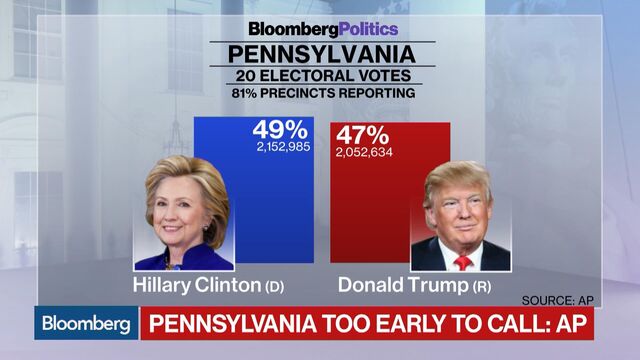 Trading in corporate bonds in the United States surged after Donald Trump was elected its 45th president.
Volume was more than 50 percent above average daily levels, according to Trace, the bond-price reporting system of the Financial Industry Regulatory Authority. Notes issued by healthcare, materials and technology companies saw the largest increases. The jump comes as credit markets worldwide pared an earlier selloff.
U.S. high-yield credit default swaps rose 6.1 basis points to 416 basis points at 8:40 a.m. in New York, according to data provider CMA. That's below 436 basis points seen on Nov. 3, a level not reached the selloff in credit markets in the aftermath of the Brexit vote.
A similar measure for investment-grade bonds gained 2 basis points to 78.25 basis points. Traders bought and sold more than $27 billion of protection on global credit indexes as of 9:20 a.m. in New York, compared with $20 billion for the whole of Tuesday, Bloomberg data show.
'On Edge'
"People are very on edge, there's a lot of uncertainty and people are very emotional," said Gershon Distenfeld, a portfolio manager at AllianceBernstein Holding LP, which oversees $280 billion in fixed-income assets. "But in terms of markets, it's not clear that this should be a big negative."
Trump pulled off a electoral upset in a stunning repudiation of the political establishment after polls underestimated his chances of success. In his victory speech, the real-estate developer and reality-TV star promised to try to unite the country following a divisive campaign.
"Trump was a lot more rational than expected and his speech was very pro-business, which has helped calm some of the initial panic," said Richard Hodges, London-based head of unconstrained fixed income at Nomura Asset Management, which oversees $350 billion. "We have yet to fully comprehend the impact."
The earlier selloff spread to Europe from Asia. The Markit iTraxx Europe index linked to investment-grade corporate debt rose as much as five basis points to 78, and is now at 75. The high-yield measure surged as much as 21 basis points to 347 basis points, and is now at 334, Bloomberg data show.
The Markit iTraxx Asia index of credit-default swaps rose as high as 122 basis points and was at 119 basis points as of 4:24 p.m. in Hong Kong, prices from Nomura Holdings Inc. show.
You 'Reassess'
"The unlikely is no longer impossible," Stephan Ertz, head of credit at Union Investment in Frankfurt, which manages 280 billion euros ($315 billion). "It means you have to reassess, there will be changes and you don't know how it will affect you."
Europe's main benchmark had about $3.9 billion of trades, compared with an average of $5.5 billion for a full day, according to data compiled by Bloomberg. The volume on Europe's high-yield benchmark was $1.7 billion, exceeding the full-day average of $1.2 billion.
"As sunlight moves from East to West and as the new day dawns, we are facing a world which we, the markets, didn't expect to wake up to," Anthony Peters, a strategist at Sol Capital Advisory. "Keep those hedges and watch patiently."
Before it's here, it's on the Bloomberg Terminal.
LEARN MORE