'Brexit Plus' Isn't So Far-Fetched Now
By
Memories of shock U.K. referundum loom large among investors

Mexican peso plunges with stocks as yen, gold advance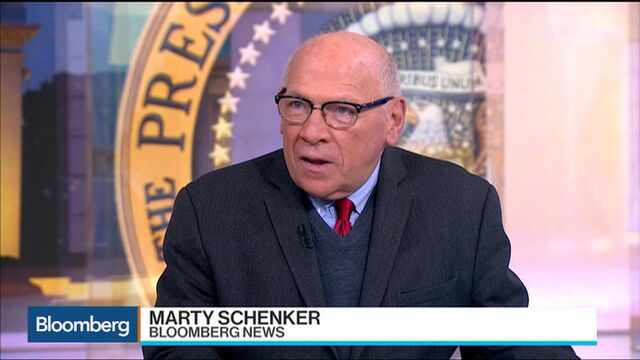 When Donald Trump predicted on Monday that U.S. voters would deliver "Brexit plus, plus, plus" by handing him the presidency, global investors dismissed the comment as another example of the Republican candidate's trademark hyperbole.
Now they're paying the price.
As stocks, currencies and commodities reeled on Wednesday amid vote tallies signaling a massive electoral upset for Trump, memories of the Brexit-induced market turmoil in June loomed large. While markets pared some of their most extreme moves of the day as Trump struck a conciliatory tone in his victory speech, Mexico's peso traded near a record low and U.S. stock-index futures tumbled.
"Once the baton is passed to politics, this is a prime example of how volatile markets can be," said Bret Barker, head of U.S. fixed-income at TCW Group Inc., which manages $185 billion.
Trump, a 70-year-old real estate magnate and reality-TV star, was projected to become America's 45th president by the Associated Press and television networks in early U.S. hours on Wednesday. As his victory became clear, markets around the world responded with some of their most violent reactions since Britain's surprise vote to leave the European Union.

The Mexican peso, which has tended to weaken as Trump's prospects improved, sank 7.8 percent against the dollar at 8:17 a.m. in London after an earlier decline of more than 11 percent. The currency had climbed with U.S. stocks over the past two days on bets for a Hillary Clinton presidency. Futures on the S&P 500 Index lost 2.2 percent on Wednesday, while the Stoxx Europe 600 dropped 1.4 percent and oil retreated 1.2 percent. Gold climbed with the yen.
"It's similar to Brexit, we're seeing a lot of short-term positions being cut in a kind of panic," said Jesper Bargmann, Nordea Bank AB's head of trading for Asia in Singapore. "I'd say that liquidity in the major currencies has been a little bit better and moves have been bit more orderly this time round."
Hedging Positions
Some investors had prepared for the worst. Data from volatility markets suggests they spent liberally on hedging instruments, with outstanding futures on the CBOE Volatility Index climbing steadily since June.
"If you're a trader, you hedged your bets," Quincy Krosby, a market strategist at Prudential Financial Inc. in Newark, New Jersey, said by phone. "You didn't go into this expecting a clean sweep for Democrats."
Nader Naeimi, who runs a dynamic investment fund for AMP Capital Investors Ltd. in Sydney, had anticipated a Clinton win, betting on weaker yen and gains in global bank shares. But he also hedged those positions with options that shield about 70 percent of his equity holdings from declines.
"Now I'm glad we bought portfolio protection," said Naeimi, whose firm oversees about $119 billion.
Fed Factor
While U.S. equities may open "sharply" lower on a Trump victory, that doesn't necessarily mean long-term declines are in the offing, said Bruce Bittles, chief investment strategist at Milwaukee-based Robert W. Baird, which oversees $110 billion.
Gains or losses in the S&P 500 Index in the first 24 hours after presidential elections have predicted the market's direction 12 months later less than half the time, according to data compiled by Bloomberg. While almost $4 trillion was erased from global shares in the knee-jerk reaction to Brexit, equity markets recovered within a month.
Optimists can take heart from falling odds on a Federal Reserve interest-rate increase in December. The market-implied chance of a hike plunged to about 50 percent during Asian trading, data compiled by Bloomberg show.
"We have to look past the short-term volatility," Bittles said. "After the election, investors will be focusing on the Fed and what they're going to do in December."

— With assistance by Oliver Renick, Dani Burger, Simon Kennedy, Min Jeong Lee, Jake Ulick, Kevin Buckland, Adam Haigh, Jonathan Burgos, Andrea Wong, Lananh Nguyen, and Joseph Ciolli
Before it's here, it's on the Bloomberg Terminal.
LEARN MORE