Wall Street Bond Gurus Brace for Trump Shock, Expect Clinton Dud
By , , and
Dealers say Treasury yields would tumble Nov. 9 on Trump win

'The election event risk is asymmetric,' BMO's Lyngen says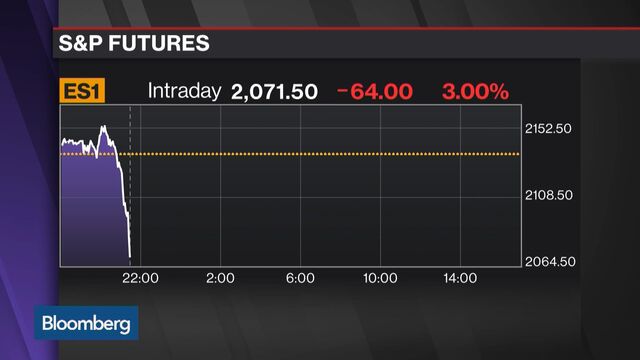 Dealers in the $13.8 trillion Treasuries market are preparing for sharply divergent next-day reactions to the U.S. election outcome, girding against Brexit-like volatility while still expecting relative calm.
The day after Americans choose their next president, U.S. 10-year yields will either plunge by the most since the U.K.'s June vote to leave the European Union or hold near current levels. That's according to the average forecasts of 11 respondents in a Bloomberg survey of the 23 primary dealers that trade with the Federal Reserve. Most strategists said yields will fall Wednesday if Republican Donald Trump wins the White House and will remain steady or rise if Democrat Hillary Clinton prevails.

The Brexit shock is fresh in the minds of global investors who were caught off-guard by an outcome many polls failed to predict, causing sovereign debt to surge with other havens as stocks sold off and the British pound plunged. Traders aren't ruling out an upset in Tuesday's election even as polls show Clinton, who's viewed as a continuity candidate, holding a narrow lead over Trump, who's seen as less predictable. Strategists say the probability of a Fed interest-rate hike next month would tumble if Trump wins.
"The election event risk is asymmetric," said Ian Lyngen, head of U.S. rates strategy at BMO Capital Markets, a primary dealer. "Either a Trump victory will trigger a massive flight-to-quality move, or a Clinton win will result in a more modest bid for risk assets and status-quo expectations."
Benchmark Treasury 10-year note yields rose three basis points, or 0.03 percentage point, to 1.85 percent at 5 p.m. in New York, according to Bloomberg Bond Trader data. The 1.5 percent security due in August 2026 fell 1/4, or $2.50 per $1,000 face amount, to 96 27/32.
Dealer Forecasts
The average estimate in the survey conducted Nov. 3 - Nov. 7 has 10-year yields falling to 1.68 percent should Trump win. That would be the biggest decline since the 19-basis-point drop on June 24, the day after the Brexit vote.
U.S. 10-year yields would tumble to 1.5 percent on a Trump victory as investors seek the safest assets, according to Mizuho Securities USA Inc., the most bullish Treasuries call in the survey.
"It will be a market event much like Brexit was," said Steven Ricchiuto, chief economist in New York at Mizuho. "Big money doesn't want Donald. Big money wants Hillary Clinton."
Benchmark yields rose for a second day Tuesday as preliminary U.S. election analysis signaled Clinton may be garnering more early votes in key battleground states. Votecastr, a provider of real-time analysis of voter turnout, estimates that Clinton has earned more votes than Republican Donald Trump in battleground states, including Florida, Iowa and Nevada. It shows Trump with an early lead in Pennsylvania.
Forecasters regard Clinton as less disruptive to bond markets. Eight of 11 dealers in the survey see yields remaining above Tuesday's opening 1.82 percent level should she win. Her chance of victory was at about 71 percent Tuesday, according to poll aggregator FiveThirtyEight.
| | | |
| --- | --- | --- |
| Dealer | Forecast on Clinton win  | Forecast on Trump win |
| BMO Capital Markets Corp. | 1.88% | 1.71% |
| Cantor Fitzgerald & Co. | 1.85 | 1.7 |
| HSBC Holdings Plc | 1.85 | 1.7 |
| Jefferies LLC | 1.9 | 1.75 |
| JPMorgan Securities LLC | 1.82 | 1.68 |
| Mizuho Securities USA Inc. | 1.8 | 1.5 |
| Nomura Holdings Inc. | 1.9 | 1.6 |
| RBS Securities Inc. | 1.75 | 1.95 |
| Societe Generale SA | 1.92 | 1.65 |
| TD Securities (USA) LLC | 1.85 | 1.65 |
| Wells Fargo Securities, LLC | 1.9 | 1.6 |
| Average | 1.86% | 1.68% |
In the most bearish Treasuries forecast for a Clinton victory among the dealers surveyed, Societe Generale SA sees the yield climbing to 1.92 percent, a level last seen in April.
Bonds will sell off, said Subadra Rajappa, head of U.S. rates strategy in New York at SocGen. "With a Clinton win, the market will start to fully price in the December rate hike."
Traders assign an 88 percent probability to a December Fed rate increase, according to data compiled by Bloomberg based on fed funds futures, up from 76 percent on Nov. 4. The calculation is based on the assumption the effective federal funds rate will trade at the middle of the new range after the central bank's next increase. Trump has criticized the central bank and accused it of playing politics under the leadership of Chair Janet Yellen.
"If Trump wins, and -- given the uncertainty that brings -- if markets are volatile in early December and uncertain about what a Trump administration looks like, the Fed may hold off," said George Goncalves, the head of U.S. rates research at Nomura Holdings Inc.
The only dealer in the survey forecasting higher yields on a Trump victory, RBS Securities Inc., sees the 10-year yield climbing to 1.95 percent, based in part on the candidate's pledge to rip up existing trade agreements.
"It means closed borders," John Briggs, head of strategy for the Americas at RBS, wrote in an e-mail. That means "higher prices, tax cuts and high deficits" and would amount to higher long-term rates as the Fed becomes more hawkish, he said.
A gauge of implied volatility in Treasuries climbed on Nov. 4 to the highest since July, a possible sign of things to come if there's an election surprise.
Uncertainty "will cause a big risk-off selloff and Treasuries will rally" if Trump wins, Nomura's Goncalves said. If Clinton wins, "you get a more muted market response."
Before it's here, it's on the Bloomberg Terminal.
LEARN MORE