Valeant Plunges Again, Warning 'Could Still Be Surprises'
By
Shares, bonds down as drugmaker cuts outlook, Q3 falls short

CEO Papa declines to update on talks of possible asset sales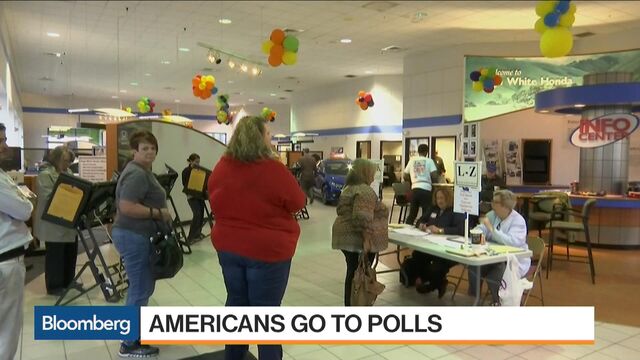 After an already tumultuous year, Valeant Pharmaceuticals International Inc. once again took investors off guard as the new management cut the annual profit forecast to well below estimates and suggested there may be more bad news on the way.
"There could still be some surprises yet to be discovered," Chief Financial Officer Paul S. Herendeen told analysts in his first quarterly earnings call since joining in August. "I'm not trying to alarm anyone or walk away from our revised guidance. I'm just letting you know that as time passes our confidence in our forecast and our guidance will improve."
The stock slumped 22 percent to $14.90 at 2:16 p.m. in New York, after earlier falling to $13.77, the lowest intraday price in more than six years. The bonds also dropped: The company's $3.25 billion of 5.875 percent notes coming due in May 2023 plunged to a low of 75.75 cents on the dollar earlier in the day. Moody's Investors Service downgraded its rating on the company's unsecured bonds one level to Caa1, a level that indicates very high credit risk.
Valeant's disappointing results pointed to declining sales at some of its key prescription businesses and a bleak outlook for its generic unit. Herendeen's comments highlighted the major challenges Chief Executive Officer Joe Papa will have regaining confidence from shareholders who had already seen a 90 percent slump in the stock over 15 months, as Valeant became the focus of outrage over skyrocketing drug prices and government investigations.
Papa, who joined in May after former executives testified before Congress and federal authorities started investigating the drugmaker, is now looking into divesting businesses to reduce some of Valeant's $31 billion in debt. During the conference call, he declined to provide an update on talks to sell assets such as Salix, which makes top-selling gastrointestinal treatments.
'Ugly Quarter'
The third-quarter net loss amounted to $1.22 billion after Valeant took a $1.05 billion goodwill impairment charge to write down the value of some U.S. businesses including Salix, which has been considered one of the drugmaker's crown jewels. Sales at Salix dropped 5.4 percent, while dermatology sales slumped 50 percent, dragged down by lower prices and higher rebates.
The drugmaker lowered its 2016 earnings guidance to $5.30 to $5.50 a share, excluding some items, from $6.60 to $7 previously. Analysts anticipated $6.49, on average.
"Ugly quarter, and even uglier guidance cut; not investable," Piper Jaffray analyst David Amsellem, who rates the stock the equivalent of sell, wrote in a note to investors.
In 2017, Valeant will face both the loss of exclusivity on some of its neurology brands and stiffer competition for its generics drugs. CFO Herendeen told analysts that 2017 will be a "down year" for the generics business, sending shares of other generics makers falling. Endo International Plc, which also made comments about greater pricing pressure, fell 8.1 percent, reversing earlier gains driven by better-than-expected earnings.
"We will not crawl all the way out of that hole," Herendeen said.
Debt Covenants
Valeant renegotiated its agreement with lenders earlier this year to relax terms, which gave it some leeway to cut its earnings forecast without risking breaching its credit agreement. Still, the lower guidance is set to renew focus on the agreement with lenders, who've already extended additional wriggle room for the company multiple times this year, and increase scrutiny on the drugmaker's bid to chip away at leverage through asset sales.
The Laval, Quebec-based company expects to remain in compliance with its debt covenants, CFO Herendeen said. Valeant doesn't need to sell assets in order to maintain adequate liquidity, and while it would prefer not to sell key businesses, it won't rule it out, he said.
"Our goal is to dramatically reduce leverage," Herendeen said.
M&A Talks
Valeant has held talks with Takeda Pharmaceutical Co. about the Salix drug business, according to people familiar with the matter. The drugmaker also is exploring a sale of some eye-surgery assets that are part of the Bausch & Lomb unit, and they could go for as much as $2.5 billion, the Wall Street Journal reported last week.
Excluding the writedown and other items, profit was $1.55 a share last quarter, the company said Tuesday in a statement, missing the $1.76 average of estimates compiled by Bloomberg. Revenue dropped 11 percent to $2.48 billion, short of the $2.52 billion average prediction. The shortfall was mainly driven by declining prescription sales.
The company is cutting costs across the board and plans to save $75 million to $100 million next year.

Papa replaced Michael Pearson, a former McKinsey & Co. consultant who jacked up prices and scaled back on research and development. Pearson and former Chief Financial Officer Howard Schiller are the focus of a criminal probe against the company as authorities build a fraud case related to hidden ties to a specialty pharmacy that Valeant secretly controlled, people familiar with the matter have said.
Valeant is also facing investigations from Congress and the U.S. Securities and Exchange Commission over its accounting and drug pricing. In August, a major shareholder, T. Rowe Price Group Inc., sued the company, accusing its former top executives of using a secret network of pharmacies and deceptive pricing strategies to artificially inflate revenue and profit, among other things.
Papa, who joined from over-the-counter and generics drugmaker Perrigo Co., has also brought in a new general counsel and corporate controller, and formed a committee responsible for drug pricing. Pearson remains a paid consultant, but has a "very limited" role that doesn't involve decision-making, Papa said.
— With assistance by Sridhar Natarajan
Before it's here, it's on the Bloomberg Terminal.
LEARN MORE