U.S. Stocks Surge as Banks, Drugmakers Rally Amid Trump Victory
By
Health-care, financial shares jump as regulatory worry fades

Investors shrug off overnight angst following election shock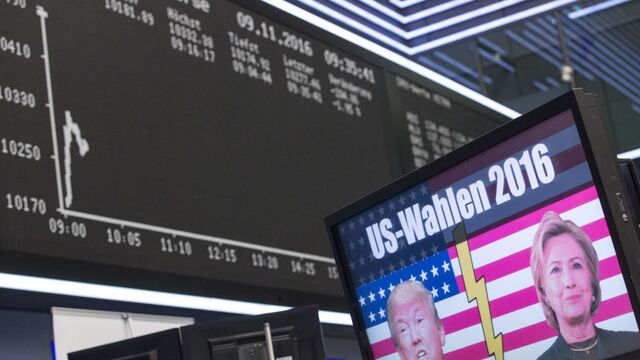 U.S. stocks rose in heavy trading, with the Dow Jones Industrial Average briefly eclipsing its all-time closing high, as shares of banks to heavy equipment manufacturers rallied amid speculation Donald Trump will pursue business-friendly policies.
Health-care shares and lenders surged as investors unwound bets that a win by Hillary Clinton would bring stronger regulatory scrutiny. The SPDR S&P Biotech exchange-traded fund rose the most since 2008, while Pfizer Inc. and Merck & Co. jumped at least 6 percent. JPMorgan Chase & Co. rose 4.6 percent to a record, and Goldman Sachs Group Inc. had its best one-day gain in 4 1/2 years.
The S&P 500 Index rose 1.1 percent to 2,163.26 at 4 p.m. in New York, extending its advance after rising above its average prices during the past 50 and 100 days. The Dow climbed 256.95 points, or 1.4 percent, to 18,589.69, a two-month high. The Nasdaq Composite Index added 1.1 percent, and the Russell 2000 Index increased 3.1 percent, its best since January. About 12 billion shares traded on U.S. exchanges, 80 percent more than the three-month average and the most since the Brexit selloff in June.
"Our base case is we're more likely to see a more moderate president than we saw as a candidate and the market's agreeing with that," said Lowell Yura, head of multi-asset solutions for BMO Global Asset Management in Chicago, which oversees $238 billion. "We don't see a huge impact to short-term earnings and short-term economic growth."
Volatility Cools
An early knee-jerk selloff in global stocks and a rally in haven assets reversed on wagers that Trump would increase fiscal spending to spur economic growth, and as he struck a more conciliatory tone in his first speech as president-elect. The CBOE Volatility Index tumbled 23 percent Wednesday, the most in five years, as the measure of market turbulence retreated from a four-month high reached on Friday.
A Trump victory had been portrayed by analysts as having the potential to unhinge markets banking on a continuation of policies that coincided with the second-longest bull market in S&P 500 history. While Republican control of both houses of Congress may enable the party to enact sweeping legislation that would be considered pro-business, concern persists over the impact from Trump's pledges to clamp down on immigration to the U.S. and renegotiate free-trade agreements with countries including Mexico.
"People focus on the fact that his acceptance speech kind of changed the direction of the market," said Krishna Memani, New York-based chief investment officer at Oppenheimer Funds Inc., which oversees $223 billion. "It was far more conciliatory and far more fiscal-focused than these acceptances typically are -- that made a world of difference."
A basket of stocks identified by Morgan Stanley as most likely to benefit from a Trump win surged 6.4 percent. The group includes 53 companies ranging from drugmaker Alexion Pharmaceuticals Inc. to construction-materials producer Martin Marietta Materials Inc. Among the S&P 500's 11 main groups, financials rose 4.1 percent, while utilities sank 3.7 percent, the first time since 2009 that the biggest industry winner and loser moved more than 3 percent during a single day.

Among other shares boosted by the Republican's win, prison operators soared on speculation the new administration will rescind a government contract phase-out. Corrections Corp. and Geo Group Inc. jumped more than 21 percent.
Companies gaining on Trump's plans to boost infrastructure spending included equipment provider United Rentals Inc., which capped its steepest advance in almost eight years, while Caterpillar Inc. added 7.7 percent, the most since 2011. Vulcan Materials Co. climbed 10 percent to an all-time high.
Along with the potential for a lighter regulatory burden, banks were also boosted by soaring bond yields as investors' inflation expectations climbed on speculation a Trump administration and Republican Congress will ramp up spending to lift growth. Investors wagered higher rates will bolster financials' earnings, sending Wells Fargo & Co. and Bank of America Corp. up more than 5.3 percent, with the former jumping the most since 2012.
Click here for more on the winners and losers after the Trump victory.
Wednesday's action was a far cry from the dour sentiment overnight as investors sent equity futures tumbling when it became clear Trump would pull off a historic upset. S&P 500 futures plunged by the maximum 5 percent loss permitted on the Chicago Mercantile Exchange before trading curbs were triggered, then pared their decline to less than 1 percent by today's open.
Icahn Buys
When things last night looked most grim, at least one billionaire investor was willing to step in to buy. Carl Icahn left President-elect Trump's victory party in the early hours of the morning to bet about $1 billion on U.S. equities, he said today in an interview on Bloomberg TV. "I thought it was absurd that the market, the S&P was down 100 points on Trump getting elected," Icahn said in a phone interview.
Companies potentially sensitive to Trump's trade plans retreated Wednesday. Coca-Cola Co. and Procter & Gamble Co. decreased at least 1.4 percent to weigh on consumer staples. Hospital operators Tenet Healthcare Corp. and HCA Holdings Inc. tumbled more than 10 percent on speculation the new president will move to repeal Obamacare.
The S&P 500 rose for a third session for the first time since September, with the gains putting it on track for the best week in two years. A rally was sparked Sunday night by news the FBI had resolved its investigation of Clinton's e-mails. Heading into yesterday's vote, most polls had the Democratic candidate ahead by several points. The benchmark increased 2.6 percent on Monday and Tuesday, its third-biggest ever in the two days before a presidential election, following its longest selloff in 36 years.
As the initial turbulence eased, odds for a Federal Reserve interest-rate hike in December climbed back to levels seen before Trump's victory, after plunging below 50 percent while the outcome unfolded. The market-implied chance of a move next month is 86 percent, the same as the probability on Tuesday afternoon.
"The U.S. that Trump inherits is doing pretty well economically," said Nandini Ramakrishnan, a strategist at JPMorgan Asset Management in London. "From an investment perspective, this is not something that we would say is entirely negative as the market may see just this morning. There may be potential opportunities with some of these selloffs."
Regardless of Wednesday's rally, next-day moves in the S&P 500 are useless in telling what comes after, as gains or losses over the first 24 hours predict the market's direction 12 months later less than half the time. In the 22 elections going back to 1928, the S&P 500 has fallen 15 times the day after polls close, for an average loss of 1.8 percent. Stocks reversed course and moved higher over the next 12 months in nine of those instances, according to data compiled by Bloomberg.