pursuits
Banks Offering Dollars Lure Egyptians From the Dark Side
By
Some businesses are finally able to get dollars from banks

Regaining confidence in the economy won't be without pain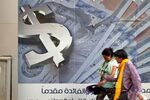 It was only half the amount he requested, but for Ahmed, a textile manufacturer in Egypt, the $168,000 he received from the bank to import yarn was almost a year in the making.
The transaction was the first he had done since the central bank decided on Nov. 3 to float the pound in an attempt to end a foreign-exchange crunch that had battered the economy and forced businesses to turn to the black market at a steep premium to the official rate.
"It was like buying drugs -- having to chase currency dealers on the street," the 50-year-old said, asking that his full name not be used because black market trading is illegal. "And I couldn't even report my real cost on books. Now there is hope things are moving in the right direction."
Egyptian lenders need billions of dollars to meet demand from businesses starved for dollars, no small feat for a banking industry struggling to cope with a hard currency shortage that caused inflation to soar to 14 percent and some key commodities to disappear from store shelves. Ahmed's case, however, suggests that the tide may be slowly turning.
'Good Signals'
Banks stayed open throughout the weekend until 9 p.m., buying dollars from customers who saw no incentive to exchange currency illegally after the pound weakened more than 45 percent. Figures provided by the National Bank of Egypt and Banque Misr, the country's largest lenders, show the two have bought at least $50 million since Thursday. They have offered more than $80 million in import facilities in the first two working days this week.
"So far we're on the right track, flows are starting to gain momentum," said Mohamed Abu Basha, Cairo-based economist at investment bank EFG-Hermes. "We're coming from a very low base so its not sizable yet. But this is a change in trend, and we're seeing all the good signals on many levels."
Policy makers hope that, gradually, more Egyptians would stop hoarding dollars outside the banking system, injecting enough cash for lenders to finance imports and allow foreign investors to easily repatriate money. Commercial International Bank, Egypt's biggest listed lender, has cleared its clients' backlog of dollars needed to release basic goods from Egyptian ports, Cairo-based daily Youm7 reported, citing an official at the bank it did not identify.
The currency crisis drove the government to seek a $12 billion loan from the International Monetary Fund, which demanded action on the exchange rate and lower energy subsidies.
The IMF board will meet on Nov. 11 to consider Egypt's request, and the fund's managing director, Christine Lagarde, said she would recommend it be approved.
The loan is seen as crucial to restoring investor confidence in an economy damaged by more than five years of turmoil that saw the ouster of two presidents.

Stock investors have cheered the reforms. The benchmark EGX 30 Index has jumped 19 percent since the central bank's decision, which was followed by a government move to raise the price of subsidized fuel.
Policy makers burnt through billions of dollars to defend the pound over the past six years. And while foreign-currency reserves have stabilized, they are still more than 40 percent lower than where they were on the eve of the Arab Spring in 2011. Analysts said the success of the latest move depends, in part, on the central bank not intervening in the foreign-exchange market.
Egypt "has a really tough task but it's imperative policy makers follow through," said Simon Williams, HSBC Holding Plc's chief economist for central and eastern Europe, the Middle East and North Africa. "Exchange-rate and fiscal adjustments have to deliver rebalancing for 6 years of economic dislocation and policy mistakes."
The central bank raised its key deposit interest rate by 300 basis points, or 3 percentage points, to 14.75 percent. Several banks followed by offering 18-month local-currency certificates at as much as 20 percent -- rates that had depositors lining up to buy.
Not Without Pain
Yet the process isn't without pain.
The reforms are expected to cause inflation to accelerate to more than 20 percent in the coming months, according to London-based Jason Tuvey of Capital Economics. Several businessmen interviewed by Bloomberg said they still have trouble getting dollars from their bankers. Others said they will struggle to raise prices because it risks weakening already-slackening consumer demand.
"My bank is still not providing with dollars, and even if it did, at what rate?" asked Mohamed El-Kady, who imports solar water heaters. "I've already seen sales go down in the past year. Now I have to raise prices even more and that's nearly impossible."
Hesham Soliman, president of Alexandria-based Medstar for Trading, is giving it a try. Following the currency float, the commodity trader asked three banks for approval to finance 1,000 tons of wheat.
"Let's see how this will go," he said in an interview. "At the black market you can secure money on the spot, but now you don't know when the banks will approve your request and at what rate."
The IMF deal would help lure back billions of dollars in foreign investments in companies and government debt. Economists, however, say it could be months before Egypt could see large inflows.
In the meantime, Said Azer, who runs a spare-parts factory, said he'll wait to see where the exchange rate would settle.
"There have been lots of fluctuations in the exchange rate, and I've incurred losses," he said. "My best move now is to wait and see. A few more weeks wouldn't hurt. But I'm hopeful."
— With assistance by Mohamed Saleh, Salma El Wardany, and Tarek El-Tablawy
(
Updates with IMF board meeting date in eighth paragraph, CIB clearing backlog in eighth.
)
Before it's here, it's on the Bloomberg Terminal.
LEARN MORE