business
U.S. Stocks Rise, Treasuries Fall as Trump Win Spurs Growth Bets
By , , and
S&P 500 bounces back after futures contracts plunge 5%

Treasury 10-year yield tops 2% for first time since January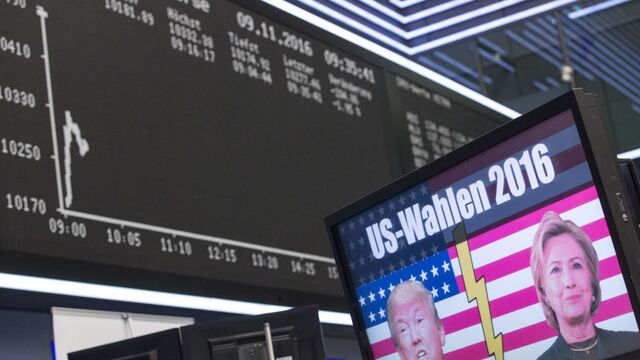 U.S. stocks and the dollar rose as heavily hedged markets bounced back from the worst selling in four months amid speculation Donald Trump and a Republican-controlled Congress will pursue business-friendly policies. Treasuries plunged, while copper led gains in commodities.
Following a rout in equity futures overnight, the S&P 500 Index rebounded as waning concern over stronger regulatory scrutiny spurred rallies in drugmakers and banks. Treasury yields topped 2 percent on wagers the Republican will ramp up spending. The greenback rose the most since the day after Brexit, Mexico's peso sank amid prospects the integration with the U.S. will unravel, while the yen erased gains. Gold had its busiest-ever trading day.

A Trump victory had been portrayed by analysts as having the potential to unhinge markets banking on a continuation of policies that coincided with the second-longest bull market in S&P 500 history. Going into the vote, most polls showed Democrat Hillary Clinton ahead. The Republican has pledged to clamp down on immigration to the U.S. and renegotiate free-trade agreements. In his victory speech, he pledged to focus on rebuilding U.S. infrastructure.
"Our base case is we're more likely to see a more moderate president than we saw as a candidate and the market's agreeing with that," said Lowell Yura, head of multi-asset solutions for BMO Global Asset Management in Chicago, which oversees $238 billion. "We don't see a huge impact to short-term earnings and short-term economic growth."
Billionaire Carl Icahn, 80, said he left President-elect Trump's victory party in the early hours of the morning to bet about $1 billion on U.S. equities. The investor, who endorsed the Republican for president in September 2015 and had been mentioned as a potential Treasury secretary, said that the U.S. economy isn't out of the woods yet. But he called Trump coming in "a positive, not a negative" for the country.
"I thought it was absurd that the market, the S&P was down 100 points on Trump getting elected," Icahn said in an interview on Bloomberg Television. "I tried to put a lot more to work, but I couldn't put more than about a billion dollars to work," he said.
Stocks
American stocks rebounded as traders shrugged off the jitters that followed Trump's victory. The S&P 500 rose 1.1 percent to 2,163.26 at 4 p.m., after futures contracts tumbled as much as 5 percent overnight. The benchmark rallied to a one-month high.
"We expect the equity market response to the election result will be limited," said David Kostin, chief U.S. equity strategist at Goldman Sachs Group Inc. "The U.S. economy has been expanding for seven years and continues to grow at a subdued pace. We expect the U.S. stock market will climb slowly during the next few years in line with earnings growth."
* WINNERS:
BANKS: rallied as Trump has vowed to reduce regulation
DRUGMAKERS: surged as Democratic threats of price controls are no longer a concern with Republicans retaining both houses of Congress
DEFENSE & INFRASTRUCTURE: Lockheed Martin Corp. and Caterpillar Inc. climbed on Trump's pledge to boost spending in both industries
PRISON OPERATORS: Corrections Corp. soared on speculation the new administration will rescind a government contract phase-out


* LOSERS:
INTERNATIONAL TRADE: Coca-Cola Co. and Procter & Gamble Co. retreated
GUNMAKERS: Sturm Ruger & Co. sank on speculation that fewer people would rush out to stock up on pistols and rifles with the threat of stronger gun control laws fading
HOSPITAL OPERATORS: Community Health Systems Inc. sank on speculation Trump will move to repeal Obamacare
CLEAN ENERGY: SunPower Corp. fell on concern Trump will weaken demand for renewable energy


Elsewhere in the world, Rio Tinto Group led miners to the biggest gain on the Stoxx Europe 600 Index. The MSCI Emerging Markets Index slid 2.5 percent as Mexican and Brazilian shares sank. Russian stocks rallied on speculation the new government will mend ties with Moscow. Japanese equities led losses in Asia.
Bonds
Treasuries tumbled, with 30-year bond yields climbing the most in more than five years, as investors bet that a Trump government will ramp up spending. A bond-market gauge of inflation expectations climbed to the highest since July 2015.

"This is one day's reaction to the biggest political surprise we've had in living memory in this country," said Brian Nick, chief investment strategist at TIAA Investment Management. "The market's being driven by a pickup in inflation expectations –- from quite low levels -– on speculation that fiscal policy next year will be more expansionary.''
Treasury 10-year yields climbed 22 basis points, or 0.22 percentage point, to 2.07 percent, according to Bloomberg Bond Trader data.
Longer-term securities were also weighed down by fresh supply. A gauge of demand fell to the lowest since 2009 at a $23 billion auction of Treasury 10-year notes on Wednesday, before a $15 billion offering of 30-year securities Thursday.
Currencies
The greenback rallied against most major peers as Trump's conciliatory speech calmed market participants. The implied probability of a December Fed hike, which had fallen to less than 50 percent as results pointed to a Trump triumph, jumped to 86 percent.

"With no further escalation in political risks expected before the presidential inauguration next January, investors will increasingly focus on the December Fed meeting," said Valentin Marinov, the London-based head of Group-of-10 currency strategy at Credit Agricole SA's corporate- and investment-banking unit.
A Bloomberg gauge of the dollar gained 1.4 percent, the most since June 24. The greenback was up 0.7 percent to 105.84 yen. It rose 1 percent to $1.0914 per euro, after plunging more than 2 percent.
Mexico's peso led losses among its major peers. The currency acted as a barometer throughout the presidential campaign, weakening when polls swung in favor of Trump, who has pledged to renegotiate the North American Free Trade Agreement and curb illegal immigration by building a wall along the U.S.'s southern border.
Commodities
Oil reversed a slide, while gold was little changed after an early jump on haven demand. Industrial metals soared as investors bet Trump will boost infrastructure spending.
"Trump has talked about getting America back to work and that means big military and infrastructure spending, which is good for commodities," said Rene Hochreiter, a Noah Capital Markets Pty Ltd. analyst in Johannesburg.
Watch Next: European Markets Open With Big but Unspectacular Moves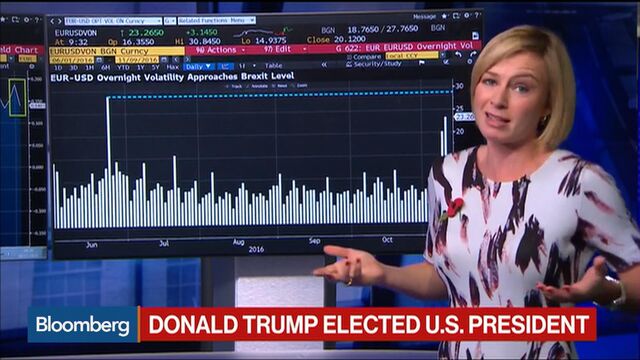 More than 780,000 gold futures changed hands in New York, surpassing the volume on June 24 after Britain decided to leave the European Union, based on data using the most-active Comex contract.

Copper for three-month delivery touched a 15-month high before trading up 3.3 percent at $5,407.5 a metric ton on the London Metal Exchange as of 12:23 p.m. New York time.
West Texas Intermediate for December delivery rose 29 cents to settle at $45.27 a barrel  on the New York Mercantile Exchange. Brent for January settlement climbed 32 cents, or 0.7 percent, to $46.36 a barrel on the London-based ICE Futures Europe exchange.
Wheat, corn and soybean futures dropped on the Chicago Board of Trade as a Trump win puts pressure on agricultural commodities because of his anti-trade sentiment, according to Bloomberg Intelligence analyst Mike McGlone.
— With assistance by Paul Dobson, Stephen Kirkland, Phil Kuntz, Joseph Ciolli, Lananh Nguyen, Anchalee Worrachate, Lukanyo Mnyanda, Jeremy Herron, Eliza Ronalds-Hannon, Susanne Barton, Sharon Cho, Serene Cheong, Jesse Riseborough, Beth Jinks, Erik Schatzker, Nicholas Larkin, and Eddie van der Walt
Before it's here, it's on the Bloomberg Terminal.
LEARN MORE