Merkel Weighs In On Prospect of First Ever Woman U.S. President
by
Germany's first woman chancellor cites better gender equality

Norway's Solberg sees 'no global network of girlfriends'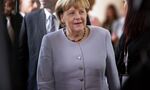 German Chancellor Angela Merkel had resisted the temptation to speculate about the U.S. choosing its first ever woman president. Until now, with the end in sight.
As Americans flock to the ballots on election day, Merkel conceded the significance of Hillary Clinton as leader of the world's biggest economy: "We would come a bit closer to equality between men and women in leading positions." In keeping with her customary restraint, Merkel was pressed by reporters in Berlin to comment yet it fell short of an endorsement.
Polls show Democrat Clinton, the first woman nominee from a major U.S. party, ahead of Republican Donald Trump. Merkel said her government would await the result "anxiously." As a prominent female leader of a major economy, Merkel has fielded and ducked questions about who she would prefer to see at international summits.
While Clinton has said Merkel is one of her "favorites," Merkel has gone out of her way not to be drawn into the campaign. She's caved a few times. Once she praised the former secretary of state for her "strategic thinking and strong commitment" to trans-Atlantic relations. In July, when asked if Trump kept her up at night, a stony-faced Merkel responded with a monosyllabic "No."
Merkel's personal preference, though not publicly stated, is probably no secret. Trump has attacked her open-border refugee policy and said during a campaign rally this summer that she wouldn't be re-elected next year.
Standing alongside Merkel in Berlin was Norway's Erna Solberg, her country's second female leader. She said a Clinton presidency would set a meaningful precedent while also indicating that the fight for equality doesn't end with a historic Clinton victory.
"Perhaps that would be inspirational for young women not to perceive politics as something that belongs only to men, rather that they also have the chance to influence society," said Solberg. Still, "there's no global network of girlfriends who want to rule the world," she said.
Before it's here, it's on the Bloomberg Terminal.
LEARN MORE