markets
Markets Have That Brexit-y Feeling as Americans Head to the Polls
Parallels in price action and voters' concerns.
By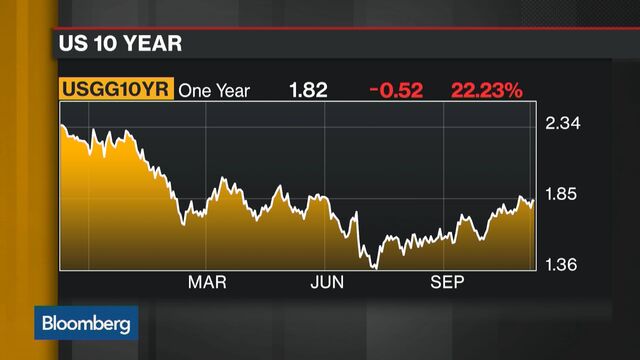 Donald Trump has predicted that today will be "Brexit times 10" for the U.S.
If it is, financial markets are about to go haywire.
There are many well-documented parallels between large swaths of the electorate in the U.K. and the U.S.: mistrust of the elite, concerns about globalization, and fears about immigration.
The Republican presidential candidate, who has styled himself "Mr. Brexit," might be on to something. In financial markets, the price action in the run-up to this vote is similar to what markets were doing just months ago before the vote for Britain's exit from the European Union. 
One big difference between then and now: The Americans heading to the polls today are, by and large, a far more ethnically and racially diverse group than the U.K. voters in June.
Still, in both instances, currency markets have been the most responsive to fluctuations in the perceived outcome of the voting. The British pound weakened leading up to the referendum but staged a furious rally in the last few sessions before voters headed to the polls. Same goes for the Mexican peso, which has been perceived as the most reliable market barometer of Trump's prospects in the U.S. presidential race.

Risk appetite has waned before the U.S. election, as it did ahead of the U.K. referendum, with the S&P 500 index hitting an intermediate peak 15 days ahead of both votes. And both times, the index staged relief rallies just ahead of the events, as the perceived market-implied odds of the Remain and Clinton camps improved. On Monday, the S&P 500 had its best day in eight months.

Front-month gold futures contracts grinded higher before both events as market fear grew but then moved lower amid confidence that the status quo would endure.

Implied volatility moved higher in the weeks leading up to both votes and then eased off its intermediate peaks. In both cases, the CBOE Volatility Index, commonly known as the VIX, retreated below 20 on the day of the vote (as of 10 a.m. in New York on Tuesday).

Markets responded very negatively to the U.K.'s vote to leave the European Union, though the S&P 500 benchmark index posted a fresh record high less than a month after the vote.
Of course, past performance is no guarantee of future results.
Before it's here, it's on the Bloomberg Terminal.
LEARN MORE