pursuits
Lovers and Central Banks Walk Away From Gold's Scorching Rally
By
Total gold demand dropped 10% to 992.8 tons in third quarter

'Many chose to sit on the sidelines,' Council's Hewitt says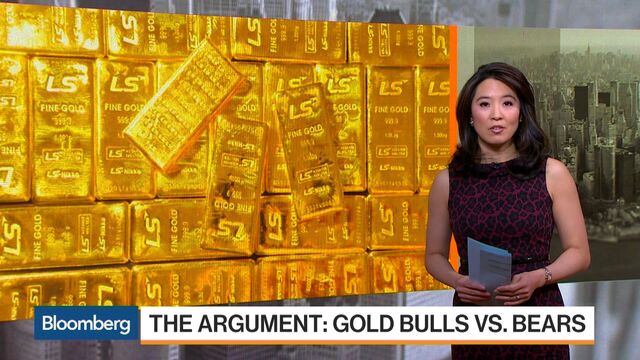 Soaring gold prices have pushed out some of the biggest buyers.
Jewelry demand plunged 21 percent in the third quarter, taking the year-to-date total to the lowest level since 2009, according to a report from the World Gold Council. Central banks bought almost half as much gold as a year earlier.
"The jewelry market is a price taker, and given how much prices have increased, many chose to sit on the sidelines," said Alistair Hewitt, head of market intelligence at the London-based group, which lobbies on behalf of mining companies.

Central banks reacted similarly. "When they see rapid movements in price, they want to wait and see what that means in terms of their reserves," he said
Gold topped $1,375 a ounce in July as investors speculated that the Federal Reserve is moving closer to raising interest rates and the upcoming U.S. presidential election may introduce geopolitical uncertainty. Investors bought gold through exchange-traded funds in the third quarter, a change from sales a year earlier.
Total gold demand dropped 10 percent to 992.8 metric tons in the third quarter, falling below 1,000 tons for the first time since mid-2015, according to the council.
For a Quicktake on gold's price performance, click here.
Consumer demand, particularly in China, may have been hurt by shifting tastes for spending on experiences, such as travel, rather than physical items like gold, the council said. Buyers are also increasingly interested in designer jewelry with a lower gold content.
Purchases may be starting to rebound in the final quarter of the year, Hewitt said, with research showing more demand in India and China. The council also cited a survey showing more central banks are considering increasing holdings of gold over the next three years.
Higher prices made more metal available for recycling. Scrap supply rose 30 percent to 340.9 tons in the quarter, council data showed. Mine production fell 1 percent to 846.8 tons, the result of declining investment when prices were low.
More quarterly demand and supply figures:
Jewelry demand was 493.1 tons, down from 621.6 tons.
Central banks bought 81.7 tons, down from 168 tons.
Bar and coin demand fell 36 percent to 190.1 tons as European buyers stepped back.
Total supply increased 4 percent to 1,172.7 tons.

Producers bought back 15 tons of gold to cancel out hedges.

Technology-related demand fell 1 percent to 82.4 tons.
Before it's here, it's on the Bloomberg Terminal.
LEARN MORE