Loomis Sees 2.6% Treasury Yield in a Year With Clinton Victory
By , , and
Fed to hike in December, twice more by November: Loomis's Fuss

Dollar set to gain versus Asian currencies including yen: Fuss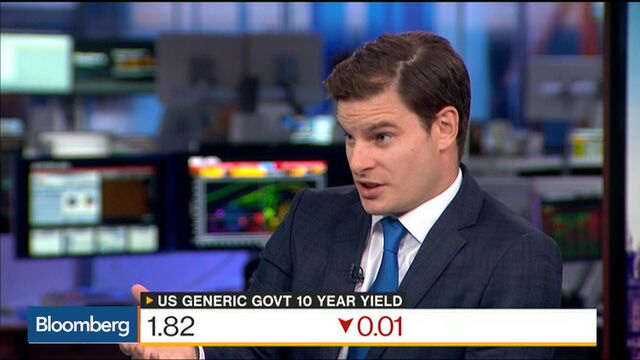 A Hillary Clinton win Tuesday will probably send the yield on 10-year U.S. Treasuries to about 2.6 percent by this time next year, according to Loomis Sayles & Co. Vice Chairman Dan Fuss.
A victory for the Democratic candidate in the presidential election is the most likely outcome, and will allow the Federal Reserve to raise interest rates as many as three times before next November, Fuss said. Treasuries were little changed Tuesday, after leading a global bond selloff to start the week as the Federal Bureau of Investigation reaffirmed Clinton didn't commit a crime in handling her e-mails as secretary of state.
"If Clinton wins, the central bank will probably raise rates in December, despite international pressures," the 83-year-old Fuss said in an interview in Tokyo Monday. "The inflation indicators are definitely picking up, particularly the unit cost of labor."

The final Bloomberg Politics national poll before Tuesday's election has Clinton ahead of Republican candidate Donald Trump, 44 percent to 41 percent, when third-party candidates are included. In a two-way contest, she's also up by three points.
The projection for U.S. yields puts Fuss among the more bearish bond forecasters, which include Goldman Sachs Group Inc. and Bank of Tokyo-Mitsubishi UFJ Ltd. They predict a benchmark yield of 2.5 percent and 2.7 percent respectively at the end of next year, according to a Bloomberg survey. The median estimate is 2.13 percent, compared with 1.82 percent as of 7:45 a.m. in New York.
Yields Climb
The benchmark 10-year note yield rose five basis points, or 0.05 percentage point, Monday, bringing its increase from a record low of 1.318 percent set in July to about half a percentage point.
European government bonds were little changed Tuesday as investors waited for the outcome of the U.S. presidential election. German 10-year bunds yielded 0.15 percent.
The U.S. Treasury plans to sell $24 billion of three-year debt Tuesday, $23 billion of 10-year securities on Wednesday, followed by $15 billion of 30-year bonds a day later. The notes maturing in November 2019 yielded 0.99 percent in pre-auction trading, compared with 1.045 percent at a previous sale of three-year securities on Oct. 12.
The U.S. also auctions Treasury bills Tuesday, including $65 billion of four-week securities, the most since Bloomberg began compiling the data in 2001.
'Dot Plot'
The Fed's "dot plot," which it uses to signal its policy outlook, shows that officials expect one quarter-point rate increase this year, followed by two next year. The bond market is less hawkish, seeing a December hike as highly likely, but only 16 percent odds of two or more after that in 2017. The central bank hasn't tightened policy since liftoff from near-zero rates in December of last year.
Domestic growth hasn't been the Fed's only consideration in 2016. Concern about a slowdown in China helped put the Fed off a potential rate increase early in the year, and the U.K.'s vote over European Union membership weighed on its June and July meetings.
U.S. wages climbed by the most since 2009 in October, while the jobless rate fell to 4.9 percent -- near the 8 1/2-year low of 4.7 percent reached in May.
"The economic data is looking pretty decent," Brian Jacobsen, chief portfolio strategist with Wells Fargo Funds Management LLC, which oversees $242 billion, said in a Bloomberg Television interview. "It really does support a December hike by the Fed. So the key thing then I think is going to be what does the Fed communicate about its tolerance for inflation overshooting."
Fuss sees "some pressures" for the dollar to strengthen in the near term, particularly versus Asian currencies including the yen. He's less sanguine on the greenback against dollar bloc peers including the loonie, Aussie and kiwi. Longer term though, he says the outlook for the U.S. currency is "pretty good."
He stressed that his projections are based on an assumption that Clinton wins. "If it's the other outcome, all bets are off," he said.
Before it's here, it's on the Bloomberg Terminal.
LEARN MORE