business
Knee-Jerk Surge or Price Collapse Awaits Gold as U.S. Votes
By and
Trump victory seen pushing gold prices toward $1,400

Clinton win expected to ease uncertainty, cutting prices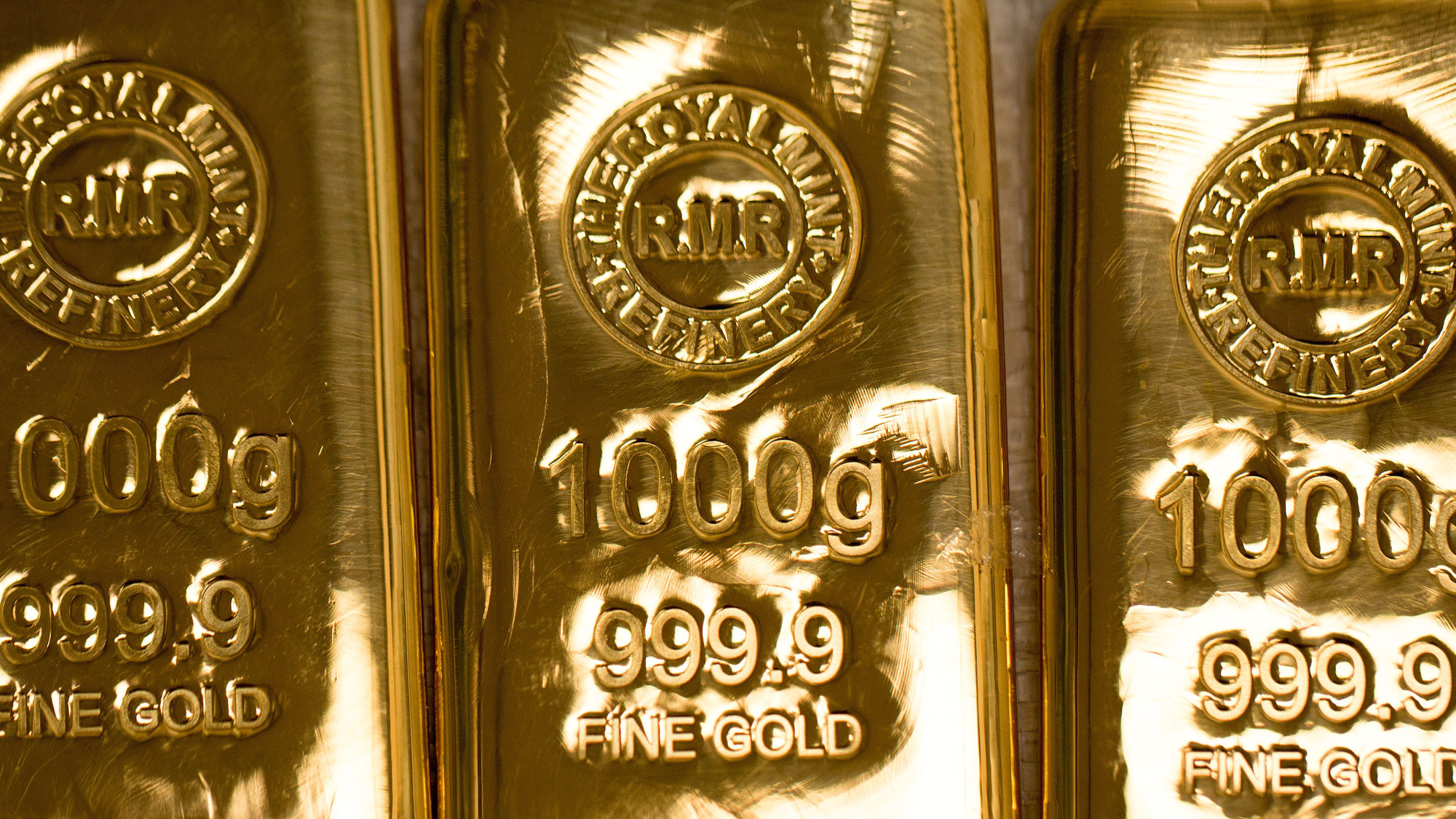 Look no further than gold to see how markets are sizing up policies of the two main U.S. presidential candidates.
Gold futures, which traded at $1,282.90 an ounce at 10:01 a.m. on the Comex in New York Tuesday, could slip to $1,250 within a week after a win by Democrat Hillary Clinton, based on the median of 23 estimates by analysts and traders surveyed by Bloomberg. A victory for Republican Donald Trump could see bullion rally to $1,395, a survey of 24 showed.
Bullion capped its longest rally since July last week as Trump, seen by some investors as the less predictable candidate, trimmed Clinton's lead. The price surge came after FBI Director James Comey said the bureau was looking into more Clinton e-mails, spurring a flight to haven assets. The rally deflated Monday after Comey said his agency wouldn't recommend criminal charges.

Elections jitters have jumpstarted volatility in bullion, with a gauge of price swings over the past 15 days rebounding from a two-year low. The swings are likely to persist through the election, analysts said. 
Here are some of the comments on gold's outlook compiled through the survey and analyst notes:
* A Trump victory represents "significant policy uncertainty," Citigroup Inc. analysts including Edward Morse, Aakash Doshi and Nell Agate said in a Nov. 3 report. That could push gold to $1,400 in a "knee-jerk reaction," the bank said. While a Clinton win could send prices down to $1,250 in the short term, her administration, coupled with a Democratic sweep in the House and the Senate, would allow for "sharp fiscal expansion, boosting U.S. inflation prospects," and help support bullion in the medium term, the analysts said.
* A Clinton victory "suggests economic continuity," while a Trump win "would mean a high possibility of radical changes" that would spur more volatility for markets, Robin Bhar, an analyst at Societe Generale SA, said in a note Nov. 4. "Trump is a wildcard. His sources of support and his economic policy proposals will linger after the election even if his candidacy fails," he said, predicting that gold could rise to $1,400 or higher if the Republican nominee wins.
* "Markets appear to have priced in a low probability of Trump winning the elections, and they would thus be caught wrong footed if he were victorious," said Simona Gambarini, a commodities economist at Capital Economics Ltd. in London. "Indeed, it would not only benefit from a revival of safe-haven demand but also from a shift in expectations for further monetary tightening in the U.S."
* "If Trump wins, I would anticipate a collapse in the price of gold" and the dollar to strengthen, as the new administration cuts corporate tax rates to 15 percent and encourages American investors to repatriate "billions, if not a trillion dollars" back to the U.S., Ralph Preston, a principal at Heritage West Financial Inc., said in an e-mail.
* A separate survey from Bloomberg Intelligence yielded similar results. The price of gold may continue its climb since the start of 2016 if Trump wins the election, according to about 48 percent of respondents in a poll conducted by BI at its annual LME Week Forum. Not one respondent said gold would rise were Clinton to win, though 31 percent said a victory by her would have no effect on the price.
— With assistance by Wei Lu
(
Updates gold price in second paragraph.
)
Before it's here, it's on the Bloomberg Terminal.
LEARN MORE