Ireland Inc. Says U.K. Government Has No Clue on Brexit Strategy
By and
Ryanair's O'Leary says U.K. has 'no idea' what's it's doing

U.K. maintains strategy clear; no point 'wishing away' result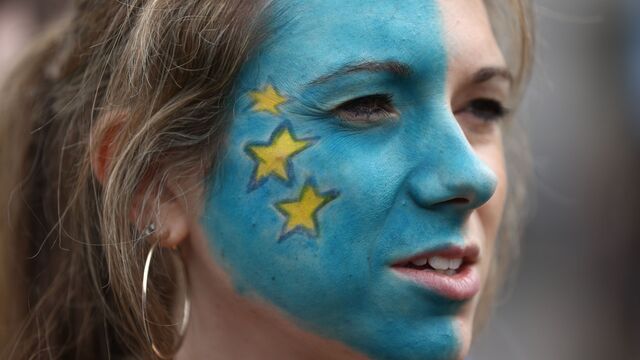 Ireland Inc. has this message for U.K. Prime Minister Theresa May's government: When it comes to Brexit, you don't know what you're doing.
Irish executives lashed the U.K. over its preparations for talks on leaving the European Union, after Enterprise Minister Mary Mitchell O'Connor told lawmakers in Dublin that British negotiators have no clear road map.
Follow @Brexit for the latest news, and sign up to our Brexit Bulletin for a daily roundup.
"What worries me about Brexit is the U.K. government clearly has no idea what it is doing," Ryanair Holdings Plc Chief Executive Officer Michael O'Leary said in an interview with Bloomberg Television on Monday. "It has no agenda in terms of negotiations."
More than four months after British voters opted to exit the EU, European leaders are becoming increasingly frustrated with the lack of clarity around what May meant when she declared "Brexit means Brexit." Ireland has more at stake than any other country in Europe, because of close trade ties with the U.K. Depending on the terms of exit, Brexit could cost Ireland as much as 3.8 percent of economic output, a government report said.
"The U.K. government has a clear and measured plan for exiting the EU, " Northern Ireland Secretary James Brokenshire said in a speech Monday in Dublin. "We're not seeking an off-the-shelf deal, but rather a solution that provides the best outcome for the U.K. and EU."
Bloomberg Intelligence Estimates of Brexit Impact on 2018 GDP by Country

From Dublin's perspective, however, it's not clear what Brokenshire and the U.K. government have in mind.
"I was in the U.K. yesterday and met a number of people that are negotiating the Brexit deal for the U.K.," O'Connor said last week. "May I tell you that they do not know what they are doing and they do not know when they are invoking Article 50," which would formally start the Brexit process.
That sense is shared inside and outside the U.K. While May said last month that she would prioritize immigration controls over safeguards for trade and banking, some European officials view that declaration as aimed at a domestic political audience and insist all options remain open.
'Ill-Prepared'
In Berlin, Angela Merkel's chancellery is under the impression that the U.K. government has no clear concept of what it wants out of the coming talks nor how to go about it, according to an official.
"The U.K. government's ongoing lack of any kind of plan for Brexit is nothing short of staggering, and shows just how ill-prepared the Tories are for EU withdrawal, " Joan McAlpine, a Scottish National Party lawmaker, said Sunday.
While the European economy as a whole may suffer from Brexit, Ireland is particularly exposed. About 1.2 billion euros ($1.3 billion) of goods and services a week is traded between the two countries. The U.K. is Ireland's biggest European trading partner, and the Dublin government last month trimmed its economic growth forecasts on the back of Brexit concerns.
The pound has fallen 14 percent against the euro since the referendum, making it more expensive to sell Irish goods into the U.K. O'Connor's comments came as she rejected opposition demands for a government fund to cushion exporters, on the grounds that detailing such a fund would be "irresponsible" given that Brexit details remain undecided.
Speaking alongside the British ambassador in Ireland last week, Allied Irish Banks Plc Chairman Richard Pym held out hope that Dublin could win finance jobs leaving London as a result of Brexit. Pym, who was born in England, joked that Dublin was becoming known as "Canary Dwarf" -- a reference to the London financial district of Canary Wharf.
'Crying Out'
"The ambassador represents a government that basically has no policy on anything concerning Brexit," Pym said. "Business is crying out for clarity."
Brokenshire, though, had little comfort for his Dublin audience.
"It is no good for those who are uncomfortable with the vote to be wishing it away or believing that the U.K. will somehow wake up in a few months believing it made a terrible collective mistake and demand another vote," he said.
Before it's here, it's on the Bloomberg Terminal.
LEARN MORE