Flash Crash Trader Sarao, in U.S. Custody, Faces Arraignment
By
U.K. trader facing 22 charges to appear in Chicago court

Sarao lost bid last month to avoid extradition to U.S.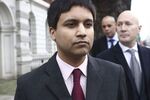 Navinder Sarao, the British day trader accused of contributing to the 2010 Flash Crash by spoofing trades with a computer program, is set to appear in court after losing a yearlong battle over his extradition.
Sarao is in U.S. custody, according to Peter Carr, a Justice Department spokesman. His initial appearance in federal court in Chicago was delayed Tuesday until Wednesday at 2 p.m., according to court documents.
Sarao, 37, is accused of making $40 million spoofing CME Group Inc.'s stock futures market over five years, including on May 6, 2010, when a trading frenzy briefly wiped almost $1 trillion from the value of American equities.
His case grabbed headlines around the world as people struggled to grapple with the idea that a single day trader could make so much money and wreak such havoc on markets, often working from his bedroom in a house he shared with his parents.
Sarao's request for permission to appeal his extradition was rejected by judges in London in October, giving him 28 days to be sent to the U.S. to face 22 charges of fraud and market manipulation. His lawyers had argued that Sarao's actions weren't a crime in the U.K. and, because he is a British citizen, any trial should take place in England.
U.S. prosecutors in Chicago have in recent years stepped up their investigations into so-called spoofing, an attempt by traders to move prices by placing orders they never intend to fill and then canceling them. In July, Michael Coscia became the first person convicted of spoofing after it was made a crime under the Dodd-Frank act. He was sentenced to three years in prison.
— With assistance by Suzi Ring
Before it's here, it's on the Bloomberg Terminal.
LEARN MORE