Hong Kong Banker Rurik Jutting Guilty of Murdering Two Women
By
Rurik Jutting sentenced to life in prison after jury's verdict

Jurors returned unanimous decisions on two murder charges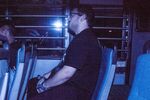 Rurik Jutting, a former Bank of America Corp. employee, was found guilty of murdering two women in his Hong Kong apartment in 2014 and was sentenced to spend the rest of his life in jail.
A nine-member jury returned unanimous decisions on the two murder charges in the High Court on Tuesday after six hours of deliberation. The trial, which began Oct. 24, featured evidence of torture and Jutting's drug and alcohol abuse in the deaths of the women, both Indonesian nationals.

Deputy High Court judge Michael Stuart-Moore sentenced the Cambridge University graduate to life in prison with no parole. During the trial, the Briton had admitted killing Sumarti Ningsih, 23, and Seneng Mujiasih, 26, but argued that he was guilty of manslaughter, not murder, on the grounds of diminished responsibility. He was suffering from mental disorders, the defense said.
Jutting described his actions as "horrific" in a letter read out by his lawyer following the verdict. "I am sorry, I am sorry beyond words," he said, adding that he could never make up for the "evil" that he had inflicted.
His lawyer told the court that an application would be made for Jutting to serve his sentence in the U.K.
The bodies of the two women were found at Jutting's apartment in the Wan Chai district on Nov. 1, 2014. The banker was 29 when charged.
Cocaine Use
Evidence presented during the trial included video recordings Jutting made while torturing one of his victims. His cocaine use also featured, with the prosecution saying that 26 bags of the drug were found in his apartment.

In both cases, Jutting offered money for the women to come to his apartment, before slashing their throats, prosecution lawyer John Reading said at the start of the trial. Jutting tortured Ningsih over three days from Oct. 25, while Mujiasih went to his home on Oct. 31, the lawyer said.
The former banker recorded himself talking about the first killing and what he should do -- including giving himself up, killing himself or hiding the body then flying to the U.K., Reading said. After the second killing, he told the police that he had used up the remainder of his cocaine, the lawyer said.
The defendant was "so morally corrupted by pornography, drugs and alcohol, and a general life of debauchery with a huge salary to fund his depravity," judge Stuart-Moore said. Jutting was considered "a high risk person" and "the repetition of the offence of murder is highly likely if he is given his liberty in the future," he said.
The judge rejected the apology in Jutting's statement, saying: "It's the first mention of saying sorry about what he has done and I don't accept it."
The case is Hong Kong Special Administrative Region v Jutting Rurik George Caton, HCCC 183/2015, Hong Kong High Court.
Before it's here, it's on the Bloomberg Terminal.
LEARN MORE