EU Should Worry Over Rule of Law in Hungary, Germany's Roth Says
By
Bloc should strengthen mechanism to defend values, Roth Says

Hungary's Orban has built self-described 'illiberal state'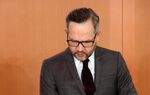 The European Union must be concerned about the erosion of the rule of law in Hungary and should strengthen tools to safeguard liberal democracy, German Deputy Foreign Minister Michael Roth said.
The 28-member bloc has "reason to be concerned about how the government handles the rule of law, the separation of powers of checks and balances and the independence and freedom of the media" in Hungary, Roth said in a speech at Central European University in Budapest on Tuesday. "It's therefore difficult to deny that we're confronted with a set of developments that are challenging our union of values."
The EU created a rule-of-law procedure in 2014 after Hungarian Prime Minister Viktor Orban declared he'd managed to build an "illiberal state" modeled on nations including Russia and Turkey following years of conflict with the Brussels-based European Commission. The EU executive first implemented the mechanism this year against Poland, where the ruling Law & Justice party has mimicked Orban's policies.
Roth said the EU needed to strengthen the rule-of-law procedure, although he didn't elaborate. The EU has failed to convince Poland's government to scrap new rules that it says undermine the independence of the Constitutional Court. EU President Donald Tusk, a former Polish premier, has said it would be a "waste of time" to try to escalate the issue and force a vote on suspending Poland's voting rights as it wouldn't gain the necessary unanimous backing from other member states.
Orban, who has said that a Donald Trump victory in Tuesday's U.S. presidential election would be better for Europe than a win by Hillary Clinton, has since 2010 passed a new constitution over opposition protests and weakened checks and balances on executive power. His measures include curtailing the Constitutional Court and extending his influence over the media. He's also been one of the staunchest opponents of German Chancellor Angela Merkel's open-door refugee policy, boosting his popularity with his anti-immigrant stance ahead of the 2018 parliamentary elections where he'll seek a fourth four-year term.