business
Estonian Premier Faces Confidence Vote as Government Crumbles
By
Reform Party could exit coalition in revamp, analysts say

PM Roivas has vowed to contest Wednesday's vote in parliament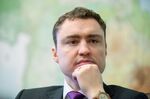 Estonia's prime minster is facing a vote of no-confidence after the retreat of a pro-Russian opposition leader further divided the ruling coalition and triggered a race for new political alliances.
Premier Taavi Roivas, 37, said the current three-party coalition is effectively "over" as his two junior partners urged him to quit. Defying their calls, Roivas, leader of the Reform Party, pledged to contend the parliamentary confidence vote, set for Wednesday. 
The Baltic nation, a NATO member that borders Russia and has been unsettled by the Ukraine conflict, must now assemble a new government less than a year before it assumes the European Union's rotating presidency. While the coalition had already been squabbling, last weekend's replacement of Center Party leader Edgar Savisaar, a backer of President Vladimir Putin, cleared the way for a more radical shakeup.
"Estonian politics are changing and becoming a more contested space," said Fredrik Erixon, head of the European Centre for International Political Economy in Brussels. "With Savisaar ousted, there's a new tone in that party's orientation."
An alliance is likely between Center and the two junior coalition partners, Isamaa ja Res Publica Liit and the Social Democrats, according to Andres Kasekamp, a professor of Baltic politics at Estonia's Tartu University.
Premier's Ultimatum
Reform, in power since 2005 on a platform of tax cuts and lower government spending, has capitalized on security fears since Russia annexed Crimea in 2014. Center, which leads opinion polls, enjoys support among the ethnic Russians that make up about a quarter of Estonia's 1.3 million population.
All parliamentary factions except Reform have urged Roivas to resign by 2 p.m. Wednesday in the capital, Tallinn, saying that otherwise they'd vote against him in the no-confidence motion, the Baltic News Service news service reported. Roivas, who became the EU's youngest head of government in 2014, was re-elected last year.
"It's clear this coalition is over," Roivas said. "I want to look parliament members in the eye when they vote for a turn to the left."
Reform fell out with Isamaa and the Social Democrats last week over appointments to the boards of state-run companies, with the parties citing further differences on Monday over tax changes and public spending. The two smaller parties claimed Reform wanted to supplant them in the ruling alliance by teaming up with Center.
Estonia, which joined the euro region in 2011, is facing the weakest economic growth since a record recession in 2009, while public debt remains the EU's lowest. A new coalition of Center, Isamaa and the Social Democrats would probably increase government borrowing, according to Anu Toots, a professor at Tallinn University's Politics and Governance Institute.
Before it's here, it's on the Bloomberg Terminal.
LEARN MORE