China's Exports Drop for a Seventh Month on Tepid Global Demand
Bloomberg News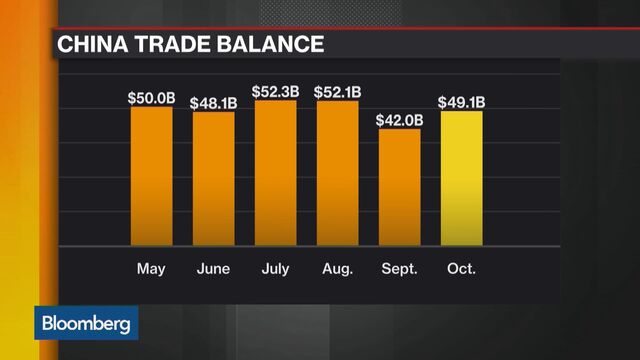 China's exports fell for a seventh month, leaving policy makers reliant on domestic growth engines to hit their economic expansion goals.
Key Points
Overseas shipments dropped 7.3 percent from a year earlier in October in dollar terms
Imports slipped 1.4 percent
Trade surplus widened to $49.1 billion

Big Picture
A depreciation of about 9 percent in the yuan since August 2015 has cushioned the blow from tepid global demand, but failed to give shipments a sustained boost. Rising input costs and surging wages have flattened exporter profit margins to the point where many can no longer discount and may raise prices, according to interviews at the Canton Fair last month. With global demand tepid, policy makers are relying on infrastructure investment and a property-led pickup in local demand to reach their expansion goal of at least 6.5 percent this year.
For a Bloomberg Intelligence research note on China's exports, click here
Economist Takeaways
"Yuan depreciation since the end of August should have helped boost exports slightly, but the result has not been encouraging," said Kevin Lai, chief economist for Asia excluding Japan at Daiwa Capital Markets in Hong Kong. "More depreciation in the yuan is probably needed in order to boost exports, especially if the dollar keeps strengthening."
"External demand remains sluggish across the board," said Julia Wang, an economist at HSBC Holdings Plc in Hong Kong. "On the import side, commodities demand is still holding up well, suggesting that domestic infrastructure investment likely remains strong."
"Trade's contribution to China's economy is now diminishing as the economy increasingly depends on domestic demand," said Zhu Qibing, chief macro economy analyst at BOCI International (China) Ltd. in Beijing.
"These dynamics are much more about sluggish global demand and a terrible global trade environment than anything directly reflective of Chinese growth," said Andrew Polk, Beijing-based head of China research at Medley Global Advisors, which advises institutional clients. "Economic policy is almost entirely domestically focused right now, as it rightly should be."
"The mismatch between shrinking overseas sales, a weaker yuan, and resilient global demand is a puzzle, and might indicate deeper problems with the export sector," Fielding Chen and Tom Orlik, economists at Bloomberg Intelligence, wrote in a report. "The latest data will add to expectations for yuan weakness, though the pattern in the last few months has remained stability on a trade-weighted basis."
"To some extent exporters might have become too expensive," said Frederik Kunze, chief China economist at Norddeutsche Landesbank in Hanover, Germany. "Although a further depreciation of the RMB is very likely from our point of view, it shouldn't be seen as a move aimed to support exports."
The Details
Exports to U.S. slipped 5.6 percent in October and fell 8.7 percent to EU.
Imports from U.S. fell 6.9 percent
Exports slipped less when measured in yuan as depreciation cushioned impact of tepid global demand
Crude imports fell from a record
Coal imports decreased for a second month

Copper imports drop to lowest since February 2015 as domestic output climbed
— With assistance by Xiaoqing Pi, Enda Curran, Yinan Zhao, Kevin Hamlin, and Miao Han
Before it's here, it's on the Bloomberg Terminal.
LEARN MORE